Millie Bobby Brown and Jacob Sartorius are Instagram official
Being young and in love is a beautiful thing, which is why we're so happy to see that Millie Bobby Brown and Jacob Sartorius made their relationship Instagram official. They're too cute for words. The 13-year-old Stranger Things star recently posted a black and white shot with a December 31st timestamp to her Instagram Story. Which means they took the selfie when they were on vacation together over the holidays. According to Us Weekly, the tween couple vacationed with Brown's parents at Walt Disney World in Florida, which is dream couple vacation no matter what age you are.
Fans have been speculating for months that the two were more than friends. On January 12th, Brown took a picture of herself cuddling a giant teddy bear and captioned the Instagram post, "thanks for the bear." Sartorius, who is 15 years old, commented on the pic, "of course," which made all of our hearts leap for joy. Earlier in January, the recording artist tweeted, "just another day with you on my mind," and Brown liked it, too.
In the immortal words of Chandler Bing, could these two kids *be* any cuter? No, no they cannot. Back in October, Sartorius showed up in one of her social media posts, too, so who knows how long this young love has been going on. We're totally here for it, though.
Here's the cute pic that Millie Bobby Brown posted to her Instagram Story.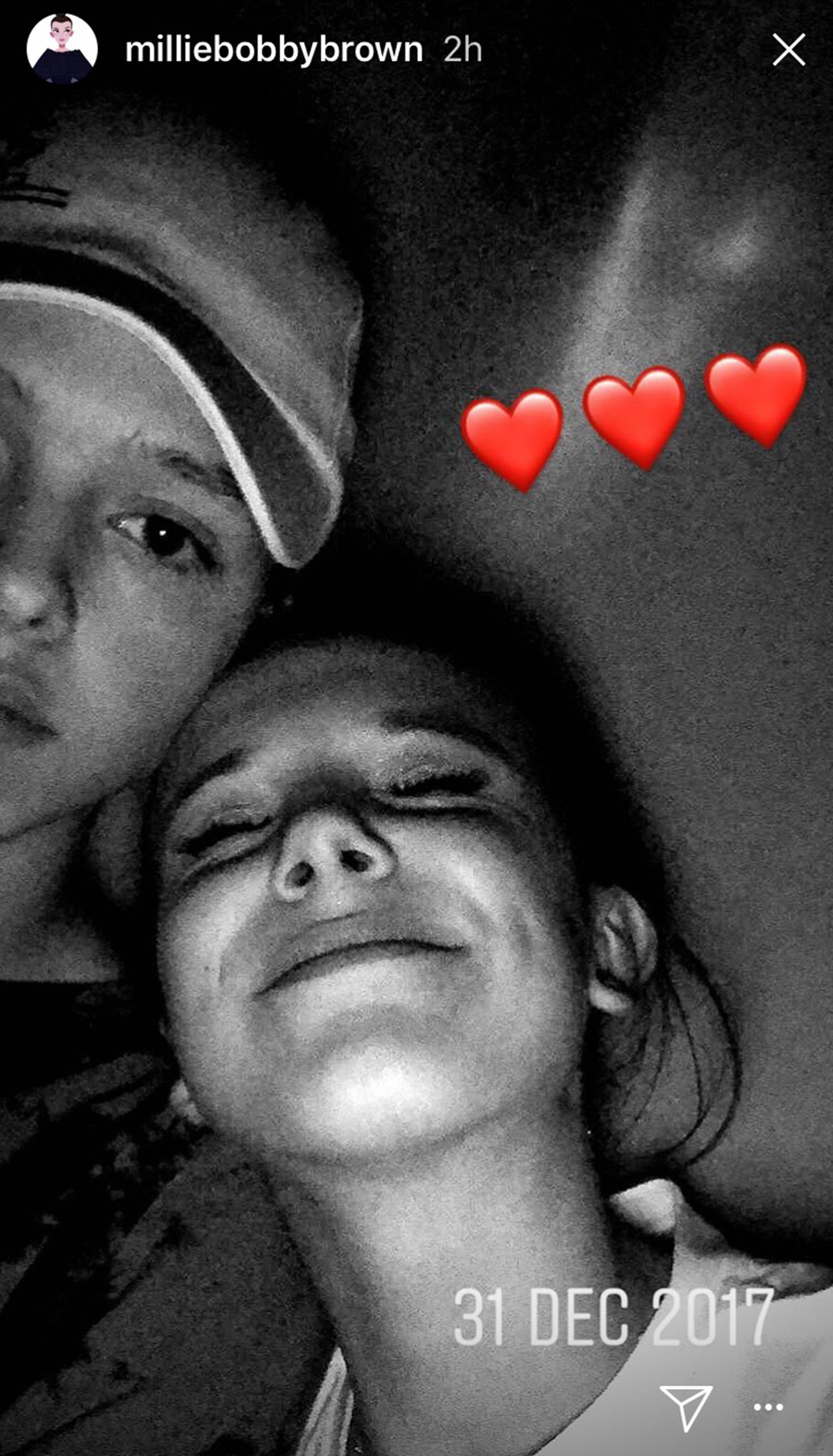 Sartorius was previously linked to Disney Channel actress Jenna Ortega, who appeared in his "Chapstick" video. But he told J-14 that they were just friends. He said, "We're really good friends, and she's really nice. It was really fun to film the video. She's really nice, so we had good chemistry on camera and off."
Just in case you're too old to know who these people are, here are some visual aids.
This is Jacob Sartorius.
https://www.instagram.com/p/BchnhCVjB4_
And this is Millie Bobby Brown. (But you knew that.)
(With her bear from Jacob Sartorius!)
https://www.instagram.com/p/Bd3wH-mgrW3
On Twitter, fans had some mixed feelings about Millie Bobby Brown + Jacob Sartorius.
false false
It's only natural that we feel a little protective of Brown's heart. But puppy love at 13 years old is something every girl's gotta do. Be good to each other, you two.