Millie Bobby Brown has her sights set on a new role — co-hosting the Emmys with Stephen Colbert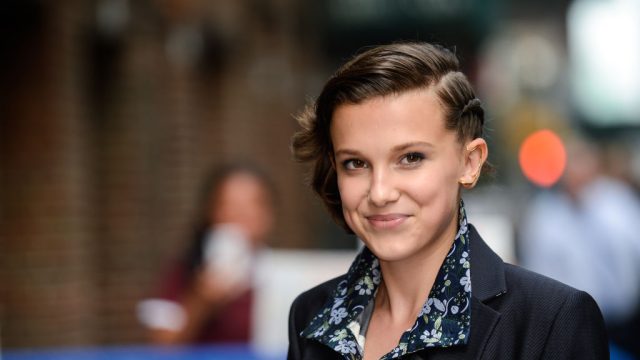 It's been a great year for Millie Bobby Brown. The actress broke onto the scene playing Eleven in Stranger Things. She has a killer right hook. And she stars in Calvin Klein ads like a total boss. (Did we mention that she's only 13 years old?) Now, Millie Bobby Brown is ready for a new gig. The one she's gunning for? Co-hosting this year's Emmys with Stephen Colbert.
Brown, who is also up for an award at this year's Emmys, suggested the pairing on The Late Show this past Thursday.
"I think we should sort something out. I think that, like, I should be your co-host," Brown said. "So you host and I'll, like, wink at you at some point and then you'll be like, 'Okay, this is the moment where we have to get the envelope and say, Millie Bobby Brown.' So, do you wanna do that?"
Colbert seemed to be game — on one condition.
"Just laugh at any of my jokes and I'll do anything you want."
Here's the full clip in all of its charming glory:
https://www.youtube.com/watch?v=7tIKgq06Zzw?feature=oembed
Brown is pretty qualified for the position. Like we said, she's already been nominated for an award herself, for supporting actress in a drama. FYI, she's one of the youngest to be nominated in that category.
In addition, Brown has had some big moments in awards shows past. During last year's Emmys, Brown and her Stranger Things crew performed Bruno Mars' smash hit "Uptown Funk." They even rode in on tricycles and passed out peanut butter and jelly sandwiches to a famished audience.
https://www.instagram.com/p/BXpHiD9FaeP
Brown appeared in this year's Golden Globes opening montage with host Jimmy Fallon, where she proved her rapping cred once again. Those are some great resume credits. Brown has showed everyone she can be just as funny and charming as an adult co-host (and honestly, probably more so).
We're all for this happening for real. The Emmys ceremony airs live on CBS on Sunday, September 17th, so the crew had better get to organizing this ASAP.