Millie Bobby Brown's long hair is the total opposite of Eleven, and we love it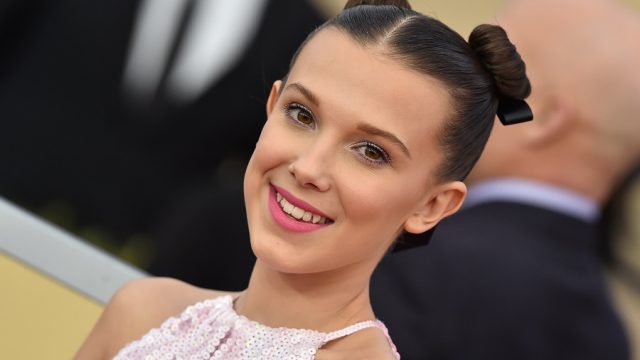 Ever since Stranger Things became a staple in our Netflix queues back in 2016, we have been used to Millie Bobby Brown, aka Eleven, rocking a shaved head or short hair. Brown has been open about shaving her head for the role, calling it "the most empowering moment" of her whole life. But in a new Instagram post on August 2nd, she debuted another equally dramatic look: super curly, bouncy, long hair. The look is for another upcoming role, proving that the 15-year-old will go to, ahem, great lengths to transform herself in the name of her craft.
As she prepares to play Sherlock Holmes's younger sister, Enola Holmes, in the big-screen flick of the same name next year, Brown gave her Instagram followers the first glimpse of herself in character. And she looks nothing like Eleven, all thanks to her voluminous, honey blonde curls.
Even as Eleven's hair has evolved over the course of three seasons, Brown's new Enola Holmes hairstyle is quite the departure for her, and fans in the comments section of her post are loving the new look.
Check out her selfie, which shows off her ringlets in all their glory.
https://www.instagram.com/p/B0q47eqH5rq
Brown captioned the shot, "i love you enola," so it seems she's digging her new character, too.
No word on whether her new look is thanks to a wig or extensions, but it seems pretty likely, considering that the actress typically wears her hair in a long bob cut. Fans were equally enthusiastic, praising the look and expressing their excitement for the movie, which is slated for release sometime in 2020.
Here's hoping Brown will continue to give us more behind-the-scenes glimpses into the movie—and that gorgeous hair—in the coming months. Stay tuned!