Millie Bobby Brown Auditioned for a Fan-Fave 'Game of Thrones' Role
She clearly has great taste in badass girl characters.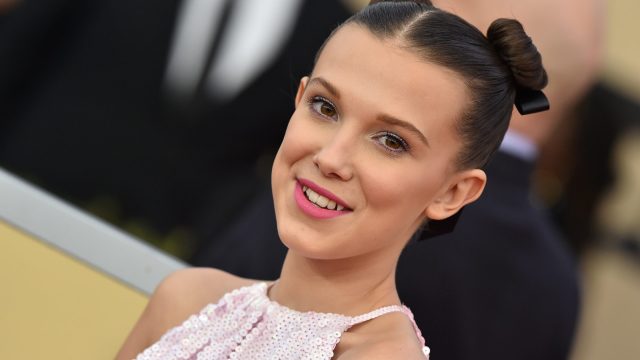 Imagine a world in which Millie Bobby Brown didn't play Eleven on Stranger Things, but instead, some other unknown took the role. In that weird alternate world, Game of Thrones' Lyanna Mormont wasn't played by Bella Ramsey—but, instead, by Millie Bobby Brown. This world almost happened, and when it didn't, Brown almost quit acting for good.
During her October 2nd appearance on The Tonight Show, Brown told host Jimmy Fallon that she auditioned for Game of Thrones when she was about 10 years old, and, at that point, she was already "disheartened by the rejection" the industry kept serving her again and again.
So, when she ended up not getting cast in the role she really wanted, Brown nearly quit the acting game altogether.
"You get far more no's—a lot of no's—before you get a yes. I was auditioning for commercials, for anything, really," Brown told Fallon. "I then auditioned for Game of Thrones and I got a 'no' for that. Then that's kind of when I was like, 'Oh, this is really difficult,' because I guess I really wanted that role."
Though she didn't name the Game of Thrones role, specifically, Brown told Preview last year that the role in question was Lyanna Mormont, the Lady of Bear Island. (Which, as Thrones fans know, became a major fan-favorite character.)
"Yeah, that was the role I went for," Millie said in reference to Lyanna, "but I got Eleven instead! I'm not bitter!"
At the time of her audition for GoT, though she made guest appearances on shows like NCIS, Modern Family, and Grey's Anatomy, Brown had yet to score a breakout role. But, soon after, a little series originally called Montauk landed in her lap. Montauk was renamed Stranger Things and as Brown said this week, "the rest is history, of course."
With Stranger Things Season 4 beginning to shoot in the very near future, according to the series's Twitter account, and the release of her latest film Enola Holmes, Brown has come a long way since being fed up with the rejection.
Now, she's the one having to say no to projects, and if there's any Lyanna Mormont in her, she probably doesn't have an issue doing that.