Millie Bobby Brown is creating a vegan beauty brand, and maybe she was inspired by this Stranger Things co-star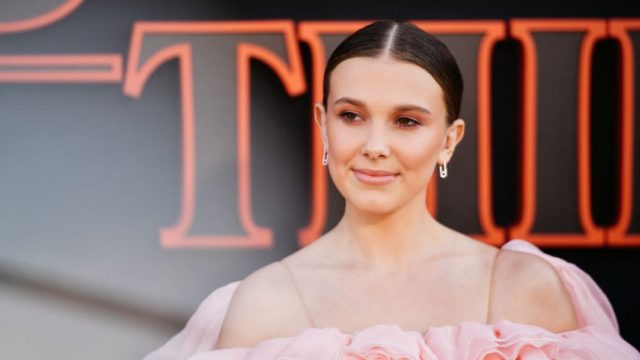 When Stranger Things first premiered back in 2016, Millie Bobby Brown became an instant star, thanks to her role as Eleven. And in the three years since then, she's also emerged as a style icon, working on her own collabs with brands like Converse. So when we heard that Brown was launching her very own beauty line, we had to know the details.
Brown announced her new beauty brand, Florence by Mills, in an Instagram post today, August 20th. According to WWD, the line is named after Brown's great-grandmother, Florence. All products will be PETA-certified, cruelty-free, and vegan—which makes us wonder if Brown's vegan co-star Sadie Sink had any hand in development or inspiration.
Florence by Mills is also designed with Generation Z in mind, which may seem surprising given that Gen Zers are still in their teens. But as Brown explained to WWD, adult beauty products often don't fit young people's needs.
"I've been in a make-up chair since I was 10, 11 years old, and I have really been introduced to all types of products," she explained to WWD. "I've had special effects on my face, blood, all different types of foundation...I wanted to come into the space because there was a gap in the market for young people."
https://www.instagram.com/p/B1YwP2YpP0m
The 15-year-old shared that the products she used on set would often make her break out, and in some instances, she was even using anti-aging products.
"Every young person deserves to have a good start with their skin," Brown says in a promotional video for the brand, which she shared on Instagram.
https://www.instagram.com/p/B1Yv2olnRWv
So what do vegan, Gen Z beauty products look like? Per WWD, Florence by Mills' offerings will include a light skin tint and gel pads—Brown's personal favorite. The products will cost between $10 and $34, and part of the proceeds will benefit the Olivia Hope Foundation, a childhood cancer organization created in memory of Brown's late friend Olivia Hope LoRusso. The line will be sold at Ulta in the U.S. and Boots in the U.K. The brand's website will go live on August 26th, and we're keeping our fingers crossed that you'll be able to shop online once it does.
We can't wait to see what Florence by Mills has to offer. We have a feeling that it's going to be great.