Millie Bobby Brown fangirled so hard over Dakota Fanning at the 2018 SAG Awards
One of the reasons we love awards shows so much is because we're able to see celebrities interact with each other off-screen. For many, it's a reunion — and for others, it's a chance to, well, fangirl out. Millie Bobby Brown met Dakota Fanning during the 2018 SAG Awards, and she had the most relatable meltdown ever.
The two met on the red carpet, and we're guessing they had a lot to discuss. For one, they both have experience being mega-famous child actors. Brown began playing Eleven when she was only 12 years old, and Fanning, reportedly landed her first commercial at the age of five.
Even though we couldn't technically hear what Brown was saying to Fanning, we can tell this was a big moment for her. And Fanning looked equally thrilled to spend a little bit of red carpet time with the talented teen.
Here are just a few of the cutest shots of the two.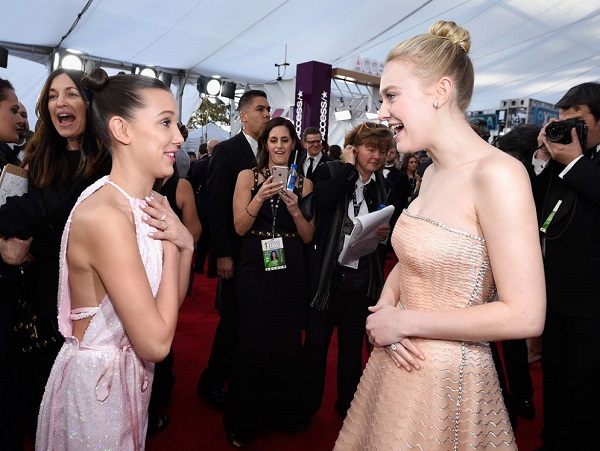 Look at that face! Millie Bobby Brown is all of us.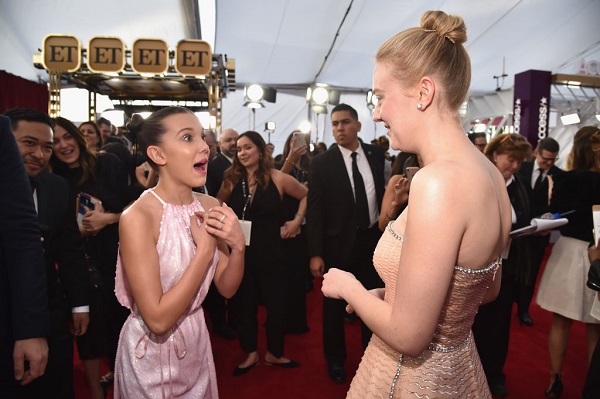 Plus, check out those matching buns. Talented minds think alike, apparently.
Not only does this mini-freak out make us love Brown even more than we already do (which TBH, we didn't think was even possible at this point), but it's also leading us to one major conclusion: We need a Brown-Fanning collab, STAT. They could play long-lost sisters, BFFs, pirates — we honestly don't care, as long as we get to see two of our favorite young actresses collaborating. Are you listening Hollywood? Please and thank you.