Millie Bobby Brown says Eleven still doesn't say much during Season 2 of "Stranger Things," but her vocabulary is expanding in a funny way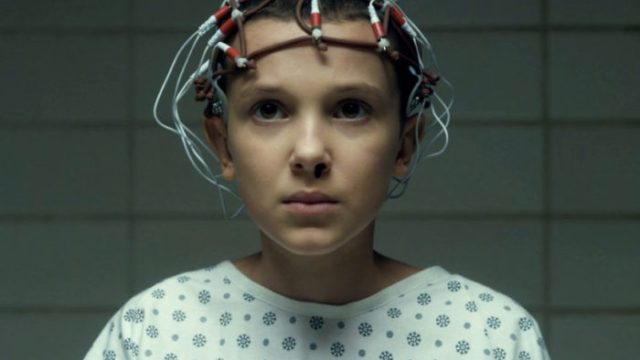 All of our favorite TV shows are FINALLY coming back. Can't wait for Stranger Things 2? Neither can we. We've already swooned over images from set and over-analyzed Eleven's buzzcut in the Season 2 trailer. And now, we know some intel about Eleven that's going to charm the pants off you.
In the first season of Stranger Things, Eleven was a girl of few words. But now, her vocabulary is expanding just a little.
Like any normal teenager, Eleven is learning how to curse.
Eleven herself, actress Millie Bobby Brown, told Entertainment Weekly that Season 2 will have a particular swear word tossed in the mix.
"I didn't have much more vocabulary but the things I did have to say were really fun. There's one curse word this season which was really different and funny.
So why does sweet Eleven start cursing in the first place, you ask? Hormones, duh.
"It's more coming of age, Brown continued. "She's learning how to be a normal teenager and she never had a normal childhood. A big thing for her is to come into a world where she not only has powers but she has teenage issues. It's something that I'm going through right now also so it's pretty relatable [laughs].
Relatable AF.
Big Brown fans that we are, we're even more excited for Stranger Things 2 because we hear that Episode 7 is going to be dedicated entirely to Eleven!
"We discovered while filming season 1 how amazing Millie was," Ross Duffer, one half of the Duffer brothers duo who created the series, told EW. "We knew she was great but we didn't know she was that great. We wanted to give her a really interesting arc this season that's different than just playing fish out of water. So we get to see a lot of range out of her which is great.
After her Screen Actors Guild Award and MTV Movie & TV Award, we're glad Brown is getting to flex her acting muscles a little bit more.
Now, if only October 27th could get here sooner!