Millie Bobby Brown spoke out about being inappropriately sexualized since she was 12, and so many celebs are sending support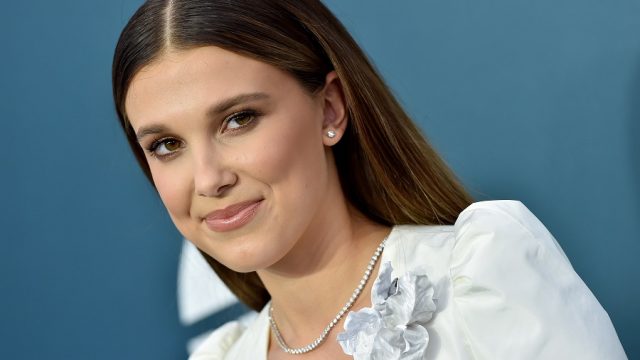 Actor and entrepreneur Millie Bobby Brown celebrated her 16th birthday on February 19th—and she used the occasion to highlight the darker side of fame. Yesterday, Brown posted a video on her Instagram, along with a caption describing the "pain and insecurity" she's experienced since 2016, when her breakout role as Eleven on Stranger Things launched her into the spotlight.
"the last few years haven't been easy, I'll admit that. there are moments i get frustrated from the inaccuracy, inappropriate comments, sexualization, and unnecessary insults that ultimately have resulted in pain and insecurity for me," she wrote.
The two-minute video—which is aptly soundtracked to Justin Bieber's "Changes"—opens with screengrabs of sensationalized (and, in some cases, straight-up bullying) headlines the press has written about Brown.
"I hope this video informs you on the things that go on behind the scenes of the headlines and flashing lights," Brown added in her caption.
Here are just some examples of the headlines: "Millie Bobby Brown CRITICIZED For Adult Style!", "Millie Bobby Brown quits Twitter after being targeted by homophobic meme," and, most ridiculously, "When did Millie Bobby Brown go through the change??? (Menopause)." Then the video shows clips of Brown on the red carpet, hounded by paparazzi, and signing autographs while flanked by security.
https://www.instagram.com/p/B8v7J8YH_ZR
It all paints a picture of fame as incredibly claustrophobic and anxiety-inducing. We can't imagine what it's like to be a grown-ass adult in that situation, let alone a child. (Brown was just 12 when Season 1 of Stranger Things aired.) And Brown recognized that at age 16, she's still a child, and needs to be treated and protected as such.
"16 has felt like a long time coming. i feel like change needs to happen for not only this generation but the next. our world needs kindness and support in order for us children to grow and succeed," she wrote.
Tons of Brown's followers commented in support of Brown's positive message, including a few with blue checkmarks.



But Brown closed out her caption on a lighter note, saying "ill continue doing what i love and spreading the message in order to make change…dont worry I'll always find a way to smile ;)"
We can't wait to see what Brown accomplishes as a 16-year-old. But mostly, our birthday wish is for the girl to have some fun being a teenager, and not be publicly shamed for it.