Millennials apparently don't brush their teeth enough, and c'mon guys, we're better than this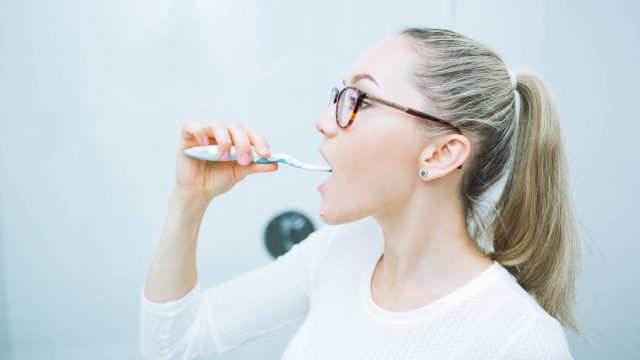 Dental hygiene can be difficult to keep up with, especially because it's so expensive. Without dental insurance, some procedures can cost thousands of dollars. And even when you're covered, things like fillings or crowns can be huge financial burdens when you're living on a budget. While some of these problems can't be avoided — like limited access to dentists or an inability to afford dental coverage — the best thing to do is brush your teeth at least twice a day, every day. Unfortunately, it seems some millennials can't even do that.
It's true: Research has found that 30% of millennials brush their teeth just once a day. We know millennials get blamed for everything, but come on, people. Brushing our teeth is the least we can do.
The research from Hello Products, an oral care startup, also found that "the average person had gone more than two days at a time without brushing their teeth at least once a day," according to Fox News. Um, what?
"While most of us know that professional dental care is important for our overall health, visiting the dentist can still be a nerve-wracking experience for some," Craig Dubitsky, founder of Hello Products, told South West News Service.
According to the Hello Products survey, millennials were more afraid of going to the dentist than any other age group.
Another interesting find? Of the 2,000 Americans surveyed, 33% said they would rather go without sex for a month than sit in a dentist's chair.
But avoiding dental care can do a lot more than affect your sex life. (Hello, bad breath!) It can also impact millennials' job prospects.
One in three adults between the ages of 18 and 34 shy away from smiling because of their teeth problems, a survey from the American Dental Association found. And 28% said the appearance of their teeth affects their ability to interview for a job, according to Forbes.
Are you sufficiently grossed out yet?
Here's the thing. Whether or not you have dental insurance, you really need to brush your teeth at least twice a day. And don't forget to floss! A healthy mouth can mean a healthy body — and regular employment, it seems — so take care of yourself.