Millennials are spending more than any other generation on their weddings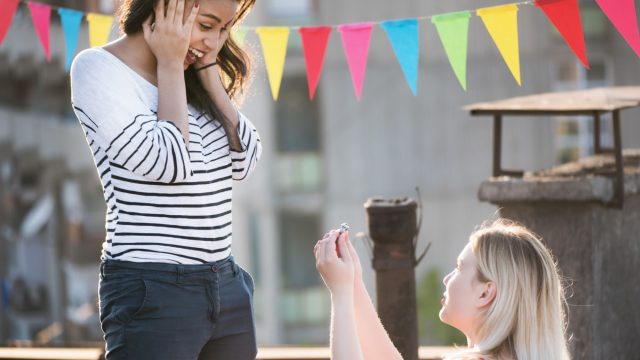 It seems like every time we log onto the internet, some financial expert is telling us how bad millennials are at dealing with money. Although we don't think that our avocado toast has anything to do with the housing market, a new study about how much millennials are spending on their weddings kind of took our breath away — because it's more than any other generation has spent on the celebration ever before.
WeddingWire's 2018 Newlywed Report found that the average cost of a millennial wedding is $36,000, which is equivalent to about two years' worth of rent; the median rent across the country is about $1,480 a month. Couples in places like San Diego or San Francisco, where rent is significantly higher than the nation's average, will spend about a year's worth of rent on their weddings. That figure includes everything from the engagement ring to a jaw-dropping dress for the ceremony to the reception venue and food, and even the honeymoon.
The kind-of good news? Most couples get some help from family members to cover about 60% of their wedding costs. Which, really, is the least Baby Boomers can do for millennials economically.
Of course, not everyone is so lucky to have family help pick up the cost of their wedding or even just give a hand when it comes to paying rent and student loan bills. The rising costs of life — and not just weddings —  might be why Census Bureau data from 2017 found that millennials are putting off marriage and kids until way into their 30s.
So millennial weddings might cost more than ever before, but it's also because we're skrimping and saving for other things in our lives, too. Between student loan costs, the long fallout from the 2008 recession, and other economic factors, millennials do not have it easy when it comes to cash.
Millennials are also usually getting married and having kids all around the same time, so when they're planning a wedding, they might want to think about making sure they have enough savings to start that family.
But with everything that millennials have to deal with, the least they can do is throw a good party to celebrate their marriage. Because spending money on rent is no fun at all.