Are you a millennial woman? Here's how the GOP tax bill affects you, specifically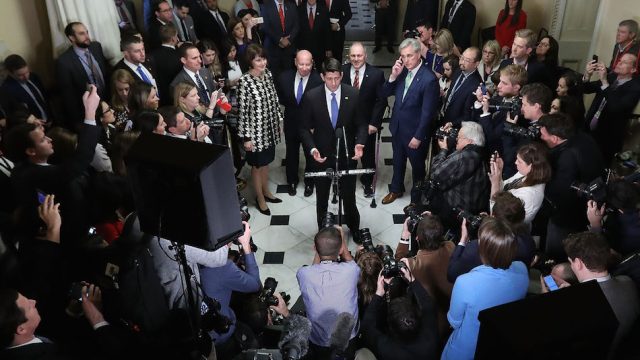 The proposed tax plan from Republicans is quickly becoming a reality. The House of Representatives passed the GOP tax bill on Tuesday, December 19th, and NBC reported that the Senate may pass it as quickly as Tuesday night. However, CNN reported that on Wednesday morning, the House will have to re-vote on the bill due to Senate budget rules. But it's expected that the Tax Cuts and Jobs Act will be approved by both houses of Congress and that it could be signed into law by President Donald Trump before the week is over. Let's just say that this doesn't make a happy holiday season for many, many people, particularly when you consider how the tax bill will impact millennial women.
First off, younger people seem to be losing out on this tax plan, which gives tax breaks to businesses and those in the top income bracket. The Atlantic reported that the people who will benefit most are top-earners, business owners, and corporate shareholders — with the majority of them being white, and either Baby Boomers or older members of Generation X. "What's very clear through all of this is that the group that most pays are the younger people," co-founder of Tax Policy Center, Eugene Steuerle, told The Atlantic.
Cosmopolitan also outlined how the GOP tax bill could possibly hurt young people — since they'll likely have to pay more in taxes, and their health insurance payments could increase. (CNN reported that Republicans stepped away from several disputed proposals that would change tax breaks related to education, so at least there's that when it comes to student loans.)
Then, there's the fact that this bill will specifically impact women and women's health care. As Newsweek wrote:
"Republicans are also using the tax plan as a vehicle for dismantling the Affordable Care Act, folding a repeal of the ACA's individual mandate into their proposal, which could hurt women's access to health care. The Obama-era legislation gave 55 million women access to no-cost preventative care, maternal care, birth control, and more."
The bill is expected to make wealth inequality worse. But perhaps it's millennial parents who should be the most concerned, since some of the most controversial aspects of the bill are related to families. Specifically, if you're a younger, struggling family, you'll see less help from this tax cut when compared to richer families.
Vicki Shabo, vice president at the National Partnership for Women and Families, echoed this sentiment to CNN. "The distribution of those benefits are skewed towards higher income families, and really paltry for lower-income families," Shabo said. "The overall package is really dismal for working families."
So if you're a young, working mom, it might feel disingenuous when you hear House Speaker Paul Ryan say that help is on the way for the millions of Americans living paycheck to paycheck.
The publication DAME also noted how this bill is most likely to result in cuts to Medicaid, which would be a problem for many women — and particularly women who give birth while on Medicaid. DAME explained:
"The fact that this corporate giveaway will likely result in cuts to Medicaid will hit women disproportionately. Medicaid covers 25 million women. Currently, almost half of all the births in the United States are covered by Medicaid. Much of that coverage is for women who are already in what is defined as 'vulnerable populations' — single parents, women of color, and women in poor health."
The full impact of this bill on everyone, including millennial women, won't be clear immediately. But thus far, the GOP tax bill highlights how essential it is to have people in the government who truly represent the needs of young women and other marginalized groups.