11 Millennial pink wedding ideas straight out of an Instagram fever dream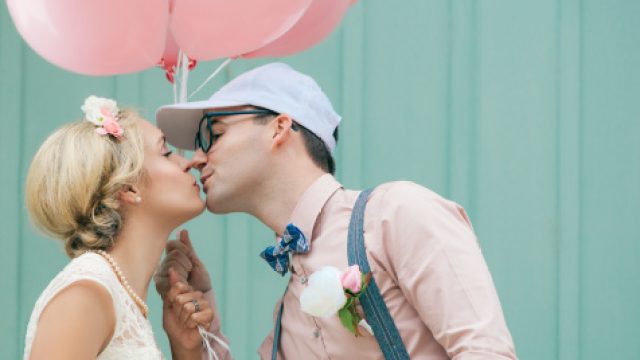 Hate to break it to you, greenery, but even though you may be Pantone's chosen shade of 2017, you're ~not~ the chosen tint of wedding season 2017. Because while there's no denying the palm-frond colored swatch of the year is trendy, it's got nothing on Millennial pink. This fact is especially true when it comes to a Millennial pink wedding.
Like the generation it's named for, Millennial pink has overtaken our social feeds, and has yet to be defined into one singular concept.
More like a range of pretty pink tints that range for ballerina slipper blush to coral, Millennial pink isn't just cropping up in our closets. It's all the rage for weddings right now, given its universally flattering shades and obvious Instagram appeal. Which is exactly why we're breaking down a few Millennial pink wedding inspiration ideas that will *totally* make your wedding (or, you know, wedding Pinterest board) shine.
1 Wedding Cake (or Cupcakes!)
They're too pretty to eat…*almost.*
2 Wedding Stationary
For those of you who might not want to overload the pink wedding decor, why not just incorporate a pop of it into your wedding invites?
3Wedding Altar
This ultra-femme detail creates a pretty and inviting space to swap "I do's."
4Wedding Decor Details
Wedding planning guru David Tutera suggests that the best place to add personality (like this punchy shade) is in the fine details of decorating.
5Bridesmaid Dresses
https://www.instagram.com/p/BUe_mv6BFif
Dresses your girls will not only *love,* but will be dying to wear again and again!
6The Florals
Ahhh, is there anything more breathtaking than blush flower petals covering the scene? Nope!
7Party Favors
Just make sure your guests use your #weddinghashtag when posting pics
8Table Settings
A subtle but darling way to incorporate the shade!
9Bouquet
If you don't want Millennial pink invading all your wedding florals, the least you can do is slip it into your bouquet.
10 Shoes
We want these for our weddings…and every other day for that matter.
11Menus
For *just* a touch of Millennial wedding pink.