Millennial pink reigned supreme at the 2018 SAG Awards, because we're still in love with this color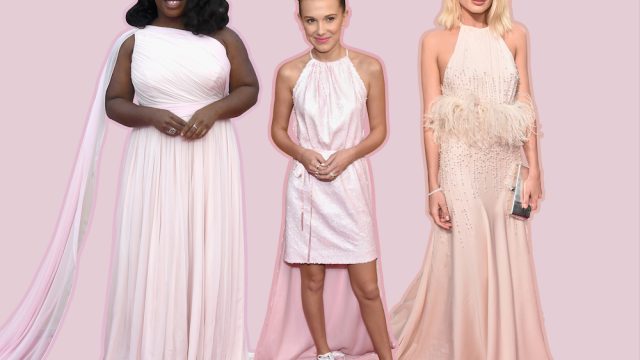 Though it seemed like millennial pink may have had its big moment in 2017, the 2018 SAG Awards proved that everyone's favorite shade of rose pink isn't going away anytime soon. Celebrities like Margot Robbie, Saoirse Ronan, and Millie Bobby Brown gave the ballerina slipper shade some major appreciation, and we can't say we aren't impressed.
New York-based fashion stylist Belle Bakst told HelloGiggles that millennial pink is a graceful hue that's all about femininity and girl power. And red carpet aside, she also notes that we should expect the color to hang around this year, especially since it's pretty much flattering on everyone.
"Millennial pink is the trend that doesn't seem to be going anywhere. This instantly lady-like hue is going to continue to grace us for the next couple of seasons due to its femininity and utmost sophistication.
Can't get enough of millennial pink? These were the millennial pink red carpet looks at the 2018 SAG Awards that we can't stop talking about.
1Margot Robbie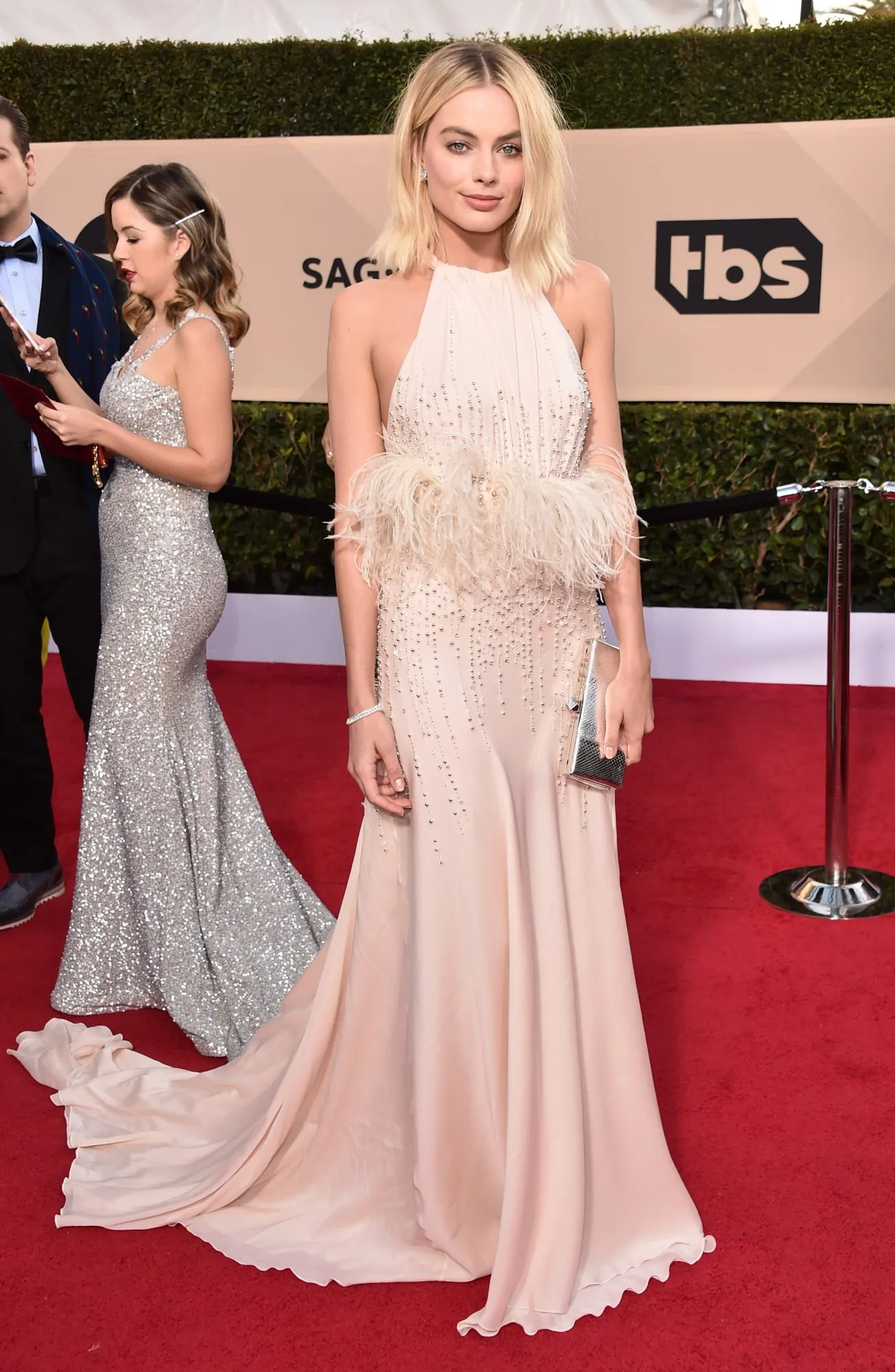 Margot's millennial pink Miu Miu gown showed off her glowing skin, helping her shine like the diamond she really is.
2Saoirse Ronan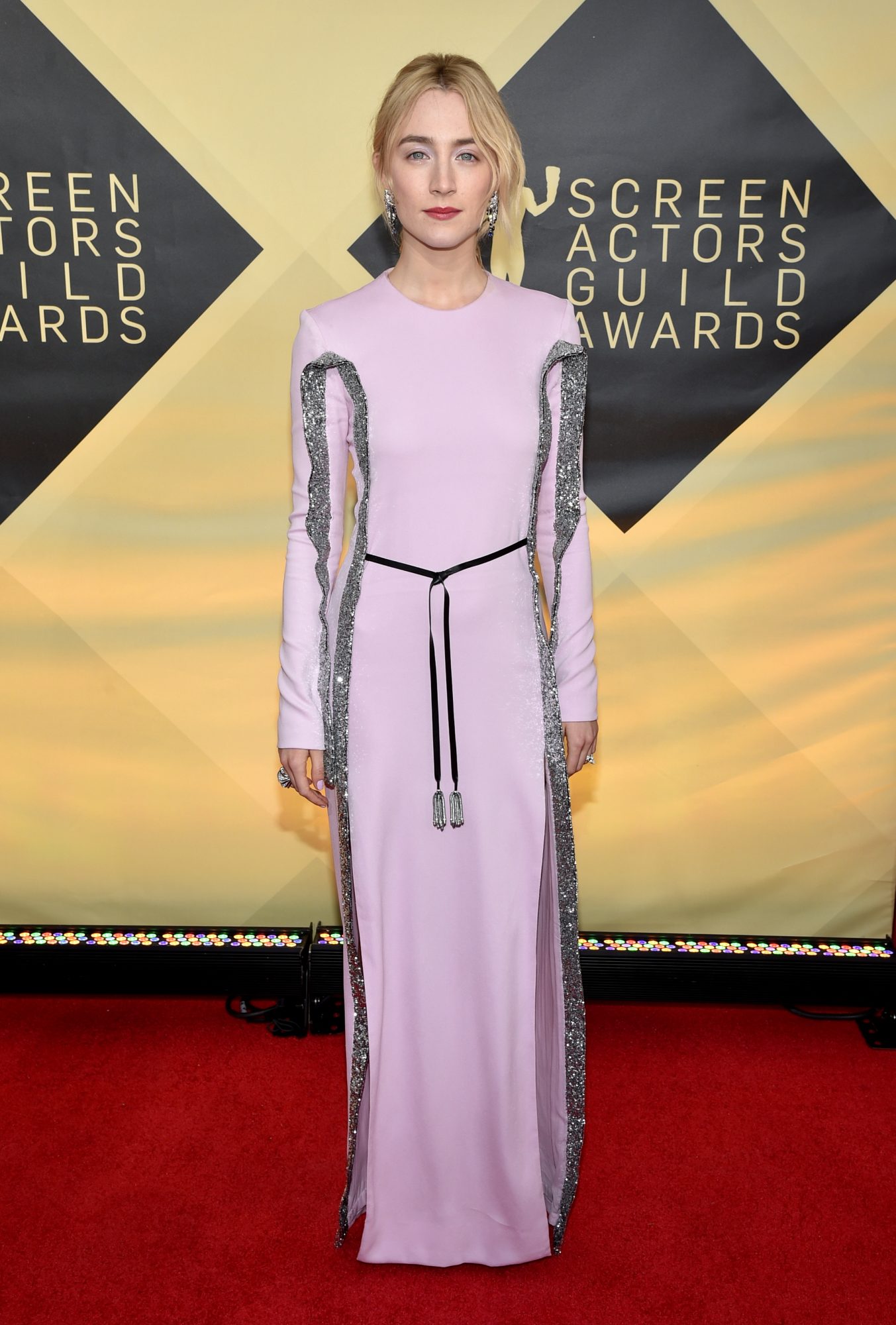 Saoirse Ronan's millennial pink Louis Vuitton gown gives us the courage to give slits another chance this year.
3Millie Bobby Brown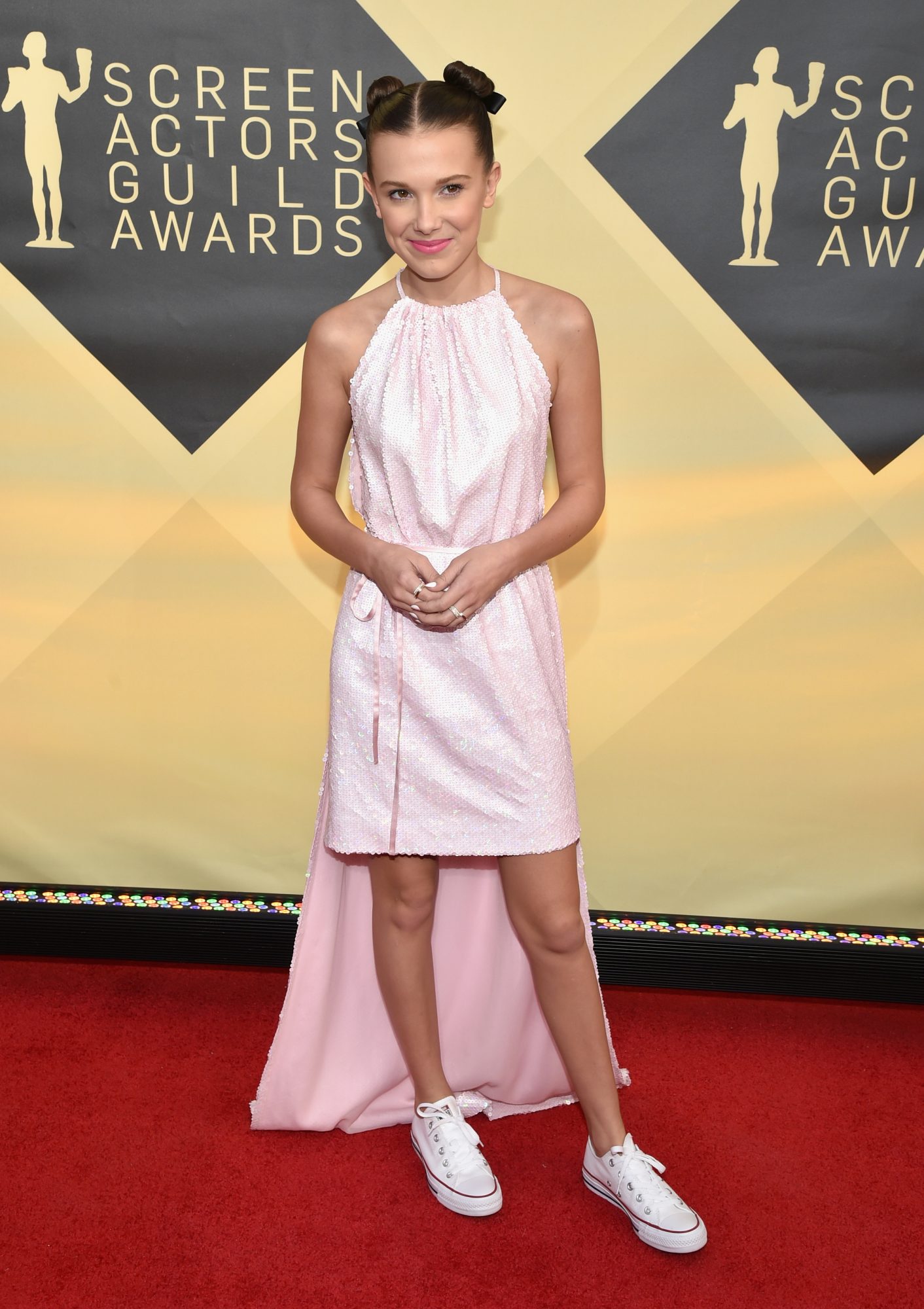 Not only are we obsessed with Millie Bobby Brown's sequined pink Calvin Klein dress, but we also love her double buns and her choice to pair the dress with white Converse sneakers.
4Kate Hudson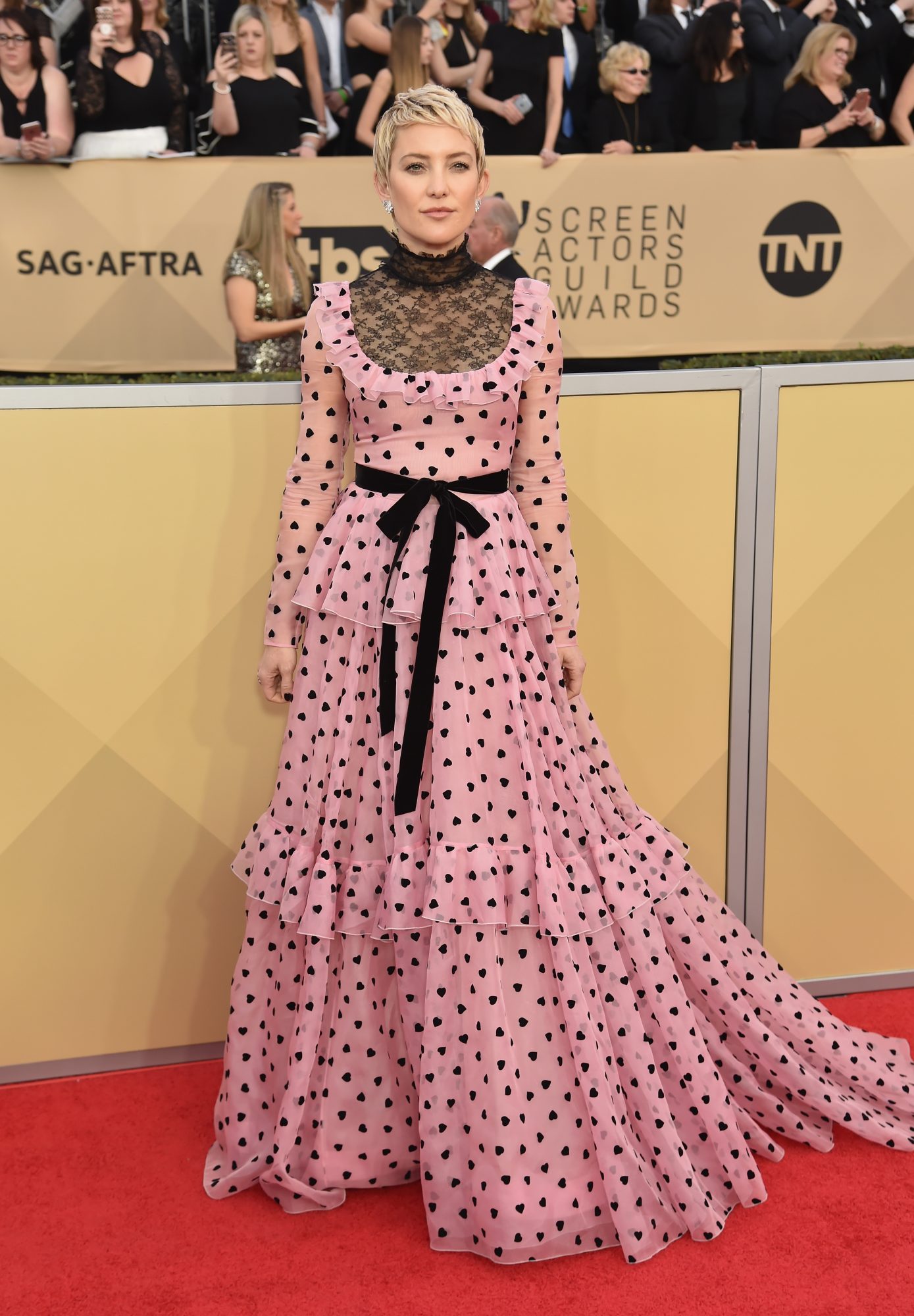 We give Kate Hudson major props for fearlessly rocking this shade of pastel pink with polka-dots.
5Kristen Bell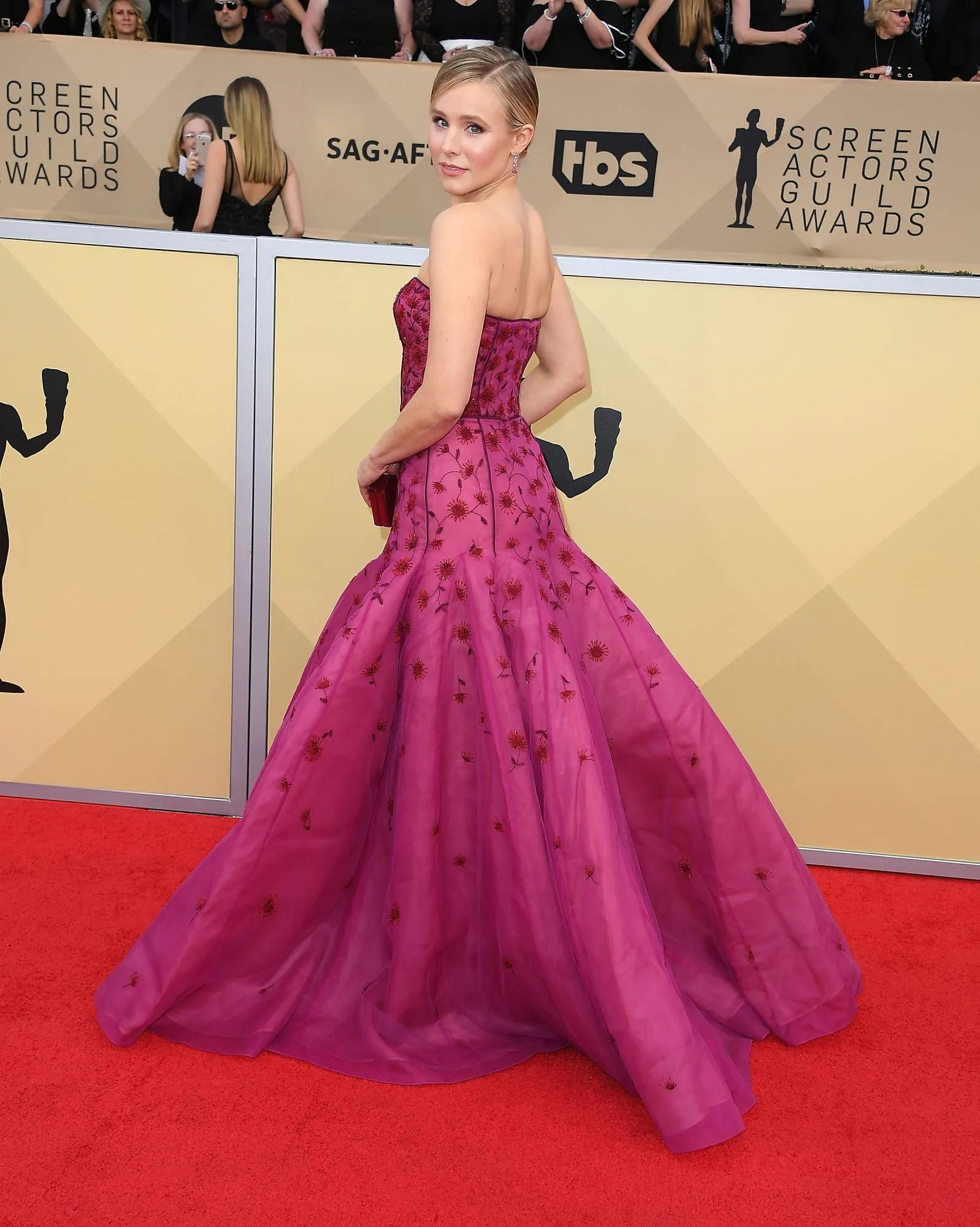 Although it's a bolder shade of pink, Kristen Bell's floral dress is breathtaking.
6Samara Weaving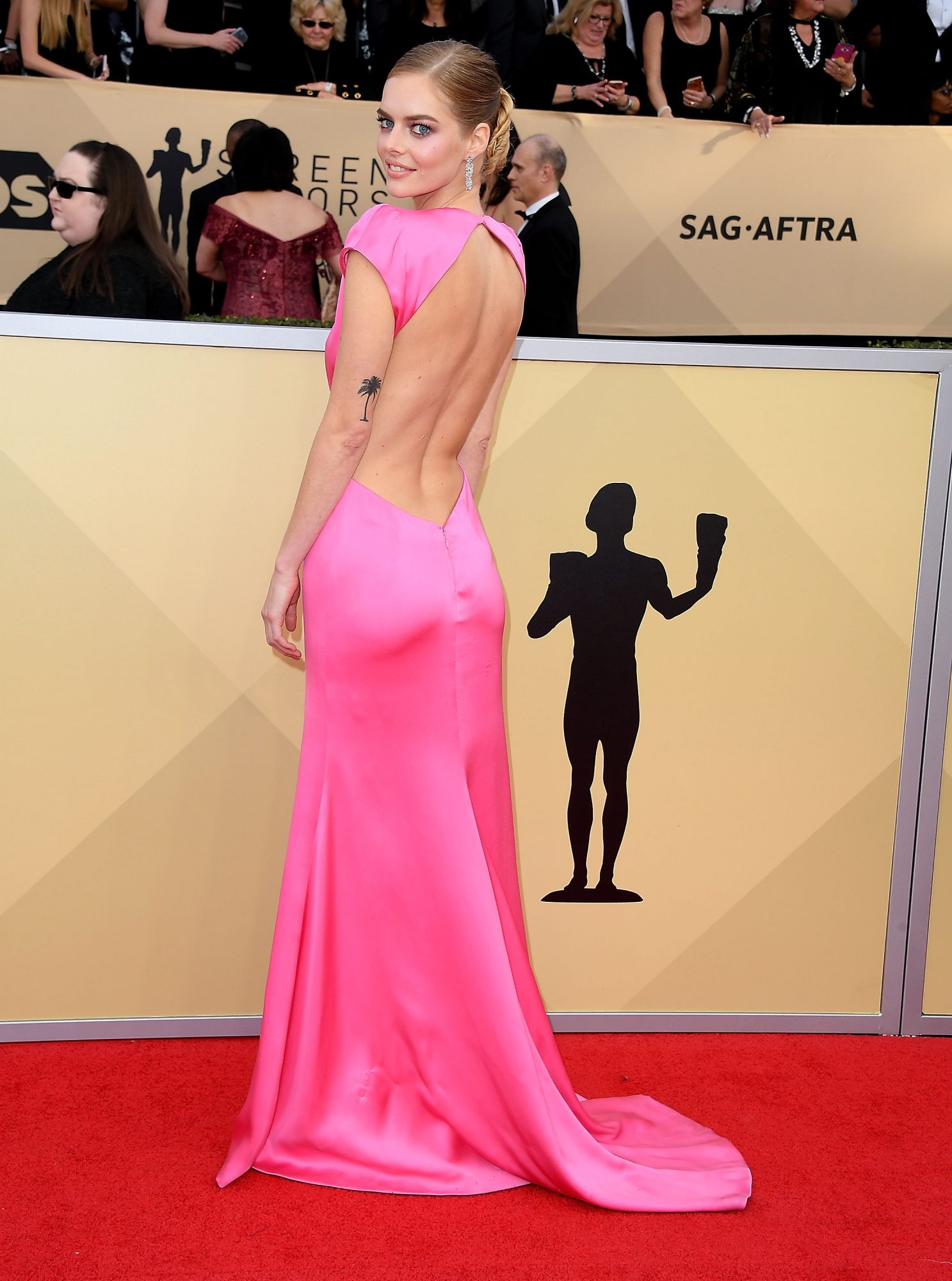 Though we may not be as daring as Samara Weaving, it's safe to say we'll give the backless dress a shot in 2018.
7Connie Britton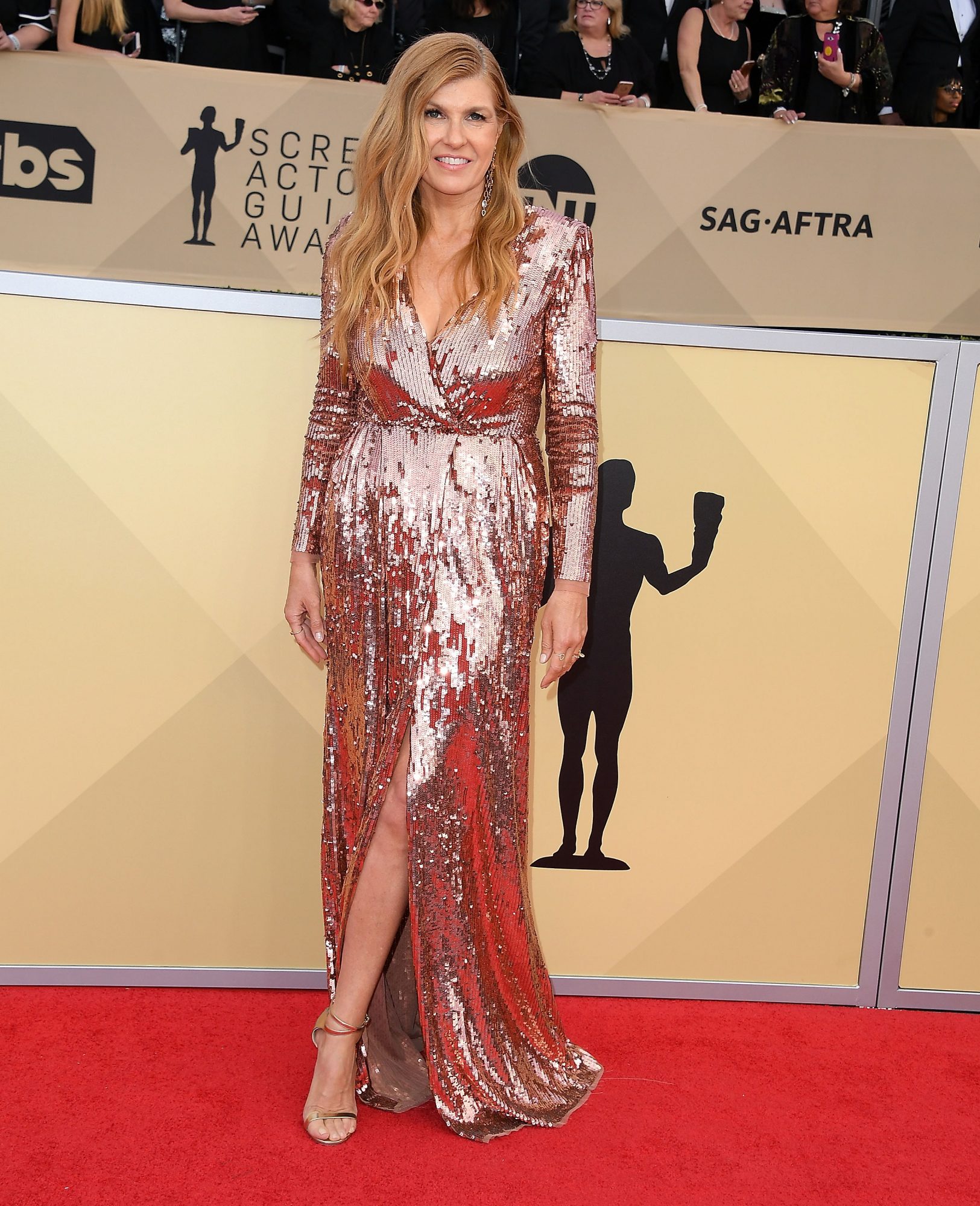 Looking stunning in rose gold, Connie Britton provided some major Valentine's Day outfit inspiration.
8Dakota Fanning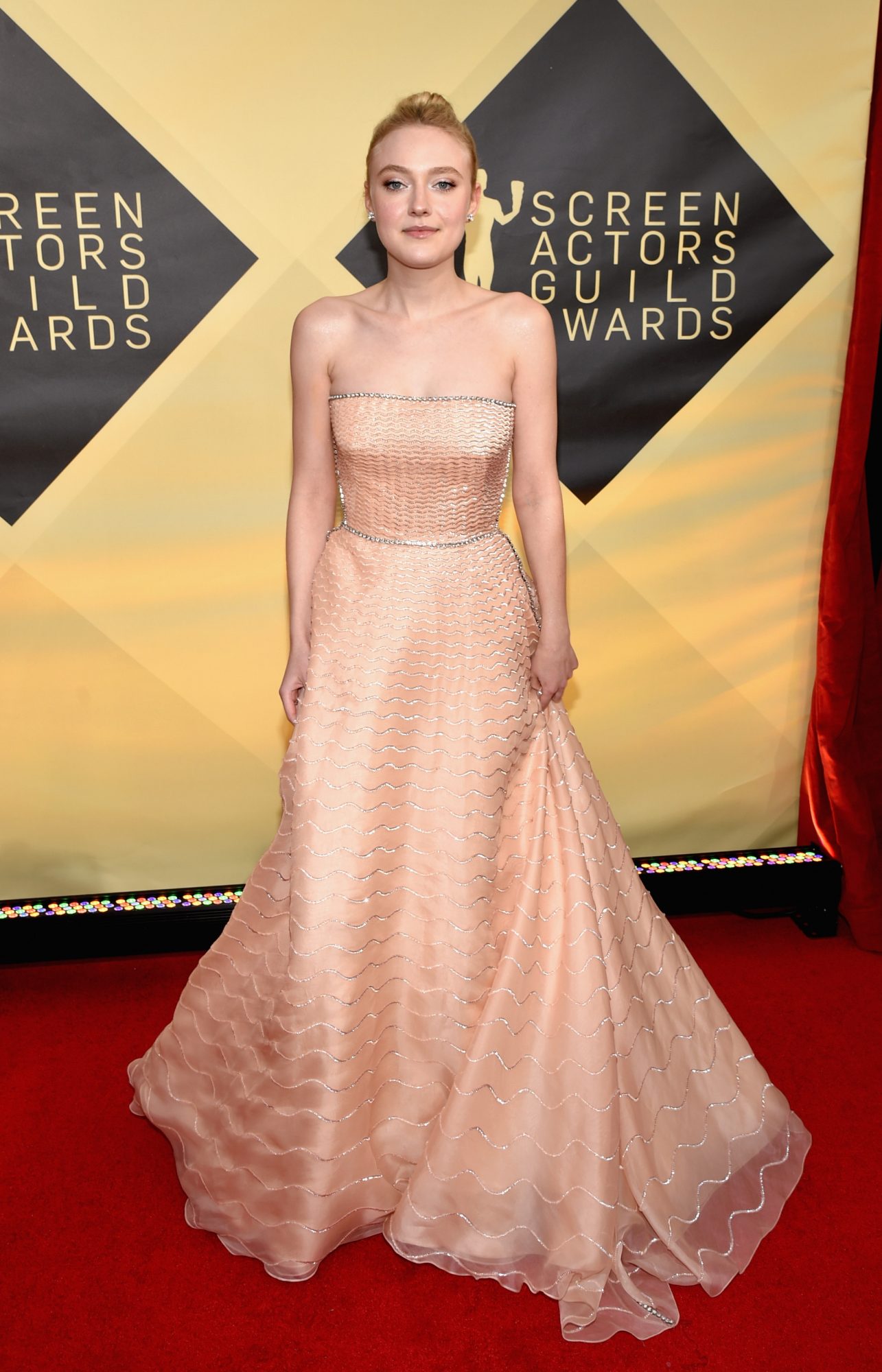 It is just us or is Dakota Fanning's strapless gown giving ballerina vibes?
9Laura Linney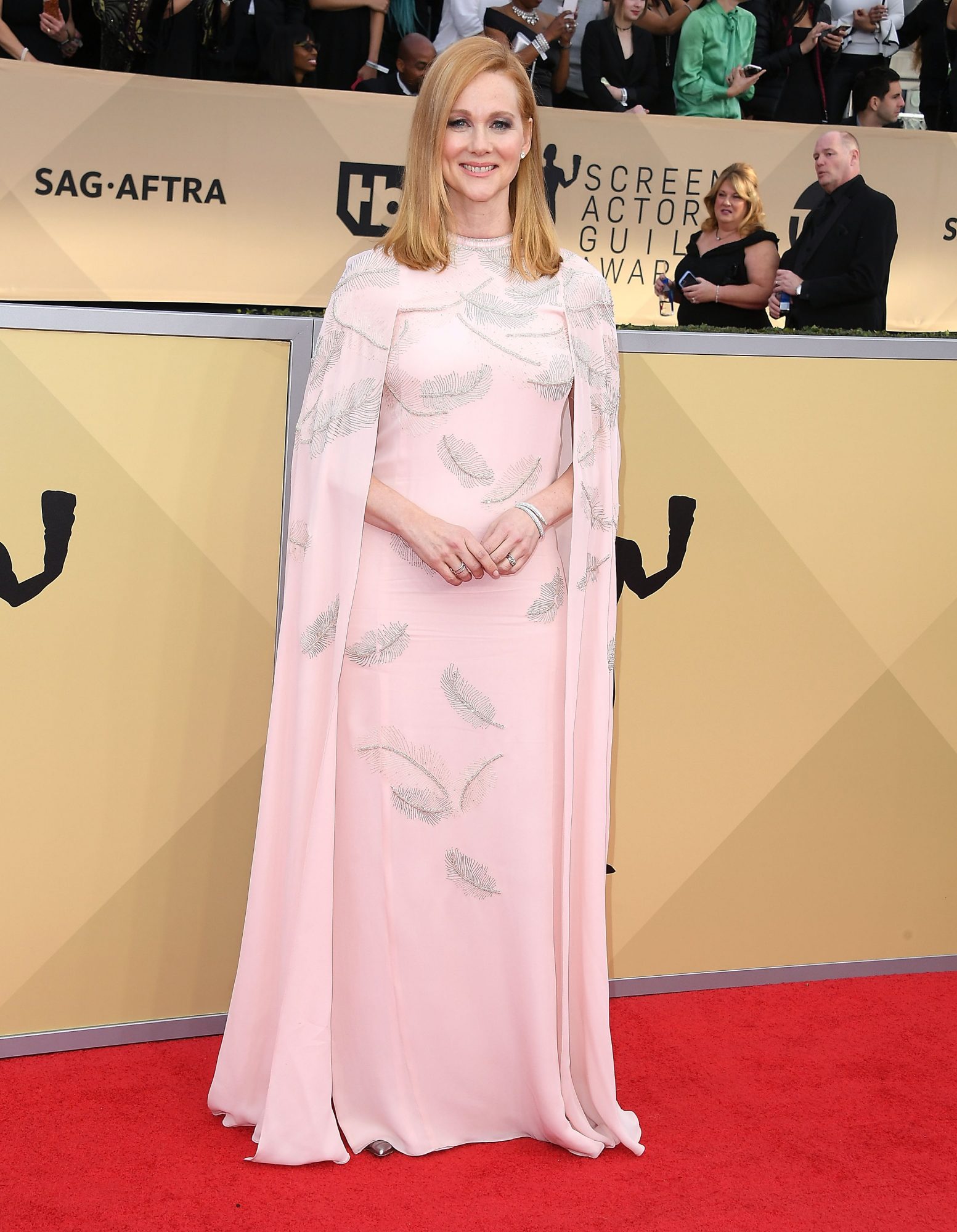 A day later and Laura Linney's ethereal feather-detailed millennial pink gown still leaves us completely speechless.
10Madeline Brewer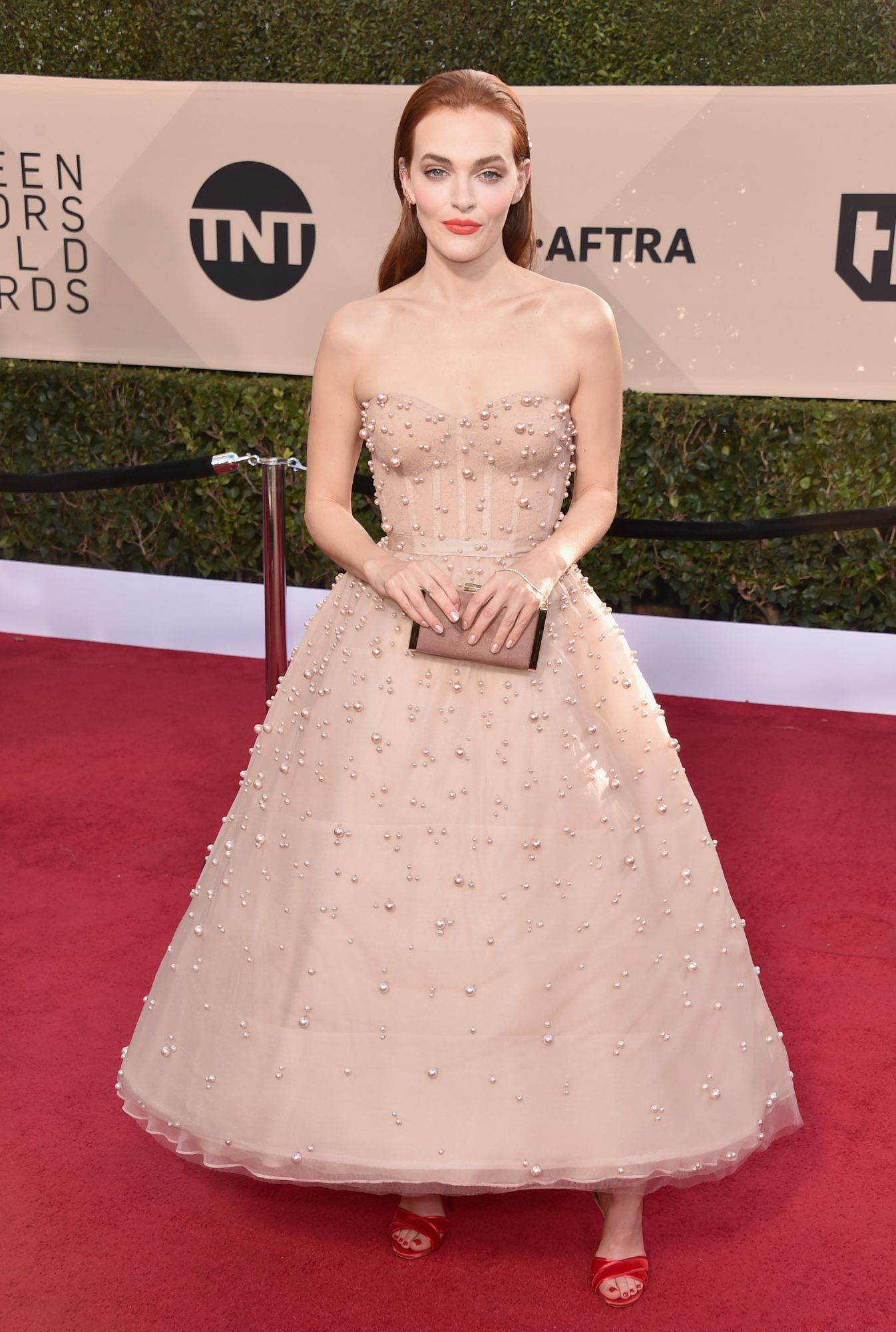 In case you're already looking for some prom dress ideas, Madeline Brewer's embellished gown is sure to look stunning on your special night.
11Uzo Aduba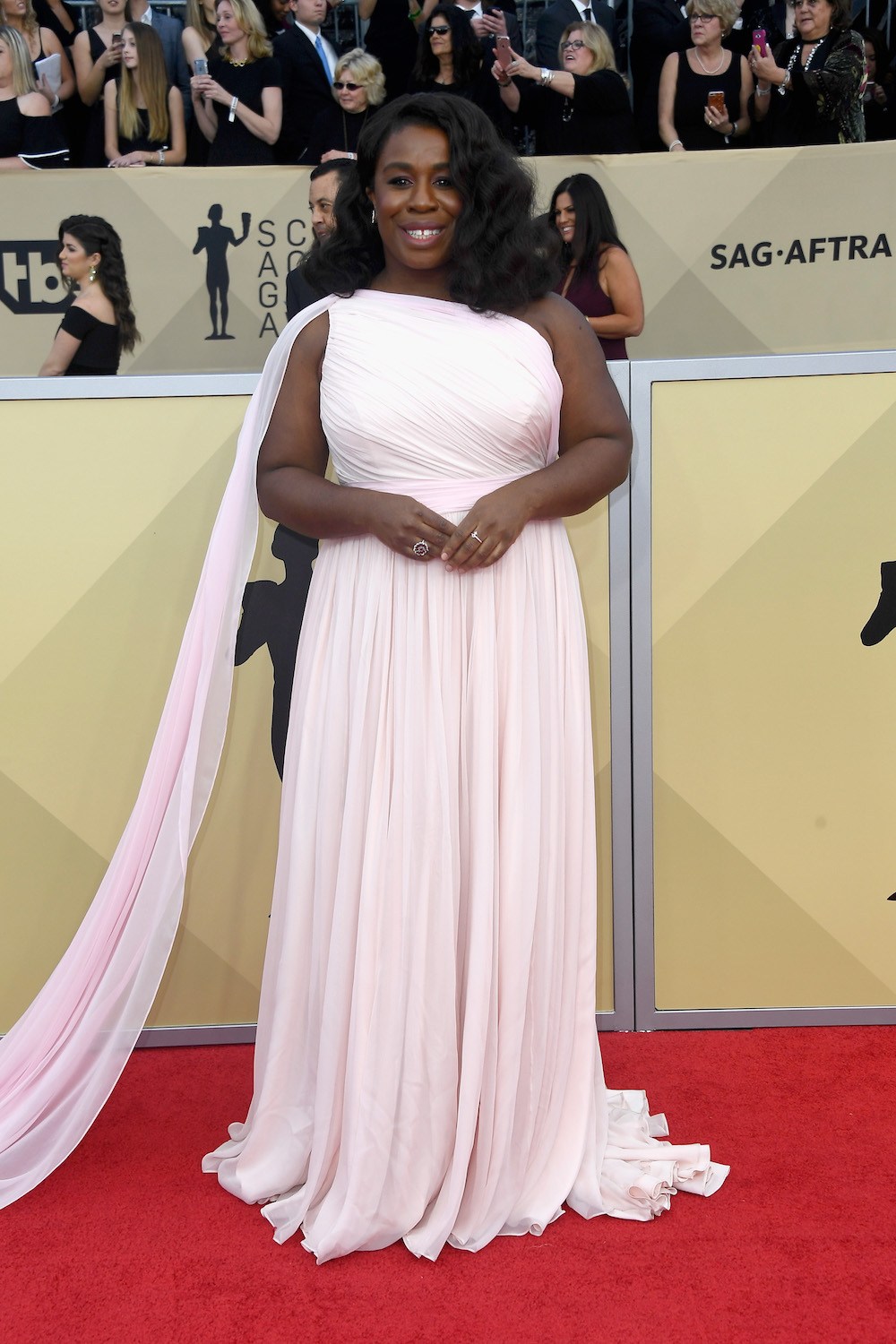 Uzo channeled Old Hollywood glam in this millennial pink grecian gown.
The 2018 SAG Awards showed us that we'll be seeing millennial pink all over the red carpet for the year and awards shows to come.