Millennial Lotería has us nostalgically searching for our beans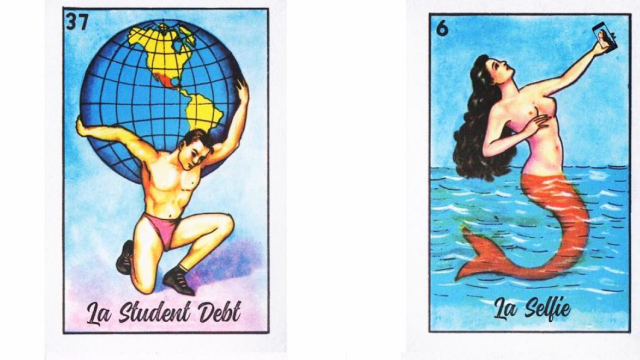 It's hard to imagine what it would have been like to grow up without lotería. The Mexican card game, which is like bingo, has some iconic imagery that's stayed popular since its inception in the late 1880s. Although we've seen a newfound love for the card game, and many iterations of its classic cartoons, there's one version that's stuck with us.
All hail Millennial Lotería, the brilliant rendition of the game created by Mike Alfaro. The writer and creative director was inspired to give the game a modern upgrade when he played with his family on one of his recent trips to Guatemala.
https://www.instagram.com/p/BWf6I3clIny
Millennial Lotería rethinks classic cards like "La Luna," or the moon, as "El Face Swap," and "La Sirena," the siren, as "La Selfie." The sun is replaced by global warming, The Ladder is replaced by the border wall, and The Skull is replaced by gluten.
These cards actually feel relevant for the first time, finding a new light in the Millennial experience, while also poking fun at what exactly it means to be a Millennial.
https://www.instagram.com/p/BV2OI7dlbp8
In an interview with Remezcla, the 29-year-old discussed his inspiration, saying,
"It contrasts nostalgia and modern times with a humorous twist. It also rejects dated Hispanic stereotypes while at the same time poking fun at Millennial stereotypes. It's an idea that has different levels of interpretation, and I think that's why people react to it so strongly.
https://www.instagram.com/p/BVUDTlBh6NO
The game may be Mexican, but it's a staple in Latinx countries, like it was for Alfaro during his childhood in Guatemala. He tells Remezcla, "I had an emotional connection… I think there are many traditions that cross borders in Latin America. Lotería is one of them. That's why I think it's very relatable. It's something that all Latinos can rally around – something we can all be proud of saying we played as kids. It unifies a very diverse community in America."
https://www.instagram.com/p/BWtmOWvlsEh
You can't purchase the cards as a complete set, but you can buy them as prints, pillows, and more. We're crossing our fingers that Alfaro actually creates the entire game. Until then, we'll be waiting with beans so we can play when he does.