The 4 Most Talked About Millennial Artists at Art Basel
Art Basel — and these 4 artists in particular — heated up Miami Beach this past weekend.
Every year, artists, patrons, art enthusiasts, celebrities, and socialites descend on Miami (aka magic city) to attend Miami Art Week. For 2022, two major art fairs were happening during this star-studded week, including Prizm Art and the world-renowned Art Basel.
Founded in 1970 in Basel, Switzerland, the art fair is a global platform for galleries showing the works of modern and contemporary art, from masters to millennials. This year, Art Basel Miami celebrated 20 years and featured 212 of the world's leading galleries — including a much-buzzed about life-sized exhibit featuring Madonna's famous Sex book, from 1992.
RELATED: 10 Reasons Why You're Dreaming About Your Ex
The sun-drenched setting was jumping with parties and private soirees for the art elite. Celebrity sightings were everywhere, including millennials like Zoe Kravitz, Karlie Kloss, Hailey Bieber, Kim Kardashian, and Leonardo Dicaprio. 
We are also seeing more millennial collectors and artists over the past few years. According to ArtBasel.com, "millennials are now the fastest-growing constituency of collectors. At the top end of the market, they buy more art and spend more on it than any other demographic, and women are the biggest spenders."
New York-based art advisor Heather Flow whose clients are 70% millennial, added this: "Truly engaging millennial collectors require galleries to rethink ideas of transparency, flexibility, diversity, and sustainability," she says. "The gallery business model must adapt to consider these elements. You can see parallels between the older generation's openness to photography and mixed media and the millennials' interest in video and new media."
With that in mind, these 4 artists are using their unique POV's to create masterpieces.  
1. Sarah Meyohas
Sarah Meyohas is an American crypto conceptual artist and the creator of Bitchcon, which tokenized art by turning the it into currency. Created in 2015, Bitchcon was one of the first feminine-created NFTs in a space dominated mainly by males. Sarah was included on the Forbes 30 under 30 list in 2017.
Last year, Sarah hosted a Bitchcon salon at Art Basel Miami Beach. This year, she showcased a piece titled Inference, which are holograms that create a three-dimensional experience.
2.

Frieda Toranzo Jaeger
Frieda Toranzo Jaeger is a self-taught painter who incorporates embroidery and sculpture aspects in her artwork. She wants the viewer to experience life when viewing her work. Frieda grew up in Mexico City, Mexico, and encourages viewers to participate in life without stereotypical borders.
Frieda tells ArtBasel.com that through her art, "she likes to revisit history and repurpose it." She also explains that using cars in her work is a metaphor for navigating the experience of social minorities. Her featured piece at Art Basel is called La, interseccion entre la sangge y la masquina.
3. Marryam Moma
Marryam Moma is a Tanzanian-Nigerian collage artist who creates unique layered imagery by repurposing archival paper with other media. Her work depicts self-love and identity within the black culture, especially among black women.
Marryam shared the importance of exhibiting with HelloGiggles, stating: "Exhibiting during Miami Art week provides an opportunity for exposure on an international scale. For emerging millennial artists like me, it provides direct access to the industry. Art Week becomes a concentrated pool as a worldwide industry gathers in one place. I can share my work, be inspired by other artists, and build and nurture relationships both old and new."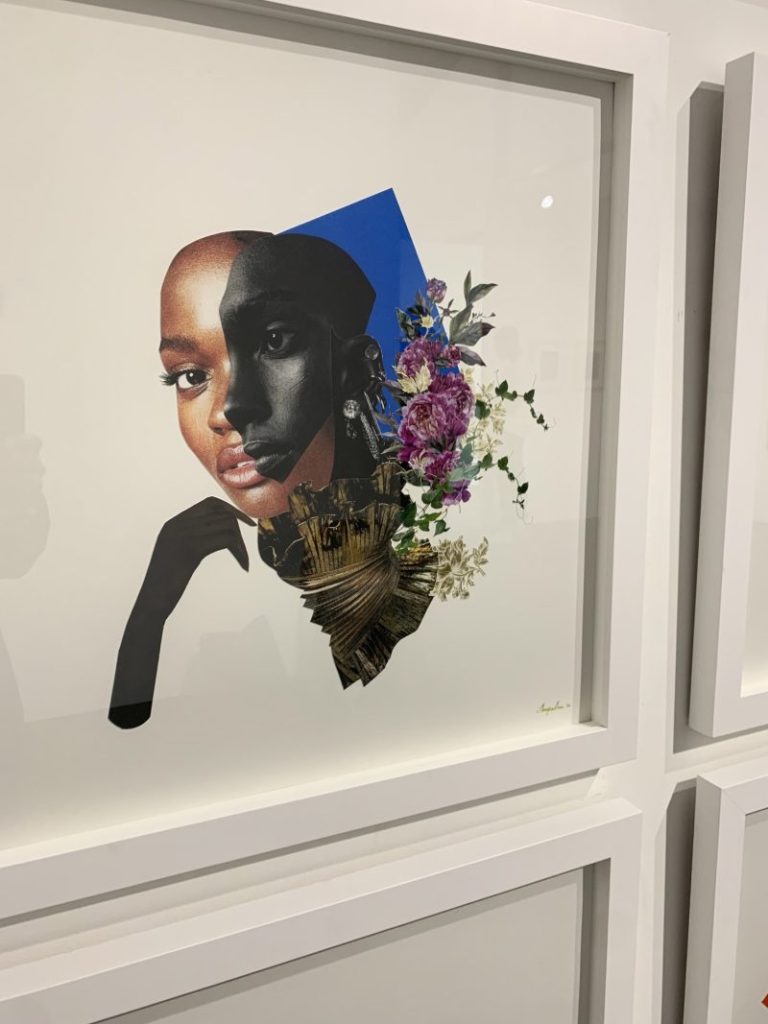 4.

Ilana Savdie
Ilana Savdie was born in Colombia and raised in Miami. Her hometown of Barranquilla hosts the second-largest carnival in the world, and her work reflects all the bright, bold, and electrifying colors it brings.
Her journey is as a queer artist and she strives to create a community that rings with a bright bell.  Savdie recently told W Magazine, "the other day, I felt like my eyes were vibrating color, and then, my contact lens popped out. It was like, I'm done—I'm done looking. So I abandoned ship." She also shares that she is obsessed with performance art and mixes carnivals and queer culture into everything she does. 
Karim Orange, is a beauty, wellness and lifestyle writer, whose work has been featured inpublications such as Organic Spa Magazine, Huff Po, and World Bride just to name a few.
Read more