If you love Milk Makeup's Blur stick, you're going to want to get your hands on their new setting spray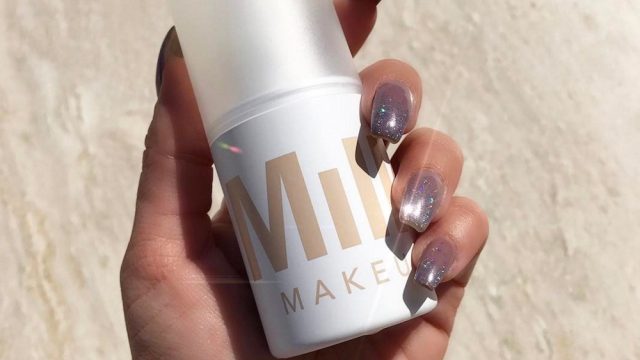 Today's makeup mystery involves Milk Makeup and a small spray bottle. We're already getting our wallet ready, because this new item is pretty much Milk Makeup's Blur Stick in setting spray form.
The product tease comes to us via TrendMood. The influencer and source of all breaking beauty news recently paid a visit to the Milk Makeup studios and left with this unreleased product.
The travel-sized bottle in Milk's trademark white minimal packaging (with a name like "Milk" would you expect any other color scheme?) has us scratching our heads.
TrendMood (real name: Sophie Shab) recently posted a new update explaining Milk Makeup's new product is a Blur Spray, and we are ~so~ ready to try this little baby out. According to the TrendMood, "this spray will blur your imperfections." Best of all? You can use it as a makeup setting spray!
(She's rocking a pretty rad square brown-mauve nail with glitter tips!)
Good things come in small packages.
Teaser posts are definitely an effective tactic used by makeup artists, social media stars, and celebs to ramp up excitement for releases. From Kandee Johnson to Bretman Rock, the art of the tease has been perfected, and always keeps us guessing.
Milk's tattoo stamps already stay on really well, but this new setting spray could make them last even longer.
Milk's low maintenance product line includes a lot of cream and liquid products, which might really benefit from a good setting spray.
Look out for this new Blur Spray come May 2nd, when it hits Milk Makeup's website and May 12th when it launches on Sephora's website.