Miley Cyrus's mom doesn't get why everyone wants her daughter to marry Liam Hemsworth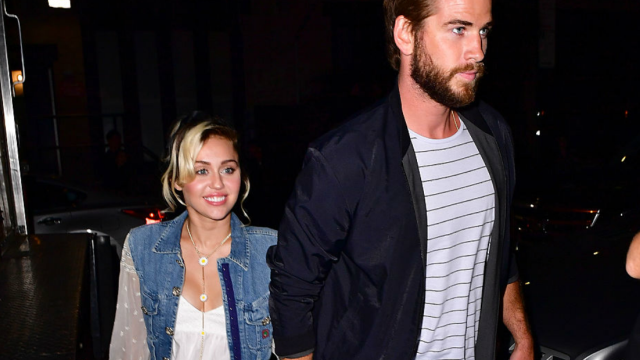 If any of us brought a guy like Liam Hemsworth home, our parents would be planning a wedding within minutes (or at least, my parents would be). Which is exactly why we are so shocked by what Tish Cyrus has to say about him. Miley Cyrus's mom doesn't get the pressure to marry Liam Hemsworth.
Say what?!!
While the rest of the world drools over Miley and Liam's beautiful relationship, Tish just doesn't see the big deal. Guess visiting children's hospitals together and raising a bunch of animals doesn't warm her heart like it does for us! Regardless of what the rest of the world wants, Tish thinks Miley has plenty of time before she even has to start thinking of marriage.
But don't get her wrong. Tish totally supports her daughter's relationship.
She even gave us their relationship update!
Tish Cyrus spoke with Mario Lopez on his radio show on Wednesday, and revealed that Miley and Liam are stronger than ever. But, wedding bells are not in their immediate future.
 "She is not eloping. She is not getting married. They are so freaking happy and living in Malibu,"
Honestly, what else would we want for the power couple that is giving us ultimate #RelationshipGoals?
https://www.instagram.com/p/BQhHKtmFt57
https://www.instagram.com/p/BOeW9mcjEK-
It seems like Miley and Tish are in agreement about not rushing into a legal binding marriage.
"She's so happy, and she's always like, 'I don't know why everybody wants us to get married. It's so perfect.'" You know what they say — if it ain't broke, don't fix it.
Regardless — we're sure shippers will still freak out whenever they see Miley wearing white. Like that one time Miley's dad Billy Ray Cyrus posted a photo of his daughter wearing white with the caption, "I'm so happy…you are happy @mileycyrus." Everyone was convinced Billy Ray just witnessed his daughter get married, but that was soo not the case.
https://www.instagram.com/p/BRcELL_lZLi
Miley's dad later had to clarify that Miley was NOT getting married, and that he simply was just stating that he's happy for her. Because, ya know, women can look happy in white dresses without having to get married. Miley is probably enjoying her successful career as a musician — and as she should, girl hustles and works hard.
https://www.instagram.com/p/BRgY3AmlgrI
As long as Miley Cyrus and Liam Hemsworth are happy together, how "official" their relationship is shouldn't matter. We're just glad to see those two kids back in each other's lives.