If you need an ugly sweater this Christmas you should definitely raid Miley Cyrus' closet, she's got SO many and we're a little jealous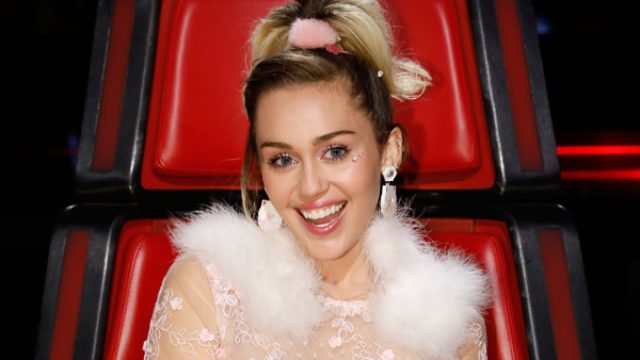 If you are in need of an ugly Christmas sweater, Miley Cyrus is your girl! Honestly, Cyrus has SO many ugly Christmas sweaters that we wish could raid her closet right now — they are so awesome.
Once December hit, the 24-year-old singer started switching up her style — which she always does — this time focusing on the holiday season.
Cyrus has donned numerous ugly Christmas sweaters, and is giving us major Christmas party inspiration. Too bad we can't actually take a peek inside her closet, because we're sure she has even more.
While The Voice coach is known for her over-the-top ensembles, when it comes to festive clothing she's managed to out do herself. In a way that only Cyrus can, she has rocked a variety of Christmas jumpers, each one better than the one before it.
Don't believe us? We've got proof for you below, starting with her elf-tastic white crew-neck top.
"It's startin to look a lot like you know what 🎅🏼🎄☃️," Cyrus captioned the goofy selfie.
https://www.instagram.com/p/BN99n3Ahc5B
Next up a more traditional red sweater, with outrageous holiday accessories.
Yes, that is a Christmas light necklace that actually lights up.
https://www.instagram.com/p/BOIHQZphG1n
One of her sassiest sweaters reads, "Smoke weed every Christmas," and we'd expect nothing less from the rocker.
https://www.instagram.com/p/BOJVcglBND_
On Monday, the young singer shared her newest holiday sweatshirt and we can't help but laugh.
"The tree isn't the only thing getting *LIT* this year!!!!!! Hollllaaaaaa! ??" the Hannah Montana alum wrote.
https://www.instagram.com/p/BONk7u9hgqQ
If her own wardrobe isn't enough holiday spirit, Cyrus' puppies have been showing off their own sweaters.
They are very cute, so prepare to "aw."
"Baby Emu rockin his cute ass Christmas sweater!!! ?????," the "Wrecking Ball" singer wrote on one of the photos.
https://www.instagram.com/p/BNzlBafhxOg
Another puppy donned a Santa sweater, which is adorable.
https://www.instagram.com/p/BNzlu8xhtTr
And of course you need your red-nosed puppy sweater!
https://www.instagram.com/p/BNztM1ghvCI
Miley, you are our Christmas fashion hero!