Miley Cyrus and Cody Simpson got new tattoos together because Miley is queen of relationship ink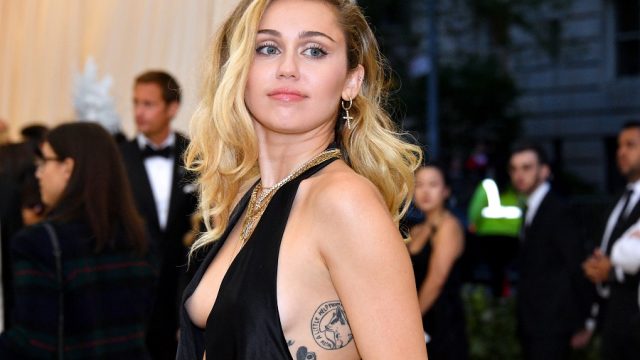 Update, October 17th, 9:30 a.m.: Cody Simpson revealed that he joined Miley Cyrus to get new tattoos together, and this post has been updated to reflect that news.
Update, October 16th, 3:15 p.m., EDT: Miley Cyrus revealed a new tattoo on her Instagram Story. This story has been updated to note the new addition.
Update, August 27th, 10:10 a.m. EDT: Miley Cyrus showed off two more new tattoos at the 2019 MTV VMAs. This story has been updated from its original to include this new ink.
Some of us deal with breakups by getting bangs. Others get inked by one of the world's most secretive and sought-after tattoo artists. Miley Cyrus, you may have guessed, belongs to the latter camp (though her bangs are also looking excellent lately). Just a few weeks after announcing her split from Liam Hemsworth, the "Slide Away" singer added three new tattoos to her already impressive collection. Now, amid more relationship shakeups, she has yet another new piece of ink.
On her Instagram Story on October 16th, Cyrus revealed a heart tattoo with a dagger through it that says, "rock n roll heart."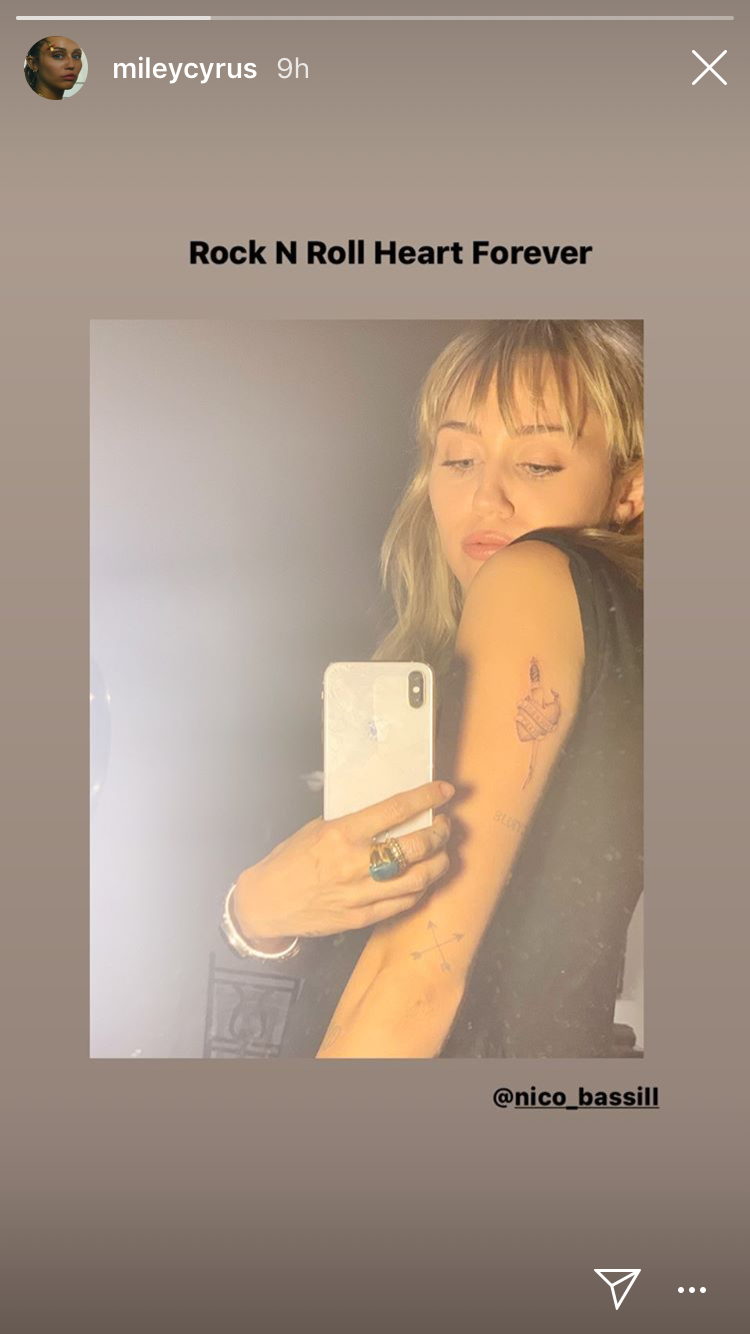 She later posted a video, showing it off more clearly.
Could this be in reference to her recent splits from Hemsworth and Kaitlynn Carter, or her new relationship with Cody Simpson? Um, well, Simpson seems to confirm that yes, this is the case. Cyrus's new beau posted on Instagram, showing that the couple went to get tattoos together.
You'll want to scroll through the post below for the full, steamy effect.
https://www.instagram.com/p/B3ryjIvpa6I
Cyrus commented on the post, writing, "Need. Oxygen. Can't. Breathe. I. Stan. For. Ever. Ship." and using a series of ship emojis.
It's not the first time Miley directly referenced a romantic partner or breakup via her ink.
Back on August 26th, Cyrus showed off two new tattoos—and one definitely feels like it's relevant to the Hemsworth breakup. That one is a song lyric from The Pixies' "The Thing," written in lowercase script on her bicep.
"My head was feeling scared, but my heart was feeling free," the tattoo reads. And if you've been paying attention to "Slide Away" lyrics, it's reminiscent of her thoughts on her recent split from her husband.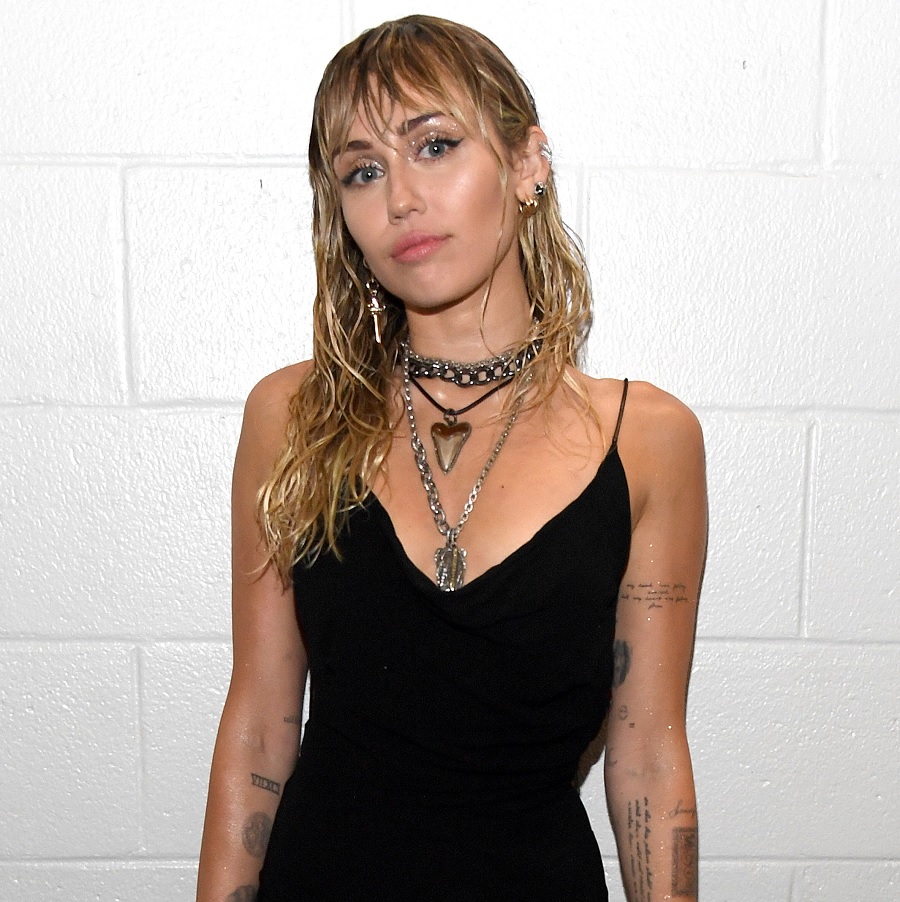 Her second new tattoo is the date "1961" on her left hand, which, according to Allure, is a tribute to her father, Billy Ray Cyrus, who was born that year.
On August 21st, celebrity tattoo artist Doctor Woo posted a picture of Cyrus's then-new piece to his Instagram account. "Cool old sculpture @mileycyrus found in Italy," he captioned. Cyrus is a repeat customer of Doctor Woo's, whose client list includes other A-listers like Drake, Cara Delevingne, and Zoe Kravitz.
The forearm tattoo depicts the coat of arms of the Visconti of Milan, a powerful noble family who ruled the city in the 13th and 14th centuries. And if you've been keeping up with the steady stream of Cyrus updates, you'll know she vacationed in Lake Como with her sister, Brandi Cyrus, and Carter—with whom Cyrus was rumored to be in a relationship with at the time.
Since her first tattoo in 2010—the words "Just Breathe" on her ribcage—Cyrus has been steadily accumulating a serious collection of body art.
The tattoos range from the silly (an avocado on her arm, a sad cat inside her lip, at least one very NSFW word) to the serious—including more than one either matching with or inspired by Hemsworth. 
Let's take a look at what we think are some of the singer's most significant tattoos in her vast and varied collection:
1A jar of Vegemite
In 2016, Cyrus got a tattoo by Doctor Woo of the infamous Australian spread. If it weren't obvious enough that the dainty condiment was an homage to Melbourne-born Hemsworth, it appears that Hemsworth himself has a matching jar on his left outer ankle.     
2A sugar skull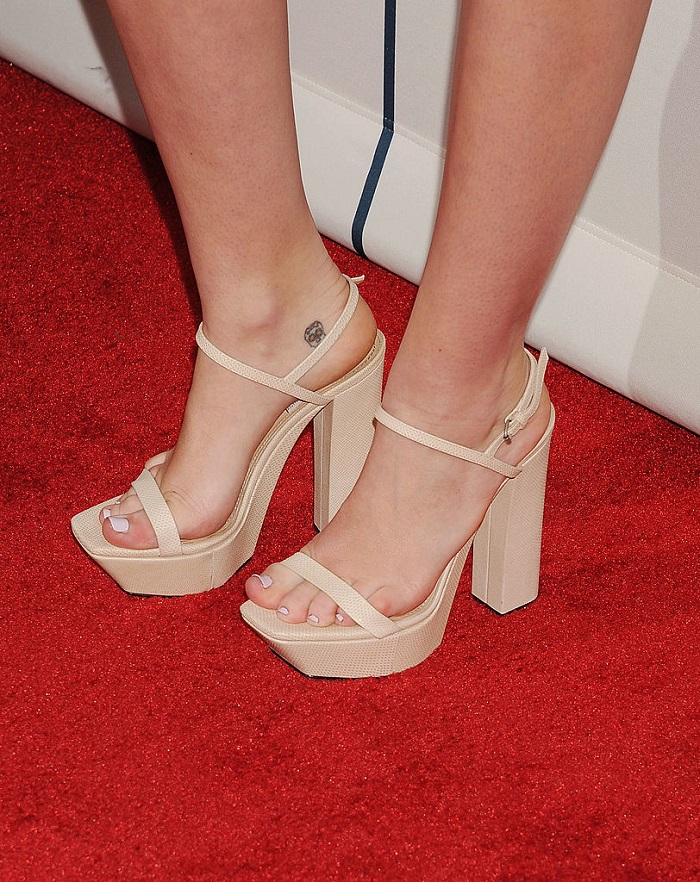 Though we're not sure what Cyrus's sugar skull tattoo means to her, we do know that Hemsworth has a matching tat in the same spot. 
3A Theodore Roosevelt quote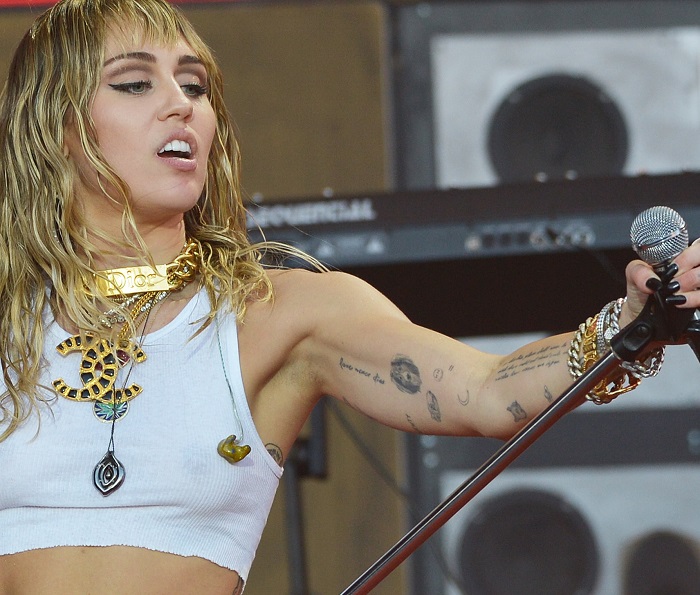 In 2012, Cyrus was photographed sporting a new tattoo on her left forearm, a quote from Theodore Roosevelt's 1910 speech "Citizenship in a Republic." 
"So that his place shall never be with those cold and timid souls who knew neither victory nor defeat," the quote reads. Hemsworth also has a quote from Roosevelt's famous speech tattooed on his arm. Sensing a theme here?
4Her grandmother's portrait
Cyrus has a number of tattoos dedicated to loved ones other than Hemsworth. We think one of the most impressive is this black-and-grey portrait of her maternal grandmother, which Cyrus commissioned from Kat Von D in 2013. A few of Cyrus's other family-inspired tattoos include the word "Wukong," a nickname for her brother Braison, and a sweet "Dad" on her foot.
5Her dog Floyd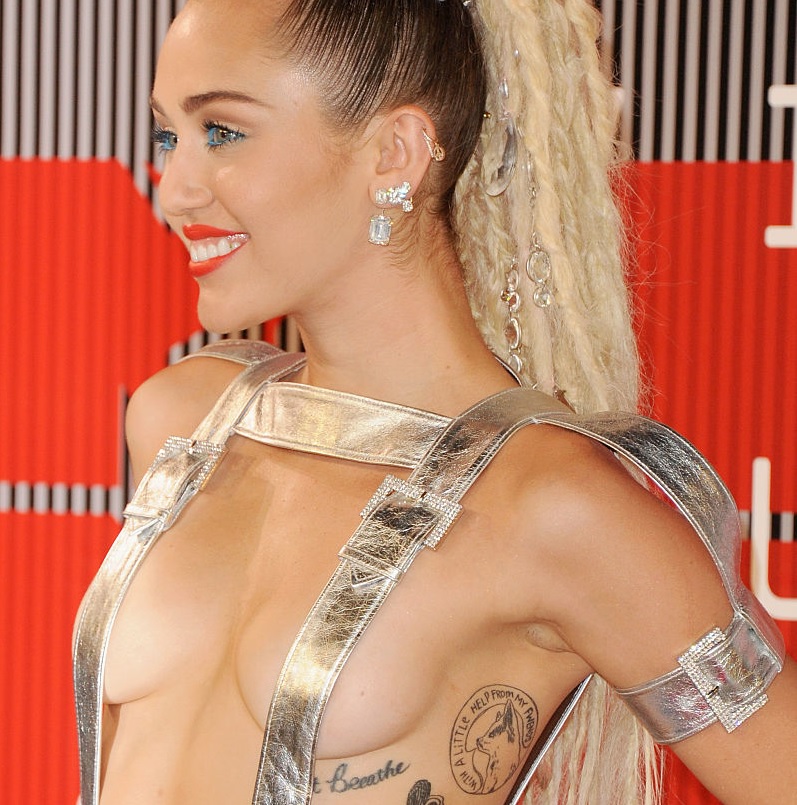 Second to her storied singing career, Cyrus might be best known for her love of animals. It makes sense, then, that a huge contingent of her tattoo collection is dedicated to her beloved pets. Perhaps one of the most significant designs is a piece on her ribcage memorializing her late dog Floyd, whose death in 2014 hit the singer hard.
Cyrus's simple line drawing of the adopted Alaskan Klee Kai includes a speech bubble that reads, "With a little help from my fwiends." A few of Cyrus's friends got matching Floyd tattoos, too, according to Seventeen.
6An equal sign
In 2011, Cyrus debuted a tattoo of an equal sign on her ring finger in support of marriage equality, accompanied by a tweet that read, "All LOVE is equal." The singer, who identifies as pansexual, is an outspoken advocate for the LGBTQ community. She's also the founder of The Happy Hippie Foundation, a nonprofit organization whose "mission is to rally young people to fight injustice facing homeless youth, LGBTQ youth and other vulnerable populations."
We're almost as excited for Cyrus's next tattoo as we are for her next single, especially because her tattoos probably won't make us cry. (Unless she gets another pet memorial, in which case all bets are off.)