Is Miley Cyrus's 'Flowers' Video Referencing an Alleged Jennifer Lawrence and Liam Hemsworth Affair?
The internet certainly thinks so...
Amidst the sea of social media videos featuring Miley Cyrus's new breakup anthem "Flowers" is speculation that the official video for the song is apparently throwing shade at Miley's ex-husband Liam Hemsworth and his former Hunger Games co-star, Jennifer Lawrence. 
Fans are already pretty convinced that the first track off Cyrus's forthcoming Endless Summer Vacation album (due out March 10) is about her ex — whom she was married to from 2018 to 2020. The singer seemingly confirmed it by dropping the song on Hemsworth's birthday.
On the track, the 30-year-old also references a "burning home," which is telling since the actual Malibu home she shared with Hemsworth succumbed to the California wildfires in 2018. At the time, Cyrus told Rolling Stone that the fire did what she "couldn't do" herself.
And now, the new music video for the song is dragging Lawrence into the speculation.
Hemsworth and Lawrence starred together on the hit Hunger Games movie franchise from 2012 through 2015, during which time, Cyrus and Hemsworth were dating. Lawrence even confirmed in 2015 on Watch What Happens Live that she and her co-star had shared an off-screen kiss, although it's not exactly known when that happened.
Jennifer Lawrence has been married to art dealer Cooke Maroney since 2019, after being linked to Chris Martin, Nicholas Hoult, and Darren Aronofsky.
While the lyrics to "Flowers" certainly seem to reference the breakup of Miley's marriage, it's the cryptic music video that's got everyone talking.
In the video, Cyrus appears in a gold gown with her blonde hair up in a messy bun — a look that's almost identical to J. Law's 2012 Hunger Games premiere red carpet appearance.
The coincidence is leading fans to try and find meaning behind the reference.
While they haven't been verified or confirmed, rumors allegedly swirled on the Hunger Games set that Hemsworth cheated on Cyrus with 14 different women.
What's more, a recent viral tweet reportedly written by gossip blogger Pop Tingz claimed the video was shot in the house he reportedly cheated in.
"So Miley Cyrus not only writes a song to ridicule the song Liam Hemsworth dedicated to her at their wedding, she also shot the video in the house he used to cheat on her multiple times and used the suit he used when he told her to behave. MILEY CYRUS IS MY NEW ROLE MODEL," tweeted one fan.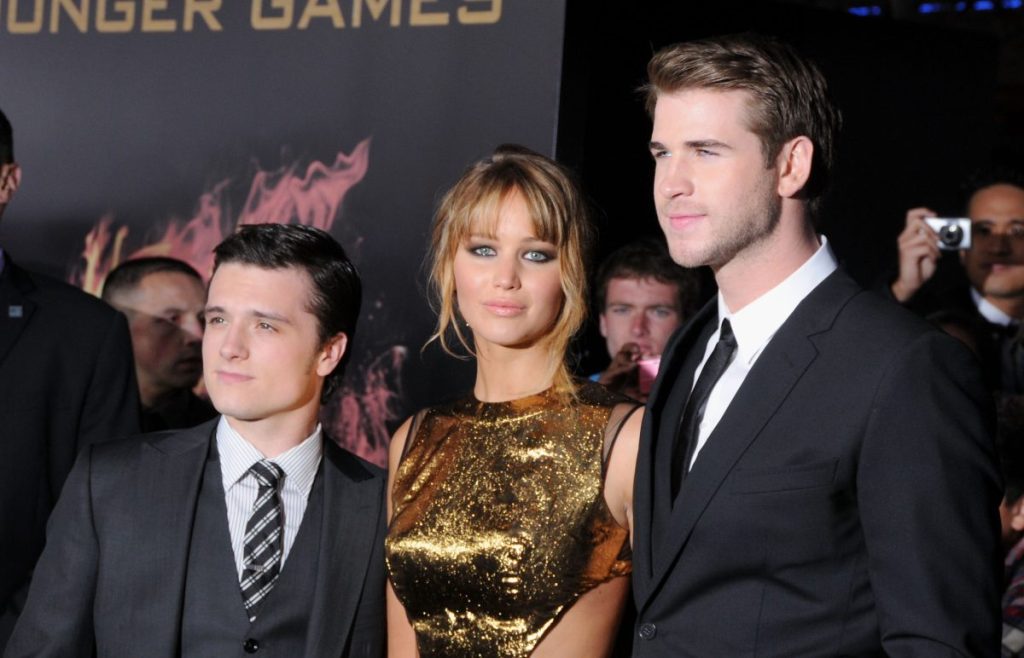 However, Cyrus herself tweeted in August 2019 that her marriage did not end due to Liam cheating on her.
"I can admit to a lot of things but I refuse to admit that my marriage ended because of cheating. Liam and I have been together for a decade. I've said it before & it remains true, I love Liam and always will," the star wrote.
Still, the specific details of her latest music video seem to suggest otherwise.
As fans continue to pick apart the cryptic details of the video (which also features Cyrus working out in lingerie), the self-love song has sparked a movement for women on social media — with more than 880,000 videos on TikTok alone, and other celebs like Selena Gomez and Diane Keaton joining in on the woman-power vibe.
The "Wrecking Ball" singer has also inspired internet searches for "black lingerie" to skyrocket since the release.
No doubt, Cyrus certainly can buy herself flowers. The song has broken Spotify records with more than 100 million streams in its first week. It's quickly on its way to becoming the "it" song of 2023. "She can buy her own Flowers and break her own records," tweeted the music streaming service.
The former Hannah Montana star's been on a streak of late, having recently hosted a hit New Year's Eve special on NBC alongside her legendary Godmother Dolly Parton, and is rumored to be performing at the 2023 Grammys.
Jené Luciani Sena is an accredited journalist and internationally-renowned bestselling author, regularly seen on national TV outlets such as Access Daily, Today and Dr Oz. Touted as one of Woman's World Magazine's "Ultimate Experts," she's a TEDTalk speaker and a busy Mom of 4.
Read more