Miley Cyrus's new song "Slide Away" feels like an explainer on her Liam Hemsworth breakup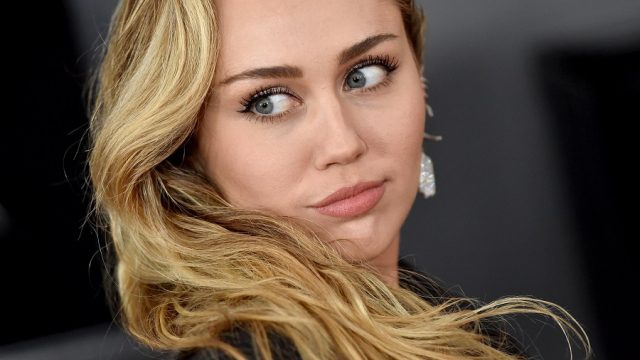 If you haven't heard that Miley Cyrus and Liam Hemsworth broke up, it's likely you've been living under a rock (which we wouldn't blame you for, tbh). But the rest of us have been fielding a barrage of increasingly heartbreaking updates regarding their split, which Cyrus's representative confirmed on Saturday, August 10th. And last night, we were treated to a brand-new development: On Twitter, Cyrus released a new single, "Slide Away"—and the lyrics feel, well, relevant. Could it be a poetic, catchy, thinly veiled treatise on her momentous breakup? We think so. 
The breakup and the aftermath been an emotional roller coaster, to say the least—and if Cyrus's new song is any indication, the ride isn't over yet. And like any artist worth her salt, it seems that Cyrus is using her work as an outlet for those emotions.
Let's unpack these "Slide Away" lyrics, shall we?
The first verse goes as follows:
"Once upon a time, it was paradise / Once upon a time, I was paralyzed / Think I'm gonna miss these harbor lights / But it's time to let it go / Once upon a time, it was made for us / Woke up one day, it had turned to dust / Baby, we were found, but now we're lost / So it's time to let it go"
As the song opens, Cyrus seems to be acknowledging both the fantasy and, ultimately, the harsher reality of her relationship with Hemsworth.
These lyrics echo a recent Instagram post that seems to discuss the Hemsworth breakup. "Don't fight evolution, because you will never win," she wrote. "Change is inevitable."
As a reminder, Cyrus and Hemsworth met in June 2009 on the set of The Last Song—which, as Nicholas Sparks movie adaptations go, is an utterly unrealistic fairy tale if there ever was one. But if you've been following their relationship for the past decade, you'll also know that it had its fair share of ups and downs since the pair met as teenagers.
After more than a few breakups and getting-back-togethers, including a broken engagement, the couple got married in December 2018 in a small ceremony in Tennessee. That could be the reference in "We were found, but now we're lost." They found their way back to each other, but now, as Cyrus sings, she's ready to "let go" of the bond they "found."  
"Slide Away" continues:
"I want my house in the hills / Don't want the whiskey and pills / I don't give up easily / But I don't think I'm down."
It's not clear whether the "whiskey and pills" is a reference to Cyrus's own use or Hemsworth's. However, it should be noted that some fans believe the lyric confirms some rumors and allegations of Hemsworth being a "partier." To be clear, these are just unconfirmed "sources" and claims, which allegedly Hemsworth's camp denies.
And then Cyrus hits the chorus.
" So won't you slide away / Back to the ocean, I'll go back to the city lights / So won't you slide away / Back to the ocean, la-la-la, you'll slide away"
It could be us, but doesn't it feel like the reverse of her love song "Malibu," which was all about her wanting now to be by the ocean, i.e. back with Liam?
But much like Taylor Swift, Cyrus is making the bridge where she really hits us with the truth.
"Move on, we're not 17 / I'm not who I used to be / You say that everything changed / You're right, we're grown now."
Cyrus was just a teenager when she met Hemsworth. Obviously, the now-26-year-old has changed a lot since then—she was still on Hannah Montana, for reference—as we all (ideally) should over the course of a decade. It seems, through these lyrics, that she's confirming rumors that she's the one who ended the relationship—if you take it literally that she's the one singing, "Move on."
"Slide Away" follows the May release of Cyrus's EP She Is Coming, the first in a planned trilogy. The second and third EPs, She Is Here and She Is Everything, are slated to drop later this year, so more introspective, emotionally revealing lyrics will likely be coming soon. In the meantime, we'll be playing this song on repeat and probably crying.