Miley Cyrus shared a super-relatable zit pic on Insta, and, we've been there girl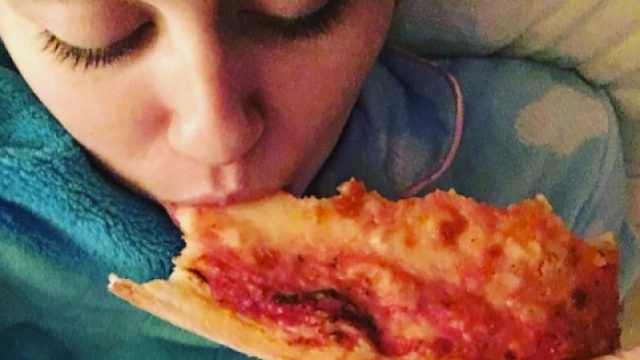 Okay, so Miley Cyrus has seriously been winning our hearts lately. She's been putting out so much positivity into the world via social media and advocating for some pretty amazing causes. And now, like a true hero, Miley has shared a super-relatable zit pic — reminding us that celebrities are just regular people and making all us non-celebrities feel majorly less inadequate.
Now, this little tidbit obviously is nowhere near as important or interesting as, say, Miley's continued LGBTQ+ activism or her posts about the importance of animal welfare and rescue. But, if we're being entirely honest on this tired, post-holiday Tuesday, it absolutely makes us feel a little better about our lives.
Because it's just nice to know that someone else out there is feeling the post-holiday slump and is also dealing with the repercussions of some perhaps less-than-healthy choices from this past weekend.
See? We're not alone!
https://www.instagram.com/p/BOyvT1vhiQm
"I deserve it. Too much pizza. Not enough water. #firstpimpleof2017," she captioned it.
And we know, we know — Miley still looks pretty flawless for someone who claims they deserve a zit for not taking care of themselves. But we 100% understand the sentiment and are relating to this SO HARD today.
And in case you're wondering what Miley has been up to this past week, let us remind you that she seemingly had an AWESOME — if totally indulgent — Christmas and New Year (which, if you ask us, is exactly how it should be):
Miley partying hard (with Chris Hemsworth's wife, Elsa Pataky.
https://www.instagram.com/p/BOcqQwehX7Y
Miley recovering from said partying.
https://www.instagram.com/p/BOv4yrDh2jZ
Oh yeah, BEEN THERE GIRL! Thanks, Miley, for reminding us that our various "imperfections" are perfectly normal. And also, for being so real with us — today and always.
Now excuse us while we casually consider juice cleansing (and then forget about it as we eat donuts).