Miley Cyrus opened up about her relationship with Liam Hemsworth, and how he inspired her new music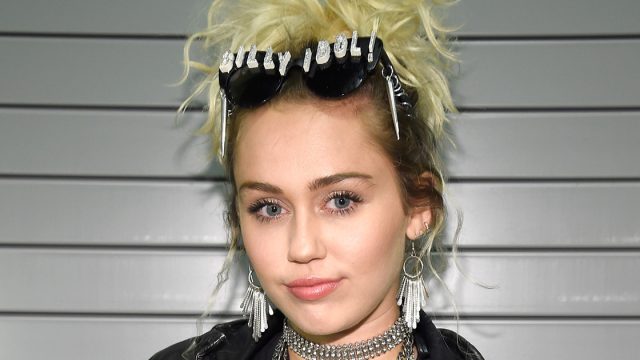 In a rare candid interview, Miley Cyrus has opened up about her relationship with Liam Hemsworth — and she's teased that she has some new music IN JUST ONE WEEK!
Rumors about Miley have been floating around for the better part of the year: both that she's been working on new music and that she's already married married her fiancé, Australian actor Liam Hemsworth. (Even the singer's father, Billy Ray Cyrus, has added fuel to both those fires.)
The singer has been under a self-imposed media blackout and cleanse, but thanks to a new interview with Billboard, we know that only one of these rumors is actually true. Miley and Liam aren't married — but the singer does say that her fiancé inspired some of her new music.
In the interview, Miley Cyrus spoke about the reasons for her split with Liam in 2013, and they're actually super relatable.
After the split, Miley threw herself into her work because, she says,  "I needed to change so much. And changing with someone else not changing like that is too hard." 
"Suddenly you're like, 'I don't recognize you anymore,'" she continued. "We had to refall for each other."
https://www.instagram.com/p/BRAn90BhFOu
In fact, it appears that Miley's new music was inspired by her romance. The singer teased that the lead single (WHICH COMES OUT NEXT WEEK FYI!!!!!!), titled "Malibu," is all about her trying to reclaim the narrative surrounding her relationship.
"They're going to talk about me if I come out of a restaurant with Liam. So why not put the power back in my relationship and say, 'This is how I feel'?" she said.
Billboard even gave a sneak peek at the song, calling it a "breezy love song"  and "gimmick-free pop-rock," and even quoted the song's lyrics: "I never would've believed you if three years ago you told me I'd be here writing this song." 
Miley also spoke to the music magazine about her gender identity and her issues with masculinity.
"I always get in trouble for ­generalizing straight men, 'cause straight men can be my worst nightmare ­sometimes," she revealed. "And I'm with a straight dude. But [Liam is] always like, 'Well, don't call me that!' I ask him sometimes, 'Do you like being a boy?' And he's like, 'I don't really think about it.' And that's crazy to me, because I think about being a girl all the time. I'm always like, 'It's weird that I'm a girl, because I just don't feel like a girl, and I don't feel like a boy. I just feel like nothing.' So when someone's too ­masculine, that really grosses me out." 
The 24-year-old also shared how she believed that fashion, especially fashion aimed at women, meant that people had lost their individuality.
"I can only speak for the years that I've been alive, but I don't know if it has ever been so important to 'fit in.' It's not about standing out right now. Which is so weird, because it seems like for the really unique, smart kids in this generation, it's all about standing out. I love seeing these kids on Instagram that dress fucking dope. This whole world right now is so divided, in the arts, fashion — everything," she opined.
https://www.instagram.com/p/BQ6M8Jlh1q5
Miley isn't known for staying in one lane, and from the sounds of it, her new music is another departure. While her 2013 album Bangerz had flecks of hip-hop and R&B in it, her 2015 indie release, Miley Cyrus & Her Dead Petz, was more psychedelic. Now it seems that in her upcoming album, the singer is exploring her country music roots, and we can't bloomin' wait to hear what she's been cooking up.
In fact, we'll get a first taste of the singer's new sound NEXT WEEK, as Miley Cyrus is set to release her new single "Malibu" on May 11th!
Save