Miley Cyrus's reaction to her "Hannah Montana" audition is priceless
We've all got to start somewhere. To help promote her amazing new single "Malibu," Miley Cyrus viewed her Hannah Montana audition once again. It makes sense, since it was during a meet-up with Radio Disney — a channel that definitely supported Cyrus throughout the years.
Hannah Montana aired between 2006 and 2011, and was a huge Disney hit. It was also the first time a lot of us were introduced to young Cyrus. Playing the lead role of Miley Stewart — a character whose name was changed after Cyrus was brought on board — she got to showcase her many talents on the show.
And yes, that includes singing. Cyrus's audition included a song called "We're Going to the Beach."
https://www.youtube.com/watch?v=4n6hh7CfFtE?feature=oembed
My, so much has changed since those simple days.
"Always a little controversial, from the beginning!" Cyrus admitted while watching.
According to Cyrus, the t-shirt she wore to the audition said "I should have my own TV show." Pretty cool that the dream came true!
Cyrus definitely had confidence back then. Even in front of the talent scouts, she made sure to tell them that "it's definitely going to happen."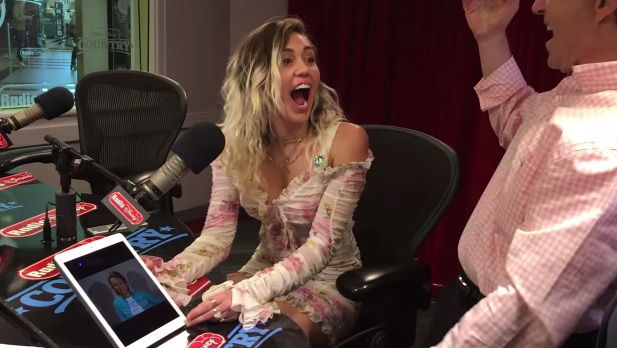 Currently 24, Cyrus was approximately around 12 or 13 when the audition took place.
Executives wrote her off at first due to her young age, but she managed to prove them wrong — as she stated in this fun video that includes brief moments of the footage above.
https://www.youtube.com/watch?v=Ym_2gctAmCI?feature=oembed
It's pretty obvious — Cyrus had charisma and charm from the very beginning.