Miley Cyrus performed "Rebel Yell" with Billy Idol, which somehow feels perfect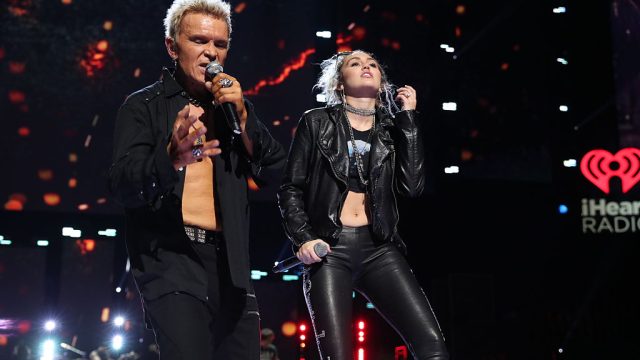 Miley Cyrus has always been well equipped with one beautiful voice. So it's no surprise that she totally nailed her role singing the legendary tune "Rebel Yell" with Billy Idol. It all took place at the iHeartRadio Music Festival, which happened this Friday in Las Vegas.
And here's a clip with a bit more meat to it, posted by a fan that was lucky enough to be at the show herself:
We love how powerful Cyrus's voice is!
Of course, this isn't the first time that our girl Miley has taken on "Rebel Yell". In 2013, she sang the song (without Idol) on VH1 Divas. With her hair much shorter, and her outfit filled with spikes, she definitely looked pretty darn rebellious. And while her voice sounds lovely here, it's amazing how much stronger it has gotten in the last few years.
https://www.youtube.com/watch?v=EKhC1_Owf04?feature=oembed
This is a big month for Miley. While she's still singing her heart out, she'll also be appearing in the brand new show Crisis in Six Scenes, which will be debuting on Amazon on September 30th. We're glad that she's managed to find a great balance between acting and singing, since she's incredibly talented with both.
The iHeartMusic festival also included great performances from Sia, Drake, and U2. Tonight, their lineup is scheduled to include Ariana Grande, Sting, and the one and only Britney Spears. So, that just means that more incredible clips are ahead!