Miley Cyrus hinted that her parents may have helped her and Liam Hemsworth get back together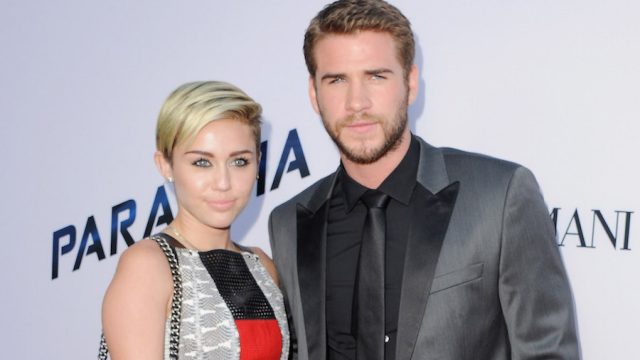 The love story between Miley Cyrus and Liam Hemsworth is one of our favorites. Though they've had some bumps in the road, this celebrity couple now seems stronger than ever. But if you took their breakup hard and celebrated when they reunited, well, it seems that you may need to thank Cyrus's parents for her being back with Hemsworth.
While filming their 2010 movie The Last Song, Hemsworth and Cyrus got together, and despite their young, tumultuous relationship, they stayed together and became engaged in 2012. However, the couple broke it off in 2013 and all hope was lost for Miley and Liam fans. You probably coped by listening to "Wrecking Ball" on repeat.
Yet, while there were rumors of Cyrus and Hemsworth getting back together throughout the years, it wasn't until January 2016 that it became clear that they were dating again. And even then, it wasn't evident whether or not the pair was re-engaged.
Actually, it's still not very clear, with Cyrus not treating her engagement ring like an engagement ring — but hey, at least we know they are back together and in love.
https://www.instagram.com/p/BAr1FHXQzL2
But where do Billy Ray and Tish Cyrus fit into all of this? Well, in an interview with Cosmopolitan, Miley was asked about the one thing that she has learned from her parents' marriage. Her response?
"Nothing and no one stays the same. Grow, evolve, change with each other and celebrate your love's journey!"
https://www.instagram.com/p/BWWolfGFMsR
While she doesn't say that this pearl of wisdom is what led to her getting back together with Hemsworth, it definitely makes sense knowing how young they were when they first got together and how they have found happiness with one another again. And Cyrus thinks that their breaking up — and the growth that followed — was an important part of their journey, since she said in an interview with SiriusXM's Hits 1 in May 2017:
"I think, people who break up and get back together, I think that's awesome, because you know it's true, but you get time to be yourself. You get time to grow up. I think if you're growing up attached to another person, you never really get solid as your own being. So I'm really solid, and then he gets to be really solid, and then together, we get to be two really grounded people. But it's not a half and a half make a whole."
https://www.instagram.com/p/BWNjAIXhxJi
Although they've also had their own issues and almost have gotten divorced multiple times, Billy Ray and Tish have been married for almost 25 years. And right now, Tish is just happy that Miley's happy with Liam. In an interview with Mario Lopez in June 2017, she didn't seem to care whether or not they got married.
No matter what brought Miley and Liam back together, the lesson she learned from her parents' marriage is one every couple should know. We're just happy that these two crazy kids are happily in love again.