Miley Cyrus's mom turned her barn into a psychedelic loft for Miley, is the best mom ever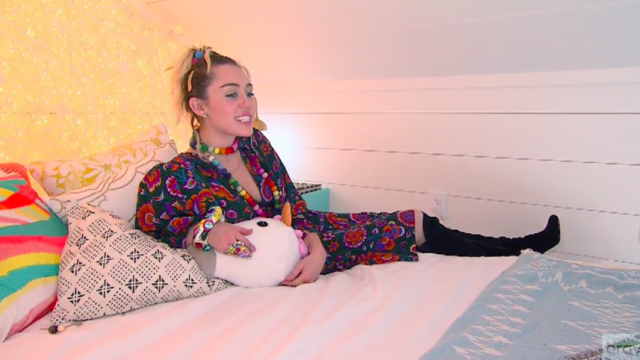 Miley Cyrus now has a place to live when she's in Nashville, and it's a super cute Miley-themed barn-turned-loft on her family's own property.
In the season finale of Cyrus vs. Cyrus — a Bravo TV show on which Miley's mom, Tish, and sister, Brandi, compete to win interior design clients — the duo converted an old barn into a loft for Miley to stay in while she's in town.
According to People.com, Miley's dad Billy Ray was actually the one who came up with the idea for the loft.
He hopes a bona fide place of her own in Nashville will help the singer visit her family more often.
The renovation budget, a cool $165,000, helped Tish and Brandi revitalize the space with bright colors and vintage furnishings, as well as shape up the exterior and connect the barn to water and power from the main house.
In the big reveal, which aired Thursday on Bravo, Brandi drove Miley up to the property, where her mom and brothers were waiting to surprise her with her cool new hangout.
"What the hell happened to the barn?" Miley asked as they walked her into the backyard.
https://www.instagram.com/p/BV7tJkIhenC
Miley told her mom she hated surprises, but from the look of things, she really liked this one. After climbing up onto the barn's ultra-cool loft bed, the singer said she was going to come visit as much as possible.