Miley Cyrus revealed what it's like living with Liam Hemsworth, and it literally sounds scary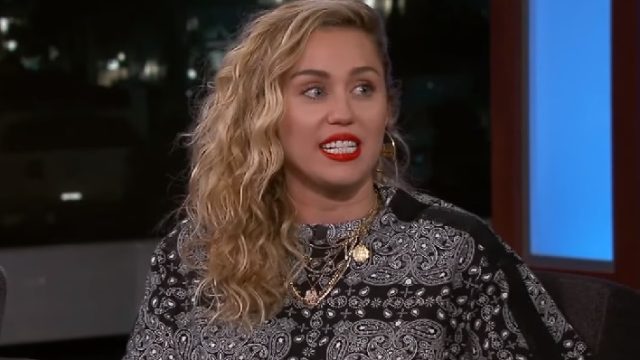 When we think about the celeb couples we love, Miley Cyrus and Liam Hemsworth are at the top of the list. They've proven that sometimes all you need is a break for a relationship to flourish, and are a solid reminder that second chances are possible. But it doesn't mean they don't have their challenges. Miley opened up about what it's like living with Liam during a May 1st appearance on Jimmy Kimmel Live!, and, well, it can be scary…in the most literal sense.
Kimmel began the conversation by showing the audience a recent prank Liam pulled on his lady love. The movie star jumps out from behind a corner (while filming, of course) and scares the living daylight out of Miley (who is decidedly NOT pleased).
Here is the video, in case you missed it:
Miley provided more background on the situation, saying, "I was already scared. I was putting our Christmas decorations away finally. [...] So I was already in this really creepy basement, and I was coming up to say 'Oh my god that basement is so scary,' and he jumped out at the worst time [...] He's around a lot of corners. "
LOL.
When asked if she ever gets Liam back for his continual pranking, she admitted she's way too loud to get him. "He's like, I can hear you back there." LOL AGAIN.
Here's the full interview for your viewing pleasure:
https://www.youtube.com/watch?v=r2vDabFVj-A?feature=oembed
Miley also mentioned that while she's been splitting her time between L.A. and Nashville these days, she's been spending more time in L.A. to work on an upcoming project (though she cryptically didn't reveal too much).
We can't wait to hear more about Miley's latest creative endeavor, and we also sincerely hope she gets Liam back one of these days (and films it, duh).