Miley Cyrus and Jimmy Fallon went singing on the subway in disguise, and yes, it's epic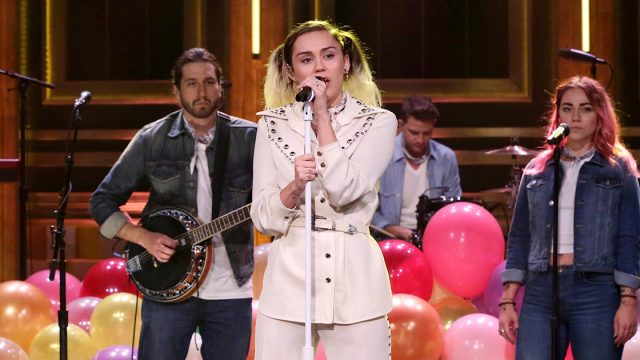 What would you do if you were heading out on your morning commute and you spotted Miley Cyrus and Jimmy Fallon singing on the subway in disguise?
Well, that's exactly what happened to some unsuspecting New Yorkers the other day when they were greeted by Miley and Jimmy wearing some (not so amazing) get-ups while performing a smattering of songs for commuters.
Miley donned a black wig, a straw hat, and some sunglasses for the occasion, while Jimmy popped on a wig and some shades, too. This pop-up performance comes on the heels of Cyrus releasing her new single "Inspired," a track that honors Pride Month and donates a percentage of proceeds to the singer's Happy Hippie Foundation.
"Hey guys, I'm here at the 50th Street subway station — right below Rockefeller Center — and Miley Cyrus and I are about to go on to the subway platform and go busking in disguise," Jimmy said. "No one knows that this is going to happen; no one knows it's Miley Cyrus."
To which Miley replied, "Alright Bart, let's party."
Opening their "set" with a cover of "Jolene" by Dolly Parton, Miley's godmother, it didn't take long for people to start congregating around their performance, and judging from the size of the crowd, we have a sneaking suspicion that people figured out their hidden identities pretty quickly.
In fact, after "Jolene," the pair took off their disguises and launched into Miley's #throwback anthem "Party In The USA."
"This is my first time [playing] at the subway station," Cyrus shouted to the crowd. "This is exciting shit for me!"
Watch the pair's incognito performance below.
https://www.youtube.com/watch?v=AWBEW3-h8_Y?feature=oembed
Miley and Jimmy also played a game of Google Translate Songs, which saw the pair do hilarious renditions of Ed Sheeran's "Shape Of You" and Dusty Springfield's "Son of a Preacher Man."
https://www.youtube.com/watch?v=QKxaxrxVMsg?feature=oembed
Miley then performed her track "Malibu," which is reportedly from her upcoming new album that's slated for release later this year.
Hopefully, when the album comes out, *we'll* get to see Miley perform on the subway, too.