Based on Miley Cyrus's birthday gifts, Liam Hemsworth is clearly a thoughtful fiancé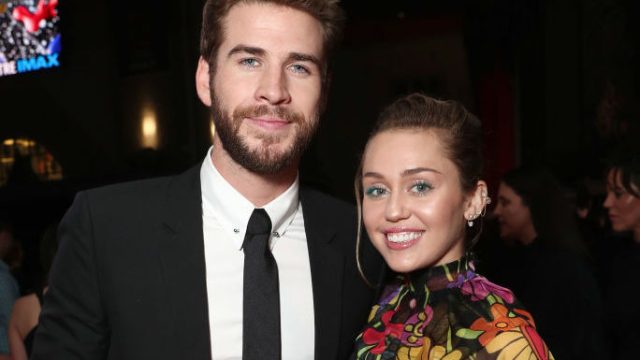 This celebrity couple is back and cuter than ever. Liam Hemsworth's birthday gifts for Miley Cyrus this year are so, well, Miley. Cyrus posted photos of them to her Instagram, so we can all drool over her spoils while digesting our Thanksgiving meals.
For her 25th, Hemsworth gifted his fiancé with two pieces of jewelry, PopSugar reports. First up was a pair of hoop earrings. They look simple in the photo, but Cyrus described them as "blingin rainbow hoops" in her Instagram caption, so we bet they are even more fab in person.
Hemsworth also gave her a nameplate necklace with the word "lili" spelled out in rainbow stones. Not only is the necklace super cute — it also has a cheeky hidden meaning. LiLi appears to be what she calls Hemsworth. Liam, LiLi… get it?
People points out that LiLi sounds a little like a combination of their two names, which makes this gift all the sweeter. These two! Although Cyrus and Hemsworth broke up back in 2013, they appear to be going strong once again. They even set our hearts aflutter earlier this month when they were spotted wearing rings that looked suspiciously like wedding bands, although as far as we know, they remain engaged.
https://www.instagram.com/p/Bb0sc08BGg8
Cyrus is a fan of colorful looks, so she'll get plenty of use out of this accessory. Excuse us while we add "our very own Liam Hemsworth" to our Christmas list.
https://www.instagram.com/p/Bb2R2svBKH4
The earrings are toned-down, but still adorable.
https://www.instagram.com/p/Bb0r81hhFDK
Cyrus's birthday is the 23rd and fell on Thanksgiving this year. According to Instagram, she celebrated the double occasion with a little tofurky and some silver decorations that would be at home in Andy Warhol's Factory.
https://www.instagram.com/p/Bb2OsNghFTZ
Complete and total birthday goals.