Miley Cyrus posted a four-page birthday message to Liam Hemsworth listing everything she loves about him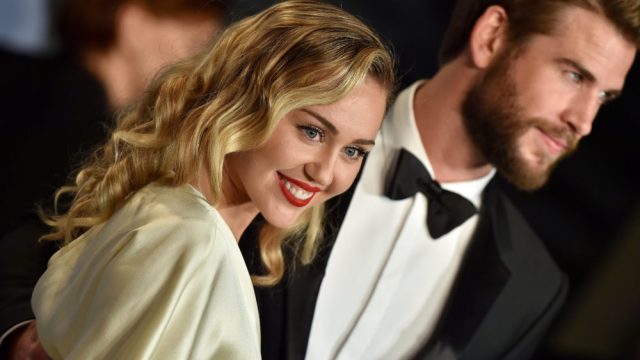 Miley Cyrus and Liam Hemsworth are officially married. It's only been a few weeks since Cyrus shared pictures from their December wedding, but the couple is clearly enjoying their just-wedded bliss. In a tribute to Hemsworth on his birthday, Cyrus listed all of the things she loves about him, proving that, even a decade after they first met, they are still #relationshipgoals. According to CNN, Hemsworth turned 29 on Sunday, January 13th, and Cyrus took to Instagram to celebrate with a swoon-worthy, four-page note.
"L, HBD to my #1," Cyrus began her message. "When we met you were 19, Today, you are 29...I thought I could share some of my favorite things about my favorite dude in honor of this very special day."
She continued by listing her many favorite things about Hemsworth—big and small. The list was varied and included details like, "the way you look at me," "watching The Sandlot with you," "having a teeth brushin' partner," and "how you let ME be ME." The "Nothing Breaks Like A Heart" singer concluded by writing, "I love YOU. Unconditionally."
"In our time together you have displayed what it really means to love thru all circumstances," she wrote. "I respect you and you respect me. If the world had more of this type of understanding we wouldn't be building more walls but bridges...I'm proud of the person you've become and look forward to all the good we will contribute ToGeThEr in the future."
She concluded by writing: "Thank you for giving me the happiest days of my life."
https://www.instagram.com/p/BsmgIB6BQwg
Cyrus didn't just stick to sweet words while wishing Hemsworth a happy birthday. She also shared a goofy video of him dancing.
https://www.instagram.com/p/Bsmb1GGhZL7
Later, she shared an adorable throwback photo of the two from nearly 10 years ago.
https://www.instagram.com/p/BsmxFXYhvPx
Cosmopolitan notes that after meeting on the set of The Last Song, Cyrus and Hemsworth made things official in 2010. They got engaged in 2012 before breaking up in 2013, but they ultimately reconciled in 2016 and have been together ever since.