Miley Cyrus and Cody Simpson gave out tacos to healthcare workers with handwritten messages on each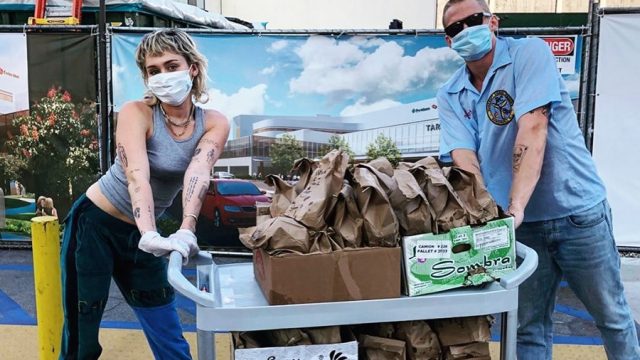 Miley Cyrus and Cody Simpson showed their appreciation for their local healthcare workers in a delicious way. Maybe taking inspiration from Lizzo's lunch deliveries, the couple put in a gigantic taco order and delivered the meals to hospital workers fighting coronavirus (COVID-19) in their area. Each bag full of tacos had a hand-written thank-you note on the outside.
"During a pandemic, we have to show our love and support to all the healthcare workers doing their amazing jobs," Simpson said in an Instagram video yesterday, April 5th. "We're doing a big taco delivery to our local hospital."
He shared several photos from the drop-off, including a picture of the happy, hungry healthcare workers who received the taco donation. Cyrus and Simpson wore gloves and masks as they delivered the food.
"Tacos for the incredible healthcare workers at our local hospital!" Simpson captioned the post.
"So grateful for these true legends of our time dedicating their lives to battling this pandemic," the caption continued. "Show some love to yours in your community!"
Not only is this taco delivery a way to show appreciation for your local healthcare workers on the frontlines, it's also an opportunity to support local businesses and restaurants during these stressful times.
If you'd like to follow suit, get in contact with a restaurant in your community that's still open for takeout and arrange a delivery to your nearby hospital. Of course, you don't have to put in an order as large as Simpson and Cyrus's—a smaller takeout order shows just as much appreciation as a large one.
We're sending thanks, both to our healthcare workers and to those like Simpson and Cyrus who are supporting them.
As information about the coronavirus pandemic rapidly changes, HelloGiggles is committed to providing accurate and helpful coverage to our readers. As such, some of the information in this story may have changed after publication. For the latest on COVID-19, we encourage you to use online resources from CDC, WHO, and local public health departments, and visit our coronavirus hub.