Miley Cyrus and BF Cody Simpson now have "matching mohawks"
It looks like Miley Cyrus needed a quick change from the pixie mullet she debuted a mere week ago. Cyrus gave herself and boyfriend Cody Simpson "matching mohawks" yesterday, May 26th. They must have come to the realization that couples who undergo quarantine haircuts together, stay together.
Sadly, we only got one snippet from the quarantine-cut process. Cyrus posted a selfie Simpson took of the cut in progress. Judging by the pic, it looks like Cyrus may have simply styled her new mullet cut in a mohawk-esque updo. Her mother, Tish, cut her mullet with the (virtual) help of stylist Sally Hershberger, and now Miley is continuing those DIY cuts.
As for Simpson, Cyrus gave him the full buzzed mohawk treatment.
Cyrus has been rocking a "modern mullet," as Hershberger coined, since the beginning of the year. It's a short crop on top with shaggy length toward the back. She's been shearing it shorter and shorter since entering quarantine, and we've now ended up with a bit of a faux-hawk.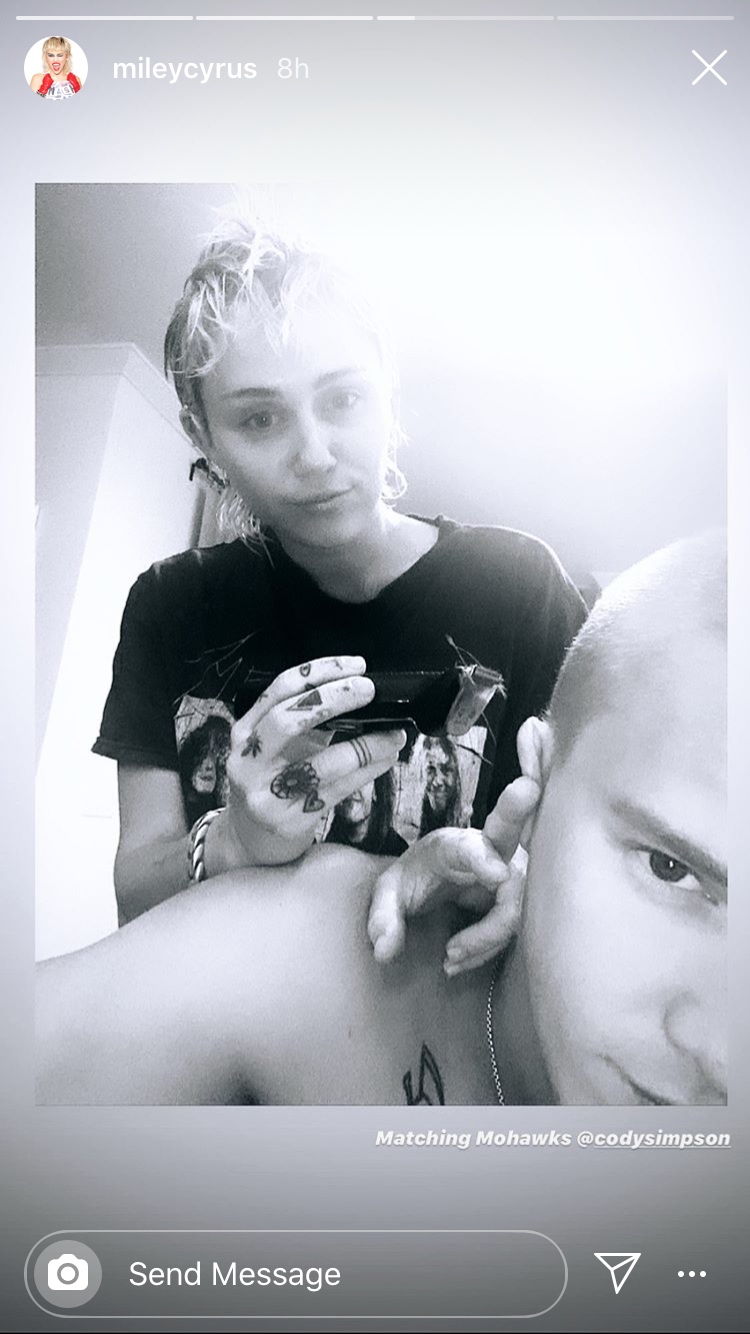 Simpson started quarantine with a pretty close-cropped buzzcut. So, our thought is that his mohawk won't be too substantial—yet. If he keeps the trend going (and growing), he may just return to the world with a full punk-rock, foot-high hairdo. Is it just us, or can you also see him pulling that look off really well?
https://www.instagram.com/p/B5OZWpSlHoh
Keep your eyes peeled on both Cyrus and Simpson's Instagram pages to see how the cuts turn out. Something tells us that Cyrus isn't done wielding her hair shears just yet.