Miley Cyrus and Cody Simpson confirmed their relationship in a haunting Instagram video
It looks like Cody Simpson and Miley Cyrus are trying to give Camila Cabello and Shawn Mendes a run for their money. The pair haunted us with a tongue-touching Instagram video this weekend, and we'll never look at them the same way again. Documenting their time together on social media isn't unusual for these two, but their latest PDA sesh is particularly frightening.
Simpson and Cyrus allegedly started being seen together in early October, in the wake of Miley's divorce from Liam Hemsworth and split from Kaitlynn Carter. They have been hot and heavy for a few weeks now, and reportedly took things to the next level by having brunch with Miley's mom, Tish Cyrus, on Saturday, October 12th.
Now, Cyrus and Simpson are taking their PDA to a whole new level—a scary level, that is. Yesterday, October 13th, Simpson posted a video of himself and Cyrus lying in bed together. He's shirtless while Cyrus sports a Calvin Klein bra (typical for both parties). But what's not a part of their typical look is a painted Joker face.
Simpson added the Joker movie filter to the video, and the trademark clown smile on these two is frightening to say the least. Add in the classic cackling, and we're truly terrified.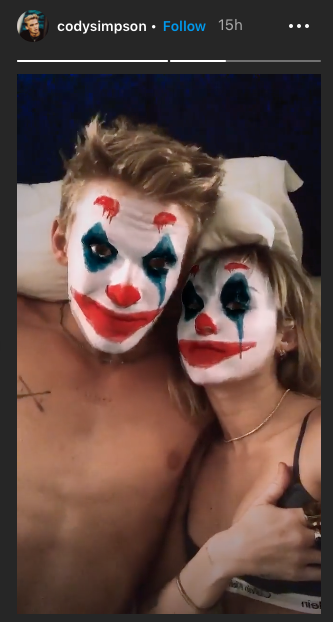 To top off the creepy video, Simpson and Cyrus lean in for a good, clown makeup-filled tongue kiss. We'd be okay if we never had to witness it again. It wasn't quite the Camila-Cabello-Shawn-Mendes level of tongue action, but still, we'll never unsee it.
The two also appear to be wearing matching gold chain necklaces. Coincidence? We think not.
Cyrus and Simpson are not holding anything back on social media. Yesterday, Simpson also posted a solo shot, and Cyrus commented, "Boo thang ?". When a fan replied, "Does Miley share?" Cyrus responded with a firm thumbs down. Sounds like the response of a woman in an exclusive relationship.
At this point, nothing Cyrus and Simpson do together will surprise us. Good luck getting this image out of your head for the rest of the day.