Miley Cyrus Confirmed She and BF Cody Simpson Have Split Up
"Two halves can't make a whole."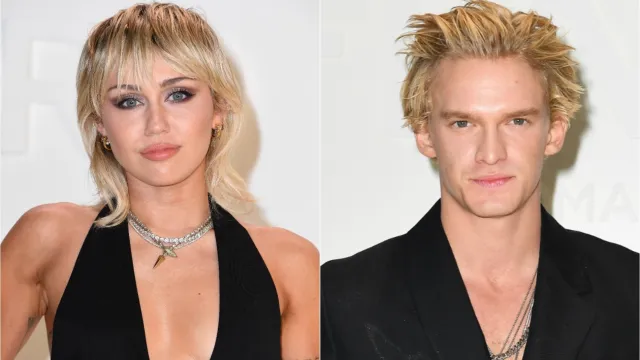 Sorry, Miley Cyrus and Cody Simpson stans: The couple of almost a year has called it quits. But apparently there's no bad blood between the previously PDA-packed, matching-mohawked tattoo twins. The singers and longtime friends say they'll remain exactly that: friends. Yeah, yeah—every celebrity couple claims they'll keep their friendship alive when news of their split airs, but for these two? We might actually believe them.
Case in point: Cyrus released a brand new song at midnight last night (aptly titled "Midnight Sky") and Simpson was quick to support his ex on Instagram. Cue the awws.
While promoting her (bomb) single last night on an Instagram Live, Miley confirmed her split with Simpson, and she even explained why they pair decided to break up (which she typically doesn't shed light on, because it's her own damn business.) But Cyrus noted that she was tired of the media telling her narrative for her, saying, "A year ago, almost to this exact date, the media tried to tell my story for me, and control my narrative, and I'm just not accepting that."
"And today, it came out that me and my boyfriend have broken up," Cyrus continued. "It was confirmed by a 'reliable source' even though no one is reliable in a relationship except the individuals who are participating in it."
But right now, two halves can't make a whole and we're individually just working on ourselves to become the people that we wanna be, like everybody else at this age, Cyrus explained.
"We are just deciding who we wanna be with our lives, what we wanna do with our lives, and so, don't make it some drama story if next week we're out hanging out, getting pizza. We've been friends for 10 years and we're going to continue to be friends, so just don't make it something that it is not."
Well, we think that statement deserves a round of applause, so we're just over here cheering Miley on for taking control of her story—not that she ever owed anyone an explanation for her personal life. Now, we're waiting to see which tattoo Cyrus adds to her massive collection in honor of Simpson, as the queen of breakup ink.
"Midnight Sky" isn't just Cyrus's triumphant return to music in 2020, but it's also an independent anthem announcing her singlehood—and more importantly, her contentment with it. From the start of the song, it's clear Miley is happy to be single as she sings, "It's been a long time since I've felt this good on my own." The glitzy bop includes many more free-spirited statements like "I was born to run, I don't belong to anyone," and, TBH, we feel this sentiment hard core.
As amicable exes do, Simpson is cheering Miley's latest accomplishment on by posting a picture of the pair FaceTiming while she celebrated her new single (pun intended).
So proud of you, Simpson wrote over the smiley-kissey screenshot. Congratulations to the most special of all. Go cop that new new!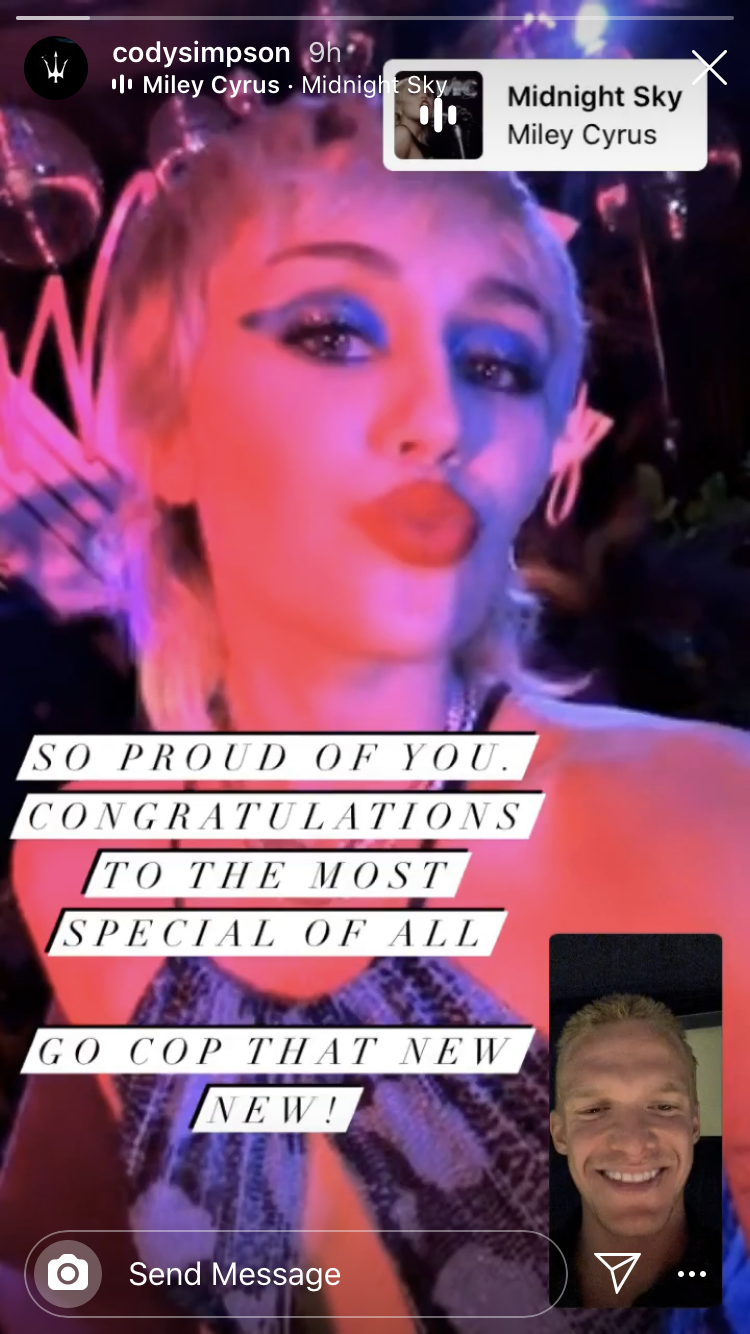 This lovey-dovey post-breakup interaction is far different from Cyrus and ex-husband Liam Hemsworth's—and honestly, we're a little surprised—but we're here for it. RIP to the creepy Joker filter, tongue-touching couple of 2020, Cody Simpson and Miley Cyrus. Your weirdness will be missed.