Miley Cyrus and Liam Hemsworth just went on a date, and it looks like a psychedelic dream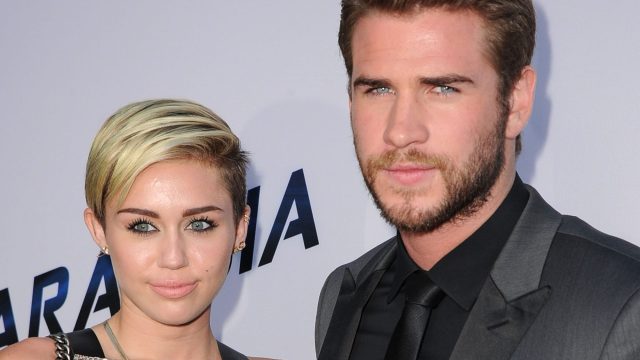 Our favorite pair of happy hippies, Miley Cyrus and Liam Hemsworth, went on a psychedelic date night in L.A. last night and we are freaking out. Vijat Mohindra held his first solo exhibition at the Museum as Retail Space and the superstar couple attended in support of their photographer friend. (Talk about friendship goals, right?) There are a ton of photos from the couple's fun night out, and it looks like they had the best time ever.
Miley rocked a retro yellow dress, patent leather white knee-high boots, and a cute yellow clutch as a visual reminder of her Happy Hippie Foundation. An adorable yellow bangle and pair of earrings completed her look for the night out, but the smile on Miley's face is what we're loving the most. Seriously, homegirl looks happy AF.
Her beau Liam also adhered to the trippy color scheme while keeping things simple. He wore all-black paired with red shoes and a neon multi-color puffer jacket. Donning outfits as bright as their personalities, Miley and Liam worked the room, posed for pictures, and showed their support for their friend's big evening. While enjoying Vijat's "Always Believe that Something Wonderful is About to Happen," Miley also hung out with her pals Amazon Ashley, Katy Weaver, and Wayne Coyne.
https://www.instagram.com/p/BMc3ieyhKem
Seriously, check them out.
It warms our hearts to see Miley and Liam still going strong after rekindling their romance earlier this year. These two, who have endured everything from young love to a broken engagement, genuinely seem happier than ever. Although they keep a low profile and rarely appear on each others social media accounts, we are confident that they're in it for the long haul this time. Although the mystery still remains regarding the status of their engagement, the only title that appears to matter to this couple is simple: happy hippies.