Miley Cyrus and Ariana Grande sang a gorgeous duet at yesterday's Manchester benefit concert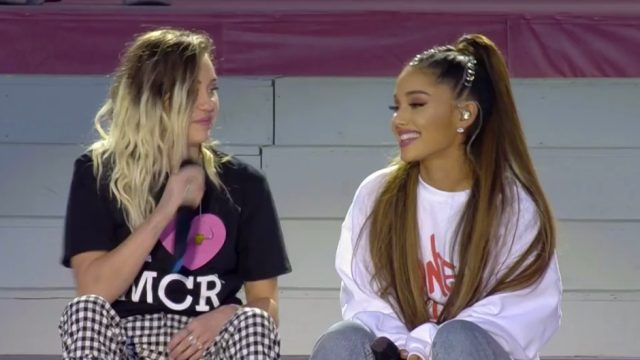 There were so many beautiful moments at yesterday's benefit concert for the people of Manchester, but one of the most breathtaking was when pals Ariana Grande and Miley Cyrus sang a duet, teaming up for a cover of Crowded House's "Don't Dream It's Over," and you must see it.
Miley and Ariana are the definition of friendship goals, and it was magical to see Miley support her close friend in the wake of such a tragedy.
The two singers previously sang the 1986 rock ballad together in a much different setting than an arena filled with more than 50,000 people (and 11 million watching around the globe), but it was the perfect tribute to the people of Manchester as they begin to heal from the attack. The ladies performed a stripped-down version of the song, sitting on the stage steps to perform the hopeful ballad.
https://www.youtube.com/watch?v=9LiI6poe3QE?feature=oembed
They danced together, hugging and holding hands as the crowd happily joined in. They then each took separate sides of the stage, as the crowd swayed together in unison.
Ariana and Miley first sang the song for Miley's Happy Hippie Presents: Backyard Sessions, looking too cute for words in coordinating unicorn and mouse onesies, sitting on a green inflatable couch.
https://www.youtube.com/watch?v=m2ua3O_fdCY?feature=oembed
The stunning duet was one of the highlights of the night, and we're still not over it. It was an absolutely perfect song with an incredible message for unity and peace, and we loved every second of it.