Miley Cyrus almost broke down while saying "thank you" to Hillary Clinton
Even though she didn't win the election, we've got a lot to thank her for. During last night's Tonight Show, Miley Cyrus got a chance to thank Hillary Clinton in a very special "Thank You Notes" segment. The female writers on the show also got a chance to address the former Secretary of State, and let's just say that it's leaving us laughing and crying.
Speaking of crying, Cyrus could barely contain her emotions as she penned her "note" to Clinton. And in all honesty, we're so happy this moment took place — since Cyrus said what all of us have wanted to say from the beginning.
https://www.youtube.com/watch?v=SpzeQ1Z3Ut0?feature=oembed
"Thank you Hillary, for being a constant beacon of strength, hope, and determination for me and millions of other young women," Cyrus said. "You've been a role model and an inspiration, and the voice of reason in uncertain times."
From there, the singer asked to give Clinton a hug. Clinton, who seemed delighted to get the chance to hang out with the singer, enthusiastically agreed.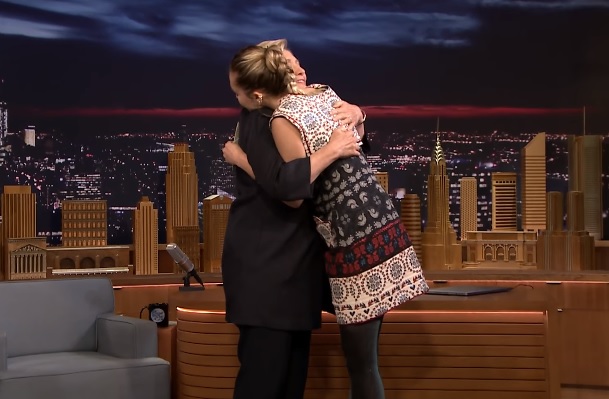 Since you probably needed to shed a few more tears, Clinton decided to write her own thank you note right after. In it, she thanked Cyrus, the writers, and the women out there who believed in her. And she made sure to give the message that women have come a long way and have achieved great things, even quoting Cyrus's hit "We Can't Stop" in saying that women "can't stop, and we won't stop."
We love heartwarming moments like this, and we're so thankful for Clinton for being so graceful and positive during a time we need it most.