Mila Kunis gave Laura Prepon this advice for overcoming endless mom guilt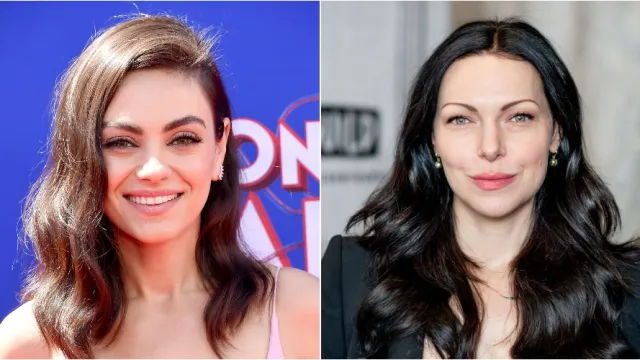 On a virtual press tour for her memoir, Laura Prepon shared some of the best advice she received about dealing with guilt as a working mother. Like so much of the best advice we all get, this one came from a close friend. Unlike the advice we all get, this one came from Prepon's close friend and former That '70s Show co-star Mila Kunis. (We can't be the only ones who've fantasized about having Kunis as a close personal friend, right?)
Prepon has two children, including a 1-month-old son, with husband Ben Foster. Her memoir, You and I, as Mothers: A Raw and Honest Guide to Motherhood, was released on April 7th, just a few weeks after she gave birth in late February. Via Zoom chat, Prepon told ET that she was inspired by Kunis's positive attitude about returning to work after giving birth to her children, Wyatt and Dimitri.
"When Mila first started going back to work, it was really hard. Whenever she said she was going to work, she would make it positive," Prepon said.
"She'd say, 'Mommy has to go to work,' instead of all, 'Mommy has to go to work, this sucks,'" Prepon continued. "She always put a really positive spin on it so that her children associated work as being positive and good, instead of it being this negative thing that takes their mother away."
But Prepon recognized that working mothers don't claim sole ownership over mom guilt. It's something that so many mothers experience—whether they're at home, at work, or literally anywhere else—and there are seemingly endless opportunities in the day for those feelings to arise.
"Mom guilt can come from anything," Prepon said. "Even if you're a stay-at-home parent wanting to go take a bath and take that time away from your kids—there is mom guilt around anything."
Prepon is certainly not the only mother to give voice to that experience. In February, Kate Middleton told Happy Mum, Happy Baby podcast host Giovanna Fletcher that she also "struggles with mom guilt," even after having three children.
If you're feeling all the feelings right now, remind yourself that it's completely normal and you're literally in the company of royalty. So be gentle on yourself. It's what the Duchess, Jackie Burkhart, and Donna Pinciotti would want you to do.