Mike Pence's rabbit scored a book deal, and no, you're not being punked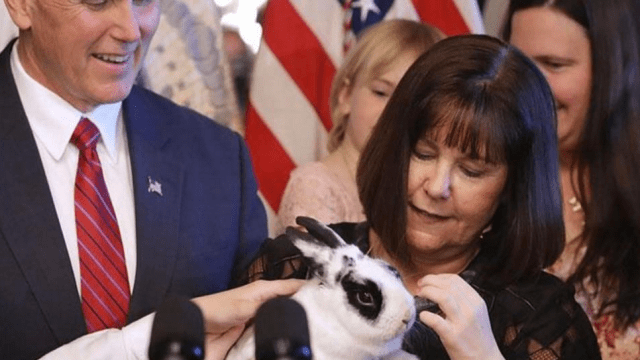 It's 2017, and while self-driving cars haven't yet been released yet, at least rabbits are getting their own book deals. Not just any rabbit, though, it's VP Mike Pence's pet rabbit, Marlon Bundo, who will soon have a book in his name. In case you're unfamiliar with Pence's rabbit, Bundo has been playfully referenced as BOTUS, presumably bunny-of-the-United-States, and he even has his own Instagram account.
This all sounds pretty whimsical for a guy who argued that Mulan is feminist propaganda (yeah, it's no wonder so many celebs are decidedly against our current vice president), and that's probably because Bundo's public persona is largely engineered by Pence's wife and daughter. The VP's daughter, Charlotte Pence, runs Bundo's Instagram account, and she used it to announce the forthcoming bunny book, Marlon Bundo's 'A Day in the Life of the Vice President.'
The photo of Bundo "signing" the contract has the caption, "A Big Announcement for my Friends!"
"Marlon Bundo" goes on to explain that the children's book will revolve around what VP Pence does each day. (So, making sure that women don't have access to reproductive care?) The rabbit says,
"In the book, I follow Grampa around all day, as a BOTUS should, while he goes about his duties as Vice President!"
That sounds pretty cute, actually.
Bundo also explains who the masterminds behind this operation are, writing, "Mom wrote a children's book about me, and Grandma painted beautiful watercolors in it, too!" Naturally, "mom" refers to Second Daughter Charlotte Pence, and "Grandma" Second Lady Karen Pence.
We have to wonder if the second lady took any painting lessons from George W. Bush.
Marlon Bundo has actually attended a few VP events during Pence's time in office. And pictures on Bundo's Instagram include geotags in the U.S. Naval Observatory and the White House, so this bunny really does have an insider's view.
Bundo's big book deal announcement also states that a portion of its proceeds will go towards charity — though exactly how great a portion, we don't know. Regardless, the book is set to come out on March 19th, and it seems that both Bundo and Charlotte Pence are already pleased with its pre-sales.
We're hoppy for you, Bundo.