Who is Mikaela Shiffrin dating? Meet her long-distance boyfriend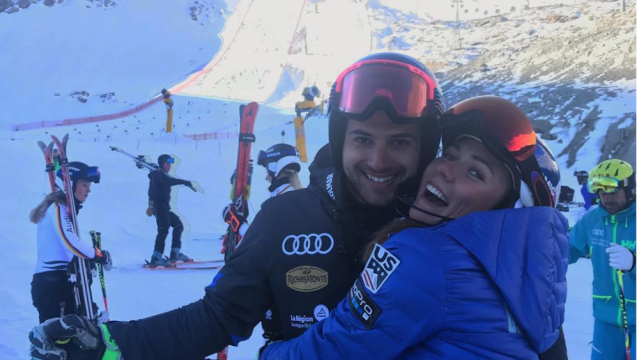 22-year-old Mikaela Shiffrin is one to watch at the 2018 Winter Olympic games. She took home a gold medal in slalom racing at the Sochi Games in 2014, becoming the youngest-ever winner of the event in Olympic history. She also won the World Cup overall title last year, which according to Sports Illustrated makes her arguably the best living skier on the planet.
For many Olympians, it's difficult to find time for much of anything other than their sport — which is why it's perfect that Shiffrin is dating another competitive skier.
Shiffrin's mom broke the news to the New Yorker in an interview (MOMMMMMMMM), revealing that her daughter started dating Mathieu Faivre this past summer. Faivre is a French World Cup skier, and the two are making long-distance work, visiting each other as often as they can. He lives in France, while Shiffrin lives with her parents in Colorado.
"He's a ski racer, so he understands all that," Shiffrin told Sports Illustrated. "If I have a bad day and I'm like, 'What if I've forgotten how to ski?' That's crazy, but he understands. He is the least complicated thing in my life."
*melts into a puddle of affection*
As anyone who has tried it knows, long-distance can be trying — but Shiffrin and Faivre seem to be making it work.
Perhaps the best part is that Shiffrin has an excuse to visit Paris anytime she wants (well, it's certainly a perk).
When New Yorker writer Nick Paumgarten followed up with Shiffrin via text about her mom's admission, she responded with a good-natured laugh.
"Oh boy," she texted back. "Hahaha no big deal. He's a cutie."