We might finally get to meet a person from this "Grey's Anatomy" character's past, and it sounds pretty dark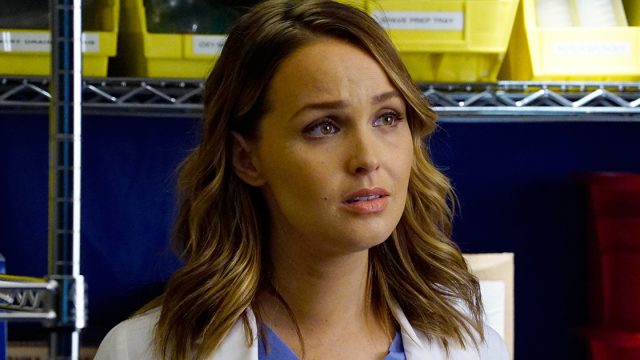 Given that we're heading into the homestretch of this season of Grey's Anatomy, it seems a storyline that has been building all season long might finally come to a climax: We might be about to meet Jo Wilson's husband on Grey's Anatomy.
It was revealed last year that Grey's Anatomy was about to tackle the serious topic of domestic violence. You might recall that, at the end of Season 12 (before Alex decided to go all Season 2 and beat up DeLuca), Dr. Jo Wilson (played by Camilla Luddington) revealed that she was married and had been in an abusive relationship in her past. She even revealed that Jo Wilson wasn't her real name, and that she wouldn't file for divorce in case her husband found out where she was. All of this, you might remember, was why she couldn't marry her partner, Alex Karev.
https://www.youtube.com/watch?v=wKUHj4V_FQw?feature=oembed
It's now been teased that Jo Wilson's estranged husband might soon make an appearance on Grey's Anatomy.
Speaking to Entertainment Weekly, one of the show's executive producers, Debbie Allen, teased that there was "a big chance" that we might get to meet this elusive character.
"It's the elephant in the room, the one piece that we have not been able to fit into the puzzle of why they have not been able to get married, what she's been holding back and what she's been dealing with," she said. "It gives us great story.
Indeed, Allen teased that the plot could continue well into next season.
Expanding on this, Justin Chambers, who plays Alex Karev, also teased that we might get introduced to Jo's husband, too.
When asked about whether Alex would go hunting for him, Chambers said, "Possibly yes. Or maybe the guy comes back. He's still out there. I don't know yet. They're still married, Alex is still in love with Jo, he wants to marry her, so that's going to have to come to rest, that whole situation." 
Of course, Alex just narrowly missed jail after attacking DeLuca, played by Giacomo Gianniotti, when he assumed that he and Jo had been hooking up. So could he be about to go on the hunt all guns blazing? "I would think he would be a little more cautious," he said, "but Alex always does things unpredictably, so we'll see what happens."
Argh, all this teasing is driving us cray cray! Luckily, Grey's Anatomy continues Thursdays on ABC.