The 3 best ways to wear midi skirts in cold weather—and which ones to shop
Maxi skirts aren't quite on-trend anymore, and it was time something gave the mini skirt a run for its money. Enter: the midi skirt. Casual, cool, and comfortable, midi skirts have been seen on every street corner and Instagram feed over the past few months, and yes, we've hopped on board with the trend, too. But how can you extend the life of your new favorite seasonal piece so that it's a year-round staple? Let us tell you.
Throughout the summer, midi skirts were often paired with white sneakers or sandals, exposing feet and ankles. They were also most likely complemented by tank tops or casual tees, keeping you cool in high temperatures. But what about when the temperatures drop and the wind picks up? Do we need to say goodbye to our new best friend, the midi skirt? The answer is no. Below, we've rounded up three ways to style midi skirts in the fall and winter, because this piece is too beloved to ditch when the weather gets cold.
1Sweater weather
Who doesn't love sweater weather? Sweaters are cozy and effortless like sweatshirts but still create a put-together and stylish vibe. They can be paired with jeans or leather pants, thrown over a spaghetti-strap summer dress, or our personal favorite: with a midi skirt. The sweater-midi-skirt-combo is a breezy way to stay comfortable all day long while looking effortlessly fashion-forward. Check out some style inspo below.
2Bring on the boots
One of our favorite fall and winter fashion staples is hands-down boots. Over-the-knee, combat boots, booties—we're obsessed with them all, and the good news is that they go with pretty much everything in your closet, including midi skirts. Boots will keep your feet warmer than sneakers or sandals, and look just as stylish under a flowy midi skirt. If you opt for your fave pair of booties, add some tights underneath your midi skirt to keep your legs extra warm. See our favorite boot-plus-midi-skirt outfits below.
3The finishing touch: a jacket
We're suckers for a killer jacket. Leather, jean, faux fur, blazer, bomber—we want them all. There's something about topping off an outfit with a super-cute jacket that just makes it feel complete, and midi skirt outfits are no different. Even if you've taken our previous advice and paired your midi skirt with boots and a sweater, the finishing touch might be your go-to leather jacket. You can also opt for a simple long-sleeve top underneath your jacket of choice during less frigid days. See our favorite midi-skirt-jacket moments below.
https://www.instagram.com/p/BwqJ1AvlpIN
From pleated to patterned and silk to velvet, shop our favorite fall and winter midi skirts below.
1Chelsea28 Midi Skirt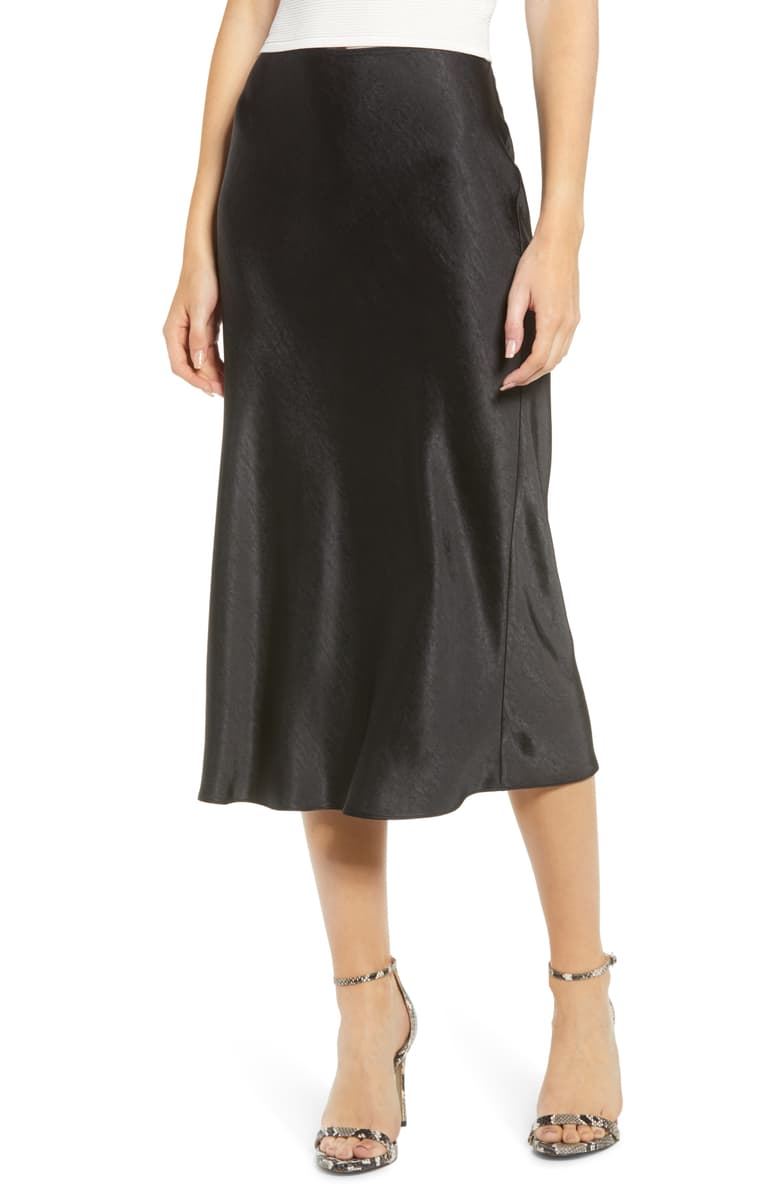 $41.40 (orig. $69)
Shop it
Nordstrom
This black satin stunner is the classic midi skirt you need ASAP. Luckily, it's currently 40%, so snag this soon-to-be staple for a lower price now.
2Anthropologie Kelly Velvet Midi Skirt
We're drooling over this gorgeous turquoise velvet midi skirt. It's practically begging to be worn to your next holiday party.
3Lulus Fashionable Babe Rust Brown Satin Pleated Midi Skirt
Pleated skirts offer an extra oomph that we're all about, and this rich rust color is perfect for fall.
4Reformation Bea Skirt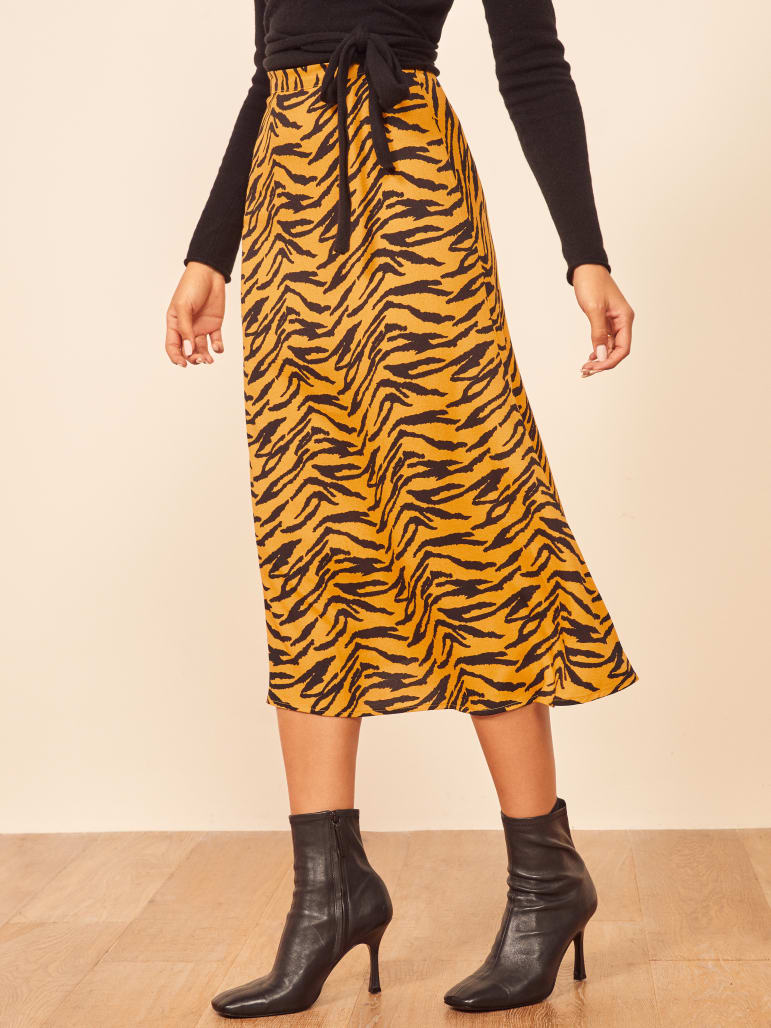 Forget cheetahs—we have our eye on this tiger-print midi skirt that can easily be dressed up or down. It does come in a cheetah print, if you prefer.
4BLANKNYC Snap Front Faux Leather Midi Skirt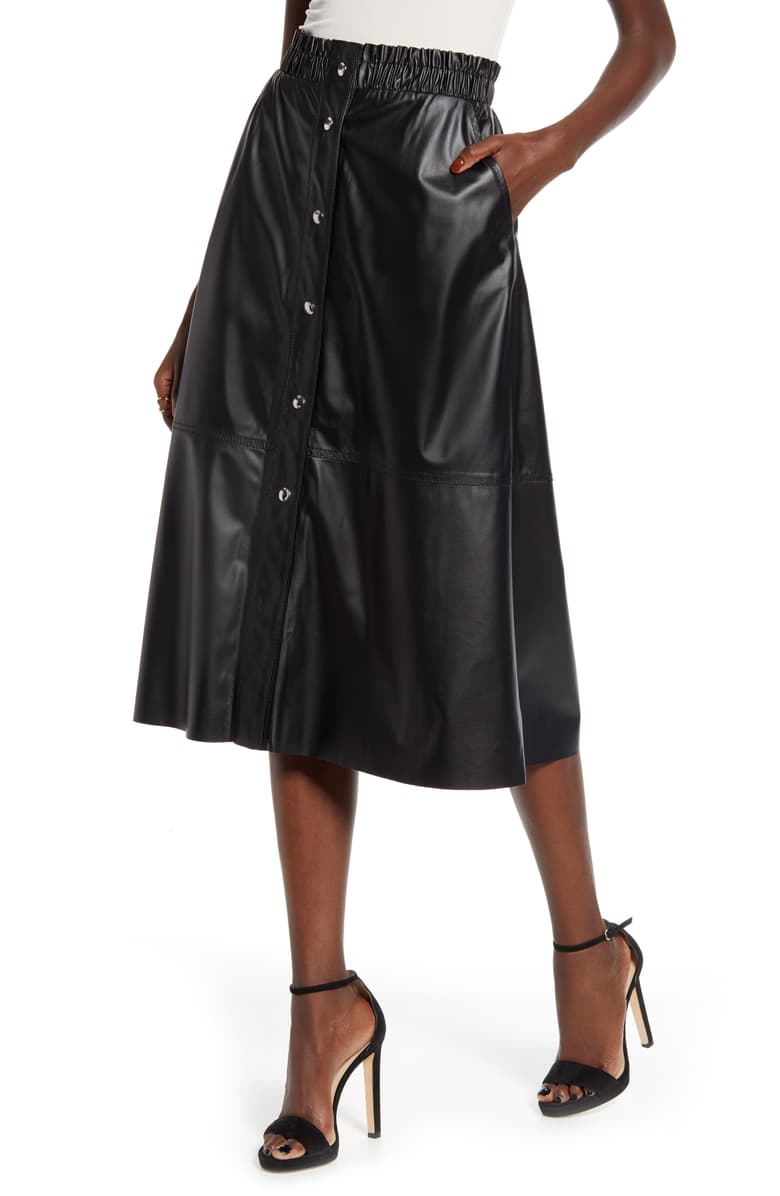 We'll never say to no to a leather look, whether it's on shoes, jackets, pants, or skirts. This A-line midi skirt is made of faux leather, and the snap detail adds an extra dash of glam.
6Halogen Midi Sweater Skirt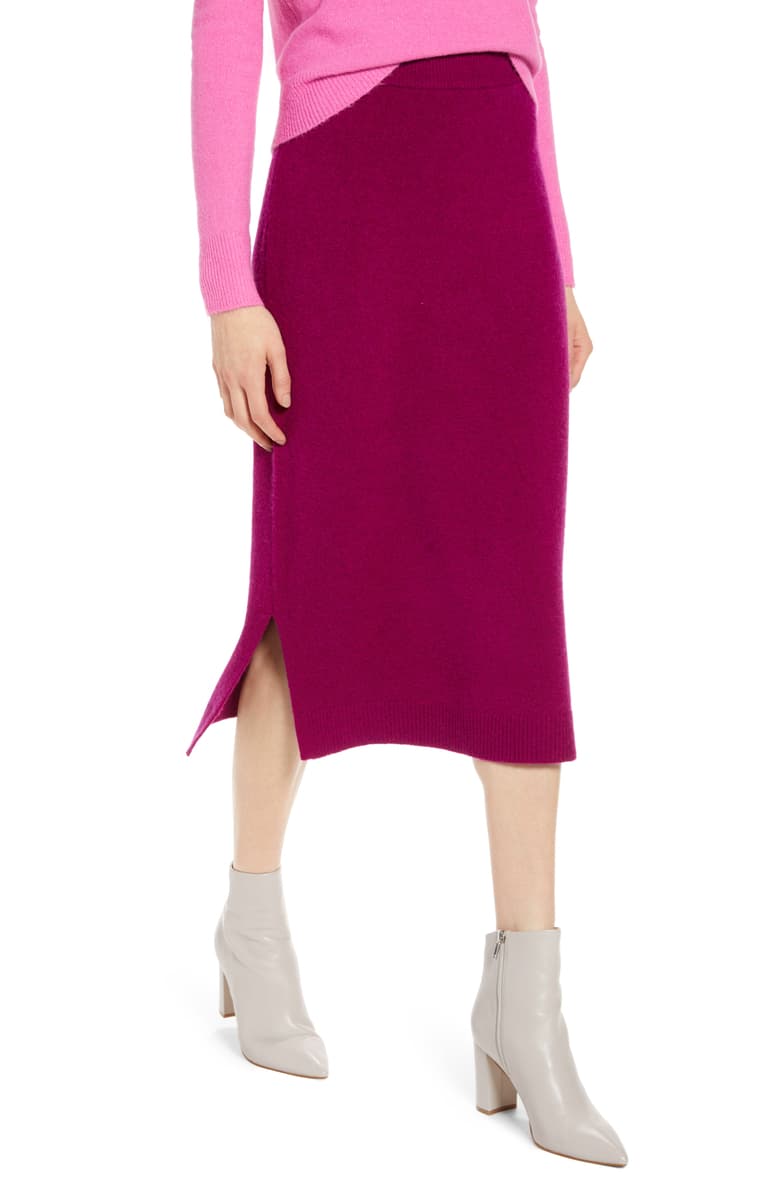 Why only wear sweaters on top when you can wrap yourself in cozy wool blends on the bottom, too? The bold color of this knit midi skirt makes it just the showstopper we've been looking for.