A middle school health class quizzed students on definitions of sexual identity, and parents are not happy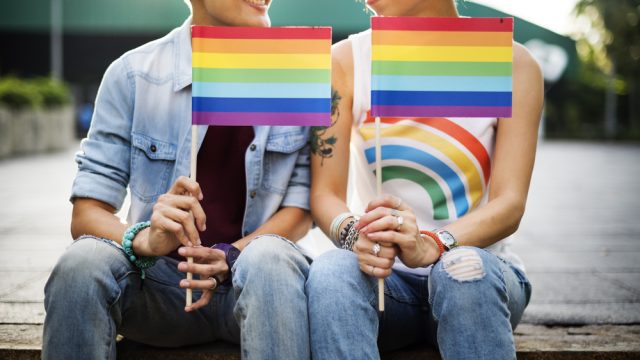 Ah, middle school. Algebra class, first kisses, braces, high-top Converse kicks, and LGBTQ terminology quizzes about sexual identity. *record scratch* Um, what? Maybe not the latter part — you'd think. But a teacher at a Georgia-based middle school recently popped an LGBTQ vocabulary quiz, and parents are angry about it.
Some students attending Lithonia Middle School in Georgia were given a test on sexual orientations during their health class. The content of the quiz — fill-in-the-blanks, of course — asked about the definitions of gay, lesbian, female, queer, and other terms alike.
Photos of the quiz obtained by Fox 5 Atlanta showed prompts like "A man who is attracted to men" (gay), "A person who identifies as a woman" (female), and "A broad term that can include gay, lesbian and bisexual people, as well as others who don't identify as straight" (queer).
A few of the parents were not thrilled that their children were being exposed to such information.
"Why are they teaching that in school? What does that have to do with life? We're talking about a sixth grader who still watches Nickelodeon," a parent named Octavia Parks told FOX 5 Atlanta. "I'm not ready to explain what these words are nor what they mean."
Some think it's better to teach kids about sexual identity and preference at home.
"If a kid wants to know about the gender or know about the sex preference it should come from the parents not from the school," added another parent named Eva McClain.
However, other parents weren't as upset about the quiz and had another stance.
"I suppose it's best to know the proper terminology for everything. It's not like they're going to become gay just by understanding what gay is," one person wrote on Facebook, Teen Vogue reports. "I feel there is absolutely nothing wrong with this assignment. There may be something wrong with a few people who get their undies in a bunch about everything and also people who think that 6th graders don't understand anything about sex or homosexuality."
Despite the back-and-forth between parents, authorities at the school are initiating an investigation and will be taking the matters into their own hands.