Prepare your sweet tooth, because Oreo just announced SIX new flavors — including Mickey Mouse Oreos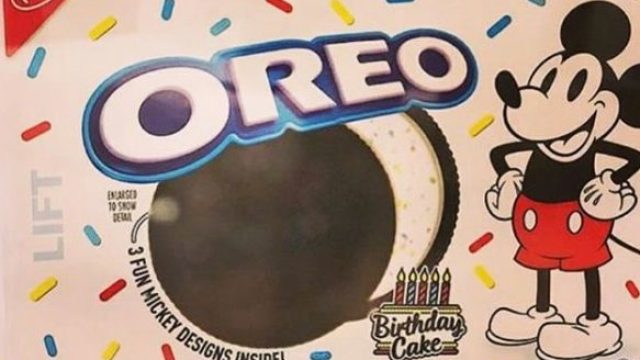 Oreo lovers, rejoice! Just when we thought our favorite cookie couldn't get any better, Oreo has outdone itself yet again. At the recent Sweets and Snacks Expo in Chicago, it announced six — count 'em, SIX — new flavors for 2018. And the best part? One of those flavors is (drumroll, please) Mickey Mouse Oreos. Yep, you read that right.
You have to admit, Oreos and Mickey Mouse are pretty much a match made in heaven. Seriously, they go together like peanut butter and jelly. Or bacon and eggs. Baseball and hot dogs, too. Or… Well, you get the idea.
Oreo's newest flavors will become available throughout the year, though specific release dates are still unknown. But that sort of adds to the fun of it all, don't you think? Oreo flavor collectors can just sit back, relax, and not-so-patiently wait for the next cookie to hit store shelves.
This is hardly the first time Oreo has announced a new flavor. In fact, Nabisco has become pretty prolific in coming up with creative ways to tickle our tastebuds. From last year's Cookie Butter Oreos to the recent Peeps-flavored Oreos for spring, they're constantly reinventing the cookie wheel. And we love them for it!
https://www.instagram.com/p/BjP2qK7nQ13
Without further ado, here are the recently unveiled Oreo flavors coming soon (hopefully!) to a grocery store near you.
Mickey Mouse Oreos
https://www.instagram.com/p/BjLz9OgA2CF
The Mickey Mouse Oreos will be birthday-cake flavored, according to Delish, and each package will include three different designs of the Disney mascot on the chocolate wafers.
Rocky Road Trip Oreos
Rocky Road ice cream in cookie form? This should have happened a long time ago, tbh.
Chocolate Peanut Butter Pie Oreos
https://www.instagram.com/p/BcQ0xtGFRN-
Rumor has it the Chocolate Peanut Butter Pie Oreo will feature graham-cracker flavored wafers and a half-and-half combo of peanut butter and chocolate crème. Our mouths are already watering!
Who remembers the strawberry-and-vanilla ice cream bars covered in yummy, crunchy cookie crumbs? We certainly do!
Pistachio Oreo Thins
This new flavor will come in the form of pistachio crème filling nestled between two thin chocolate wafers, according to Refinery29. Sweet, simple, and sure-to-be delicious.
Peppermint Bark Oreos
The Peppermint Bark Oreos are said to be a new twist on the old Peppermint Oreos, this time with crunchy sugar crystals (!!!) in the crème.
The only real question left is: Which new Oreo will we try first? If you ask us, we're especially looking forward to the Mickey Mouse Oreos. Maybe it's the Disney superfan in us.