Whoa, is Mickey Mouse getting a major makeover?
The Mickey Mouse you know and love, and can meet IRL, might look a little bit different next time you want 45 mins in line to get his picture and an autograph. With the newest Disney Park, Shanghai Disney, set to open in a few short months, images have surfaced of the characters meeting guests in the park, and while they're certainly Mickey and Minnie Mouse, they don't look like the Mickey and Minnie Mouse we're used to. They look…different.
Over the weekend, a picture was posted to Twitter of a newly redesigned Mickey and Minnie. They're undeniably Mickey and Minnie, yeah, but their faces are different. Their mouse skin tone is a little bit darker, their eyes are closer together, and a little bit more oval-y. The smile on their faces is also a little bit more defined, with big pinchable-cheeks, and Minnie has lost her blue eye shadow. The tweet declares that this is their "new look."
While picture of these mice in question comes from Shanghai,  it can be assumed that these will be the new-look for the characters you can meet in the park.  Buuuuuttttt, if these characters debut in Shanghai, that means that soon ALL the Disney Parks ALL around the world — including Disneyland and Walt Disney World — are going to get these newly redesigned faces, too. Disney follows strict "character integrity" rules, so if an alteration is made to one character in Disney World, it has to be done to that same character all around the world — you know, because there's only ONE Mickey Mouse (wink wink wink nudge wink, that's what small children are told, obviously, but you as an adult know the real Disney Truth).
Disney hasn't made any sort of public comment about these new characters, whether regarding true confirmation that this is their new redesign, let alone when they'll start popping up in the parks. Right now it just looks like Mickey and Minnie received makeovers, but the same could happen for Donald, Daisy, Goofy, Pluto, Chip, and Dale, too.
There's absolutely nothing wrong with these new faces, they're just different from what we're used to. This is also not the first time Mickey's gotten a facelift. The character that was standing in Disneyland back on opening day in 1955 looks drastically different from the one you can currently meet.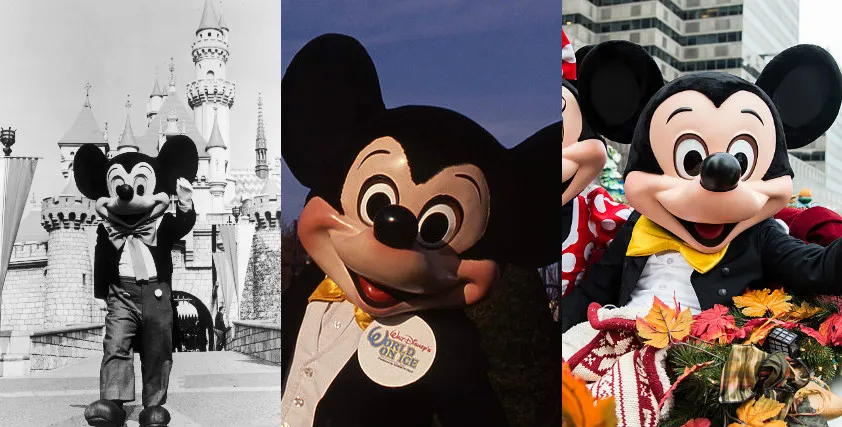 So if you've got a real soft spot for this old school Mickey Mouse look, get yourself to a Disney Park ASAP, because these new characters could magically appear at any second.