Michelle Williams just made our jaws drop in this gothic vampire romance dress
Michelle Williams is not afraid to show her darker, goth side, and she really pulled out all the stops this week at the BFI London Film Festival premiere of her film Manchester By The Sea, where she wore a glamorous and shimmering Louis Vuitton snake-skin chiffon gown that makes our jaws drop with envy: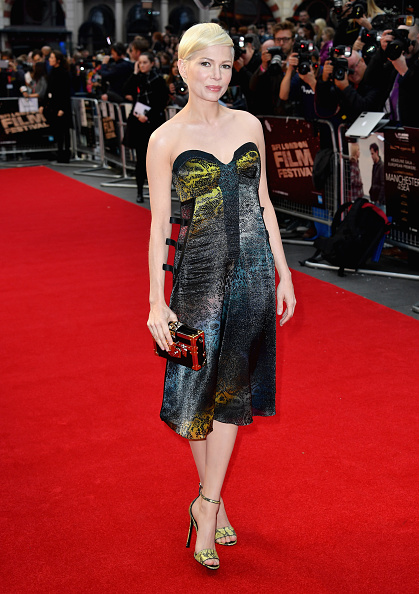 Notice she doesn't busy the outfit with any jewelry — she lets the outfit stand on its own. And she looks amazing, doesn't she? Look at the way tiny bits of gold and blue and orange shine through the black of the outfit; it's totally gothic while still retaining an incredible modern flare. Plus THOSE SHOES.
And that hair! Her signature blonde bob is slicked to the side, giving her an altogether sleek and sophisticated look. Very Audrey Hepburn.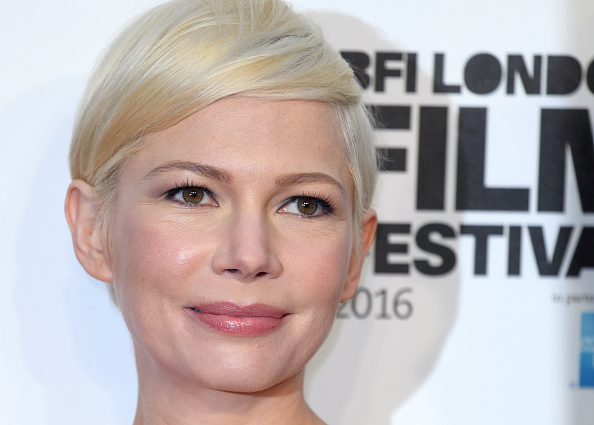 Manchester By The Sea is the story of a man named Lee (played by Casey Affleck) who is made legal guardian of his nephew when his brother dies. Lee returns to his North Shore hometown to deal with his separated wife Randi, played by Michelle Williams. After watching the trailer below, we expect very heated, powerful performances:
https://www.youtube.com/watch?v=gsVoD0pTge0?feature=oembed
We can't wait to watch the film. Until then, we'll make due with admiring Michelle Williams' fantastic fashion sense.