Michelle Williams finally broke her silence on the gender pay-gap incident with Mark Wahlberg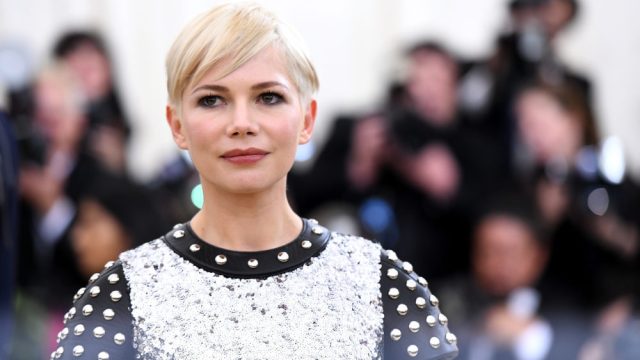 In January, gender equality advocates were outraged to learn of the gaping pay discrepancy between Academy Award-winning actress Michelle Williams and her co-star, Mark Wahlberg, for All the Money in the World reshoots.Williams reportedly received a daily rate of $80 for the 10-day reshoot, while Wahlberg asked for, and was granted, almost $2 million…in addition to being paid more than Williams for the rest of the movie. Wahlberg later donated $1.5 million of his earnings to the Time's Up Legal Defense Fund, but the incident was a major wake-up call for many in the industry. Now Williams, who has mostly kept quiet about the incident, shared her thoughts about it in a new interview.
In the September 2018 cover story for Vanity Fair, published today, July 26th, Williams said that she first learned about the massive pay difference like the rest of us — in the news. "You feel totally de-valued," she told interviewer Amanda Fortini about the experience.
"A private humiliation became a public turning point," Williams noted.
Williams talked about how even though The Washington Post first reported the pay gap in November 2017, it was largely ignored until fellow actress Jessica Chastain tweeted about it in early January. She said that it took Chastain's tweet and then "all these other women surrounding me, teaching me" before she felt she could demand equal pay.
Fortini wrote that in a follow-up email, Williams discussed the importance of women standing up for one another.
"Women have to be watchdogs for each other," Williams' email read. "A great change has come, but if it is just for me or my industry, it won't be enough. Women must recognize what power we have and where — however small and dull it might feel — and use it to advocate on behalf of others for the betterment of us all."
The gender wage gap is still very real, but for Williams, things are starting to look better. In her next project, an upcoming FX limited series about legendary choreographer-director Bob Fosse, she will make the same amount as her male co-star, Sam Rockwell.
We're looking forward to the day that the gender wage gap is eliminated for everyone across all industries. Until then, we're thankful that women like Williams are speaking up.