Not even including the reshoots, Mark Wahlberg was paid *eight times* more than Michelle Williams for "All the Money and the World"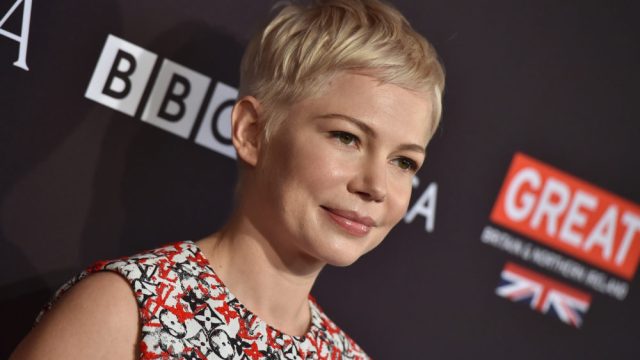 UPDATE 3/4/18: If you're watching the 2018 Oscars, you probably heard Jimmy Kimmel mention that Mark Wahlberg was paid $1.5 million to reshoot some scenes in All the Money in the World, while his co-star, Michelle Williams, received only a per diem of $80 per day. While Wahlberg did the right thing and donated his extra earnings to the Time's Up legal defense fund, you may not know that his salary on the film was eight times more than his female co-star's, despite the fact that Wahlberg and Williams each have about the same amount of screen time in the movie. Read more below.
It'll take a lot of major changes to dismantle the power structure that's held women back for centuries, but women in Hollywood might be on one approach that could make a big impact: Talking about their salaries. The tactic has already proved effective in the case of Michelle Williams reportedly making *way* less than Mark Wahlberg for reshooting their movie All the Money in the World — after the disparity made headlines, Wahlberg donated his earnings to the Time's Up fund.
But now we're learning the whole picture is even worse. According to The Hollywood Reporter, Williams' *entire salary* for the movie was EIGHT TIMES less than Wahlberg's, and that's not okay on so many levels.
Williams, who was nominated for a Golden Globe for her All the Money role and has been nominated for four Oscars in the past, was paid $625,000 for the movie. Wahlberg, who appears in the movie for about the same amount of screen time as Williams, made $5 million. Those numbers being public knowledge shouldn't be revolutionary, but considering Hollywood's long history of keeping salary information secret (because apparently execs were covering up infuriating inequalities like this to keep the powerful powerful), it really is. Talking about earnings in the past was taboo. In the new reality of #MeToo and #TimesUp, though, it could be a way to finally even the playing field. Things can't change if we don't know how bad they really are.
It was Melissa Silverstein, founder of gender diversity advocacy group Women and Hollywood, who first called out the Williams-Wahlberg pay gap on social media:
"For women in Hollywood, the system was created to isolate them from each other and to pit them against one another," Silverstein told Hollywood Reporter. "Women are taking back the power by sharing the information in a way that has never been done before."
Other stars like Ellen Pompeo haven't been shy about broaching the subject of salary inequality. Reports surfaced earlier this week that the Grey's Anatomy star once asked ABC for $5,000 more than Patrick Dempsey, but wasn't given the money even though she's the title character. Tracee Ellis Ross is also reportedly considering scaling back her role on Black-ish because she's making "significantly less" than Anthony Anderson. And E! News' Catt Sadler left her hosting job when she found out how much more Jason Kennedy was making.
But there's something about just being transparent about the actual numbers we're discussing that feels both shocking and maddeningly simple. Yes, since at this point we're talking about huge Hollywood stars, there's not a ton of sympathy for someone making $625,000 for a single project. But finally seeing how significant these differences are on a hugely visible platform has the potential to be meaningful in industries far removed from entertainment. As the #MeToo movement has so viscerally demonstrated, there are few things more powerful than telling the truth.