Michelle Williams once got locked out of a hotel room in only her underwear—handled it like a champ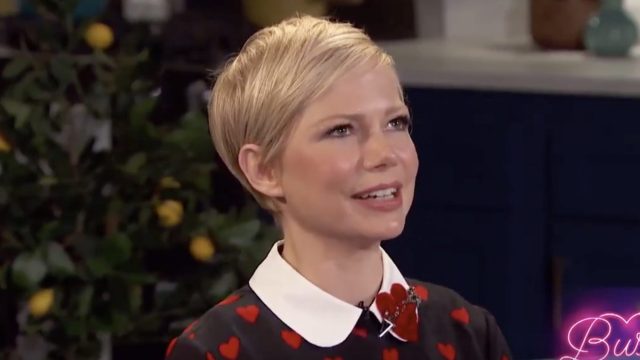 When it comes to celebrity best-friendships, Michelle Williams and Busy Philipps reign supreme. Hilarity ensues whenever these two get together, and Williams' February 7th appearance on Busy Tonight proved no exception.Case in point: Williams regaledthe world with a story of the time she got locked out of a hotel room…in nothing but her underwear.
The actress recalled that she had been staying in a swanky London hotel and was packing (while basically naked) for her return trip to New York the next day. However, things took a turn when she quickly stepped outside her hotel room door to check for a newspaper…and the door locked behind her. She ended up having to ride the elevator down to the lobby in order to get help (the elevator was wall-to-wall mirrors, btw).
"But [...] because they're classy and British, when I went down to the desk, the guy said, 'Oh it happens more than you would think,'" she said. "And then he rode up in the elevator, you know, not making any eye contact anywhere, which was hard with all the mirrors."
Watch Williams tell the full story below.
Williams went on to recall the night she and Philipps met for the first time after Philipps joined the cast of Dawson's Creek. Williams said the night was "burned in" her brain, and Philipps added that they connected almost immediately.
"I remember that I had been prepped that we were going to love each other, and so it felt very high stakes," Phillips said, "and then we ended up like immediately loving each other."
https://www.instagram.com/p/BtmgK31gJ43
We seriously can't get enough of this friendship…or hilarious stories of underwear-clad elevator rides, of course.